During the early years of our marriage, I remember eating at a restaurant called Cafe Provencal with my hubby at Shangrila Mall. It was one of those dimly lit places brimming with ambiance.
Many years later, a brightly lit French-themed restaurant called D&B or Duck and Buvette, stands in its place. We were invited for dinner one evening.
I was surprised at how jam-packed the place was on a weeknight!
If you want more breathing space, you can stay outside the resto as D&B also has a lot of tables and chairs set up in the open area.
Dinner kicked off with some Buvette, or small plates and starters. They're apperizers made for tasting and sharing. First buvette out of the kitchen was the Grana Padano Cheese and Quezon Wild Honey (P190). Wow. Delicious! I'm not a wine drinker by any measure but it went so well with the white wine they served us.
Next up was Crispy Potato Pave and Salty Duck Egg (P175), cubes of potato layers are served with creme fraiche and salty duck egg. It's sooo good… a medley of flavors and textures that just really works. You must eat the potato, creme fraiche, and salted egg all together for the complete experience.
Surprisingly, my favorite buvette turned out to be the Truffle Roasted Cauliflower (P185). Hubby and I both dislike cauliflower. In fact, we don't eat it. But wow, these were crisp like popcorn and super garlicky! I swear I could not stop munching on these.
I also enjoyed the Grilled Romaine Salad (P190). It's just lettuce, parmesan, and creamy anchovy garlic dressing but wow… again, everything works. The chef at D&B is really a master at combining flavors and textures.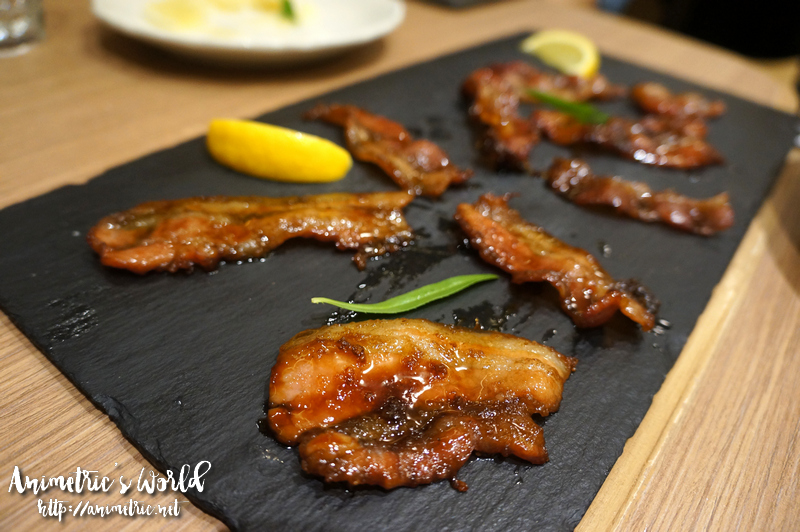 OMG. Our first meat dish was Maple Candied Bacon & Lemon (P175). You must squeeze the lemons onto the bacon for the best possible experience. I swear, if I wasn't afraid of my weight and cholesterol shooting up, I'd devour the entire tray. Combining sweet, sour, juicy, and a sticky candy-like texture make this an unforgettable bacon dish.
Duck and Buvette is in the process of adding sourdough pizzas to the menu and we got to try the D&B Flamenkuch (P420). A chewy sourdough crust is topped with creme fraiche, onions, bacon, and an egg fried sunny side up. You're supposed to break the egg and spread it all over the pizza before digging in. I loved the sourdough crust, it's certainly a lot different from the usual pizzas we have.
My favorite meat dish that night was probably the 8 Hour Angus Briskets (P370). So tender and tasty, you could take them apart with a spoon. Yum!
Now this is one dish that was carried over from the original Cafe Provencal menu — Slow Braised Beef Burgundy (P620). Beef ribs and pork belly cooked for 6 hours in red wine sauce. It's served with rice too. They serve it in this big crock pot right onto your table. It was good but I liked the 8 Hour Angus Briskets better.
The star of the show was definitely the D&B Crispy Half Duck Confit (P980). Crisp outside (skin) and melt-in-your-mouth tender inside (meat), all you need to do is take out your fork and literally dig in. It's great even without the red wine sauce and whole grain mustard which accompanies it. I also loved the sweet cranberry carrots which were served on the side. The duck was so divine I kind of forgot about the ratatouille rice which also comes with it.
Last meat dish but definitely not the least was the Confit of Pork Belly with Egg and Rice (P360). I looked like dessert actually, since it resembled a slice of cake complete with the raspberry and balsamic reduction. This is a complete meal in itself since it's served with garlic rice. This is the perfect version of lechon kawali for me because it's crispy, tender, and flavorful all at the same time. It was so hard not to eat it all, lol.
Food coma. I skipped a few mains and appetizers too. I always, always must make room for dessert and I'm so glad I did because these sweet endings are a dream, starting with Chocolate Sourdough Pudding (P180). Sourdough bread, chocolate chunks, and vanilla ice cream… warm, soft, chewy, and pretty much everything I want my bread pudding to be.
Next up was The Earl's Cheesecake (P190). This definitely isn't your ordinary cheesecake… it's made with fresh madagascar vanilla beans and organic earl grey tea. Creamy, not overly sweet, and satisfying.
This is my first time to encounter a French Ice Cream Sandwich. There are a few flavors available and I tried Wild Honey Thyme (P190). Think of it as a uniquely flavored crisp French macaron shell filled with creamy homemade ice cream. Amazing. Just amazing.
Marj and I shared a Cold Brew Iced Coffee (P150) with a whole lot of milk lol, to cap off our super heavy dinner. I like their coffee, they use Intelligentsia Coffee which hails all the way from Chicago and the scent alone is enough to send you to coffee heaven.
Thank you Duck and Buvette for an awesome dinner (pun intended since we were with Our Awesome Planet's Anton Diaz)! Kidding aside, it truly was an awesome dinner with good food and great company.
For the quality of the food, I find the prices at Duck and Buvette quite reasonable (with the exception of the duck and beef burgundy everything ranges from P100+ to P400+). This will also go down in history as the only restaurant which can make us eat cauliflower, lol. If you want French-inspired food that's uncomplicated, unpretentious, and won't cost an arm and a leg, Duck and Buvette is your go-to place.
Duck and Buvette
2/F Main Wing, Shangri-la Plaza Mall,
EDSA, Mandaluyong City
631-0675
Like this post? Subscribe to this blog by clicking HERE.
Let's stay connected: