After watching the Moonlight Parade, we waited another half hour for the Dream of Laciun fireworks show at Everland Resort. This is the third and last installment of my Everland series of posts. The show started at 8:40pm so it was even colder weather-wise!
Dream of Laciun is a spectacular water, laser lights, and fireworks show conducted entirely in Korean. It's a tale of good versus evil. There's a skit with several characters as well as a narrator. Although we didn't understand anything they said, the plot was sort of self-explanatory.
We watched how the waters danced and how the flames erupted.
Suddenly there was a gigantic fire-breathing dragon! XD
Then rose a color-changing phoenix from out of the ashes!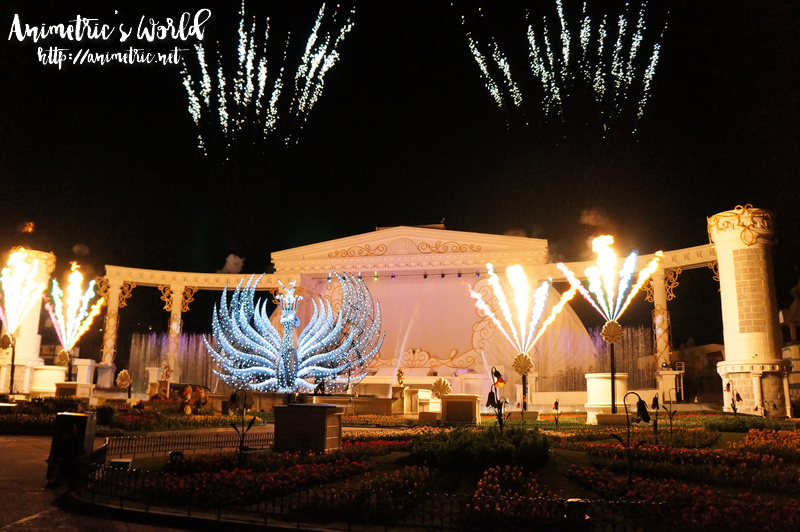 Fireworks started shooting up the sky during the finale!
The sky lit up with different colors and patterns!
We were all awestruck.
Later on, we would find out that we were at Everland Resort the day North Korea launched their missile. XD
Just like the parade, we got to enjoy this show undisturbed by huge crowds. It's the first time I've ever watched a theme park fireworks show from the front row. If you're waiting until night time for the Moonlight Parade you may as well stick around for Dream of Laciun! The show lasts for approximately 30 minutes.
For more information and discount coupons, log on to http://www.everland.com/web/multi/english/everland/main.html — we printed out discount coupons and were able to save several thousand won when we bought our tickets at the gate. 😀
Like this post? Subscribe to this blog by clicking HERE.
Let's stay connected: