One of the more exciting events for me of late was the Dove Daily Hair Vitamin launch at Blo Blow Dry Bar in Rockwell. Two reasons:
I have very dry, damaged hair and I don't know what to do with it anymore.
I've always wanted to try having my hair done at Blo Blow Dry Bar.
What are the chances I get to try a revolutionary new treatment AND have my hair done at Blo Blow Dry Bar on the same day?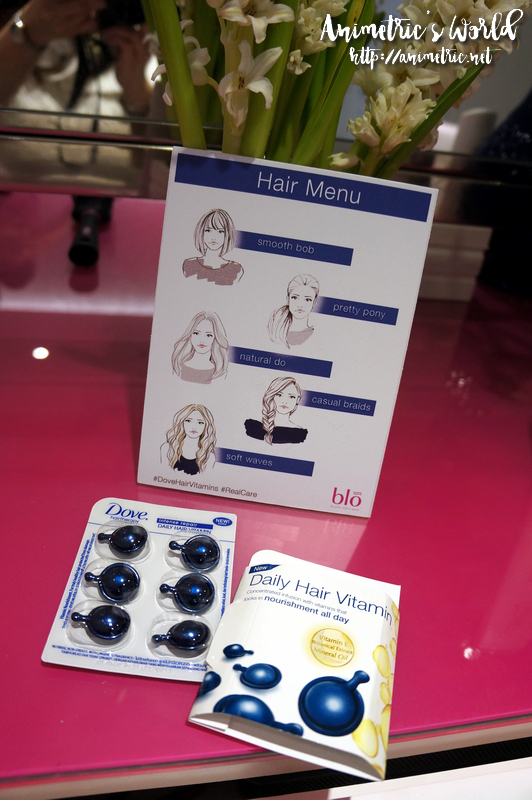 Introducing the Dove Daily Hair Vitamin. Just like daily vitamin supplements you take for good health, you pop one capsule a day and apply to the lower half (mid-tresses to ends) of your hair.
A Dove Daily Hair Vitamin a day keeps the (hair) doctor away?
A dose of Dove Daily Hair Vitamin comes in this blue capsule. You cut off the ends and squeeze out the contents on your palm.
Inside the capsule is this light, clear oil-like liquid which you apply from the middle of your hair strands down to the tips. The best time to apply would be after you've shampooed, conditioned, squeezed out the excess water, and towel-dried your hair. So the sequence is like this — Shampoo-Condition-Vitamin.
So that was what was done to my hair at Blo Blow Dry Bar. After the vitamin application, I picked out a hair style (Natural Do was my choice) and the blow drying process started.
I was really excited because I had heard (and seen on my FB + IG feeds) good things about Blo Blow Dry Bar!
Wow, all she used were a brush and a hair dryer! They have good technique! I really wished I could keep this style forever!
Thank you Dove!
I got to take home a month's supply of Dove Daily Hair Vitamin too!
Dove Daily Hair Vitamin costs an affordable P75 per pack of 6 capsules. That comes out to P12.50 a day. It's now available at Watsons, Mercury Drugstores, Rustans Supermarkets, Shopwise Supermarkets, and Robinsons Supermarkets nationwide. I've been usimg it for the last few days and I find it very effective as my hair has become a lot more manageable compared to before. I will definitely get more when my current supply runs out! 😀
Like this post? Subscribe to this blog by clicking HERE.
Let's stay connected: