We had dinner with friends at Dong Won Garden Korean Restaurant last Sunday. We got a function room since there were eight of us.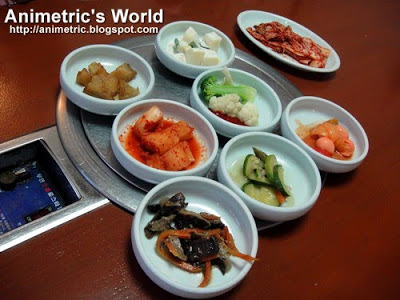 Upon ordering, the server will lay out several little plates of Korean appetizers / sidings. There was kimchi (of course!), pickled cucumbers, spicy radish, sweet potatoes, tiny pancakes (not included in the picture), and a whole lot more. I got confused which I should nibble on because they all looked so interesting.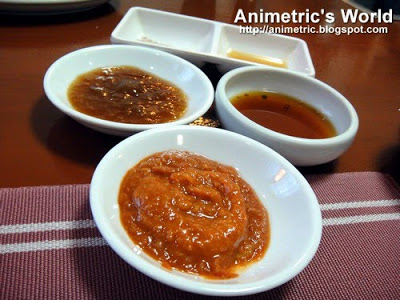 There were a lot of different sauces too. The bright orange pasty looking sauce made of fermented soybeans as it reminded me a bit of natto from Japan.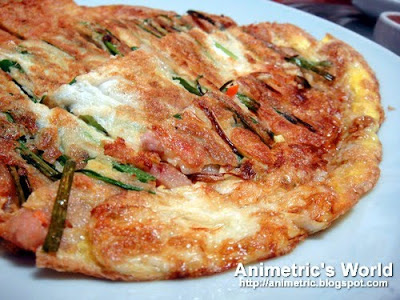 Although we were there mainly to order raw meat and grill it on our tabletop, we couldn't help but order some Pan Fried Food with Seafood and Vegetables (P270, pictured above, and yes that is what was written on the menu), albeit we'd like to call it Pajeon or Korean Pancake. It's delicious and a big hit with my 5-year old daughter.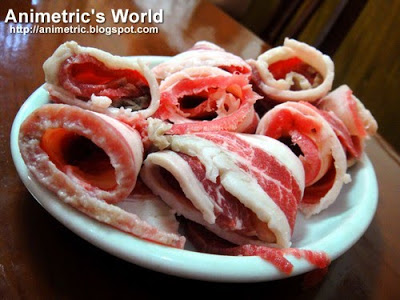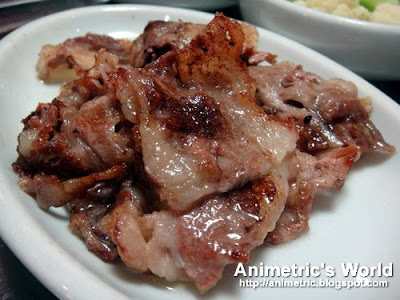 Then came the meat. We had Imported Paper-Thin Sliced Beef BBQ (P450, pictured above raw and cooked). I didn't really like it because it was so damned fatty. If I didn't know better I'd say it was bacon because there's only a very thin strip of lean meat in the middle. I can taste and feel the grease just by looking at that cooked photo. Mental note: Never order this again.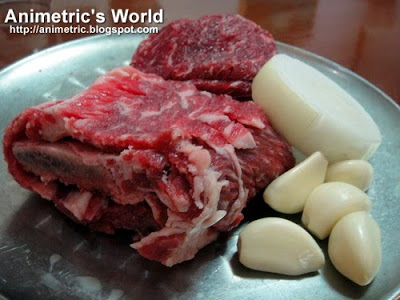 One of the meats we ordered wasn't available and so it was replaced with this slab of beef. I don't know what it's called or how much it costs though since our friend took charge.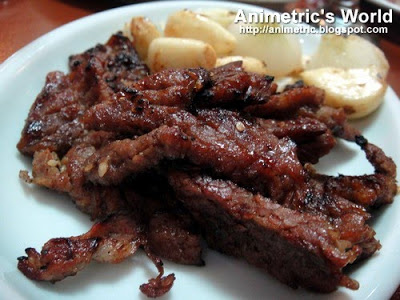 When cut and grilled, that slab of meat transforms into what you see above complete with the garlic cloves. I rather enjoyed munching on the grilled garlic cloves. We had the server cook the raw meat for us. We each had a bowl of steamed Japanese rice to accompany our viands.
We had two other types of beef which I don't know the names of but I have a group description for them:
They all have this barbecue flavor so they're actually tasty even if you don't dip them in the sauces.
Albeit the menu said imported beef, the quality left a lot to be desired. The thicker chunks of beef were not very tender nor juicy, while the paper thin ones were predominantly fat instead of lean meat.
The function room we stayed had the strong scent of either paint or varnish — I couldn't really tell. The aircon isn't enough to cool the room when you start grilling the meats. The ventilation is very bad. The smoke makes the room hazy and my eyes were actually starting to sting and water while our orders were being cooked. Your skin, hair, clothes, and all the things you bring in the room will reek of barbecued meat right after. We could still smell the food at home right after we dumped all our clothes in the hamper.
You get complimentary seasonal fruits for dessert, in our case it was watermelon slices. Dong Won Garden Korean Restaurant also offers 20% off for cash and 15% off for credit card payments if you dine in from 11am to 5pm.
The best thing about dinner for me was the sheer number and variety of fascinating appetizers/sidings they served. I loved their kimchi… it had just the right level of spicyness. I really think they should get better quality meat though because their barbecue marinade is actually pretty good.

Dong Won Garden Korean Restaurant
Jupiter St. cor. Polaris St., Makati City
898-3558

Like this post? Subscribe to this blog by clicking HERE.
Become a Facebook Fan for more food adventures from Animetric's World.