And our Korean BBQ obsession and quest for affordable eat-all-you-can continues, lol. Hubby and I went out to have lunch with friends yesterday at Don Day Korean Buffet near Quezon Avenue. It was cold and rainy so some steaming hot barbecue was in order, heh heh.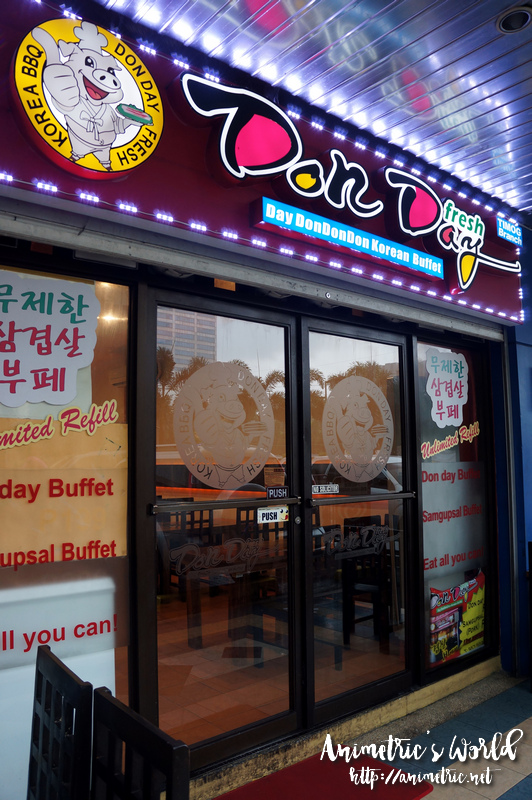 I liked Don Day Korean Buffet's bright and colorful signage. This restaurant is located on the ground floor of Sunshine Plaza which is right across the BIR building along Scout Santiago corner Quezon Avenue.
We got there at around 11am. The place was relatively empty but almost ALL the tables were reserved so we ended up at the corner. Before anything else, there are three kinds of eat-all-you-can deals you can avail of at Don Day Korean Restaurant:
Don Day Buffet Lunch (P257 per person, Monday to Friday) – Unlimited access to the buffet spread but no meats for grilling. There's rice, kimbap, lots of viands (at least a dozen… actually more), banchan, and even fresh fruits for dessert.
Samgeopsal Lunch / Dinner (P335 per person) – Unlimited access to the buffet spread and unlimited pork belly for grilling.
Chadolbaegi Lunch / Dinner (P447 per person) – Unlimited access to the buffet spread and unlimited pork belly + sukiyaki-cut beef for grilling.
Hubby and I decided to go for the full package — Chadolbaegi Lunch! Good luck to my waistline lol. I am so crazy about Korean BBQ.
I went straight for the buffet area to take pics. There were all sorts of leaves for wrapping, kimchi, veggies…
There were a variety of cooked Korean dishes too.
There were lots of interesting side dishes like these egg rolls.
Fried veggie rolls too. I like how there's a good balance between meat and veggies in Korean restaurants. Food just seems so natural.
There were also sliced pajeon (Korean pancakes) and battered slices of meats and veggies.
Wow, this is the first Korean buffet where I've actually encountered Dukbokki! Dukbokki is a Korean dish comprised of cylindrical-shaped chewy rice cakes, meats, veggies, eggs, and seasoning. I had this a lot when I was in Korea. Yum yum!
Of course there were a variety of banchan (Korean side dishes). Loved the glazed baby potatoes with sesame seeds!
There were a lot of food but at this point the owner came out and told me apologetically that taking photos are prohibited. Luckily I had already shot several pics. I asked her if I can take photos of what I get at our table and she said okay. She was very apologetic and polite about it. She relayed that some people had misused photos in the past or something (I did not quite understand as she was not really that fluent in English). Anyhow, this is my plate. I got pajeon, dukbokki, chapchae, kimchi, and some banchan. Their chapchae is a must-try. It's the best among those I've recently tried.
Then we ordered lots of beef. I could tell the beef was of good quality the moment I laid eyes on the tray. I was right. I was very tender and juicy, soooo good!
We had pork belly slices too, of course.
The Korean lady told me to get some lettuce and sesame leaves as well as some pickled radish and explained that it was best to eat the grilled meat by wrapping it with either a lettuce leaf or sesame leaf, putting in a couple of slices of pickled radish, then spreading Doenjang (Korean bean paste) over the meat. Wrap and eat. She said this would create a very balanced taste.
I followed her instructions. I wrapped the lettuce leaf all over these grilled beef pieces and took a bite. OMG. So perfect. It's really the best way to have Korean BBQ!!! I'm more hooked than ever, lol! Thank you nice Korean lady for teaching us the best way to eat Korean BBQ.
The built-in grill on our table was not working so we used this table top cooker instead. I like how you cook the meat in its own oil and then drain it at the same time.
There were fresh fruit wedges for dessert at the buffet area (watermelons and papayas) and a freezer full of Korean ice cream sold by the piece for P35 to P55 each depending on the kind.
We had a really great lunch at Don Day Korean Buffet. There's a good variety of dishes and they serve good quality meats for grilling. What a hidden gem! I'm so glad we discovered it. Service is pretty good too. I suggest making reservations before you go because that's what most people do to ensure they have seats.
Don Day Korean Buffet
G/F Sunshine Boulevard Plaza,
Quezon Avenue cor. Sct. Santiago,
Bgy. South Triangle, Quezon City
709-7500
Like this post? Subscribe to this blog by clicking HERE.
Let's stay connected: