As a mom, I always want what's best for my family. That includes clean and germ-free surroundings. Did you know that sparkly and spotless looking toilets don't necessarily mean germ-free? Just because it looks clean doesn't mean that it is actually clean.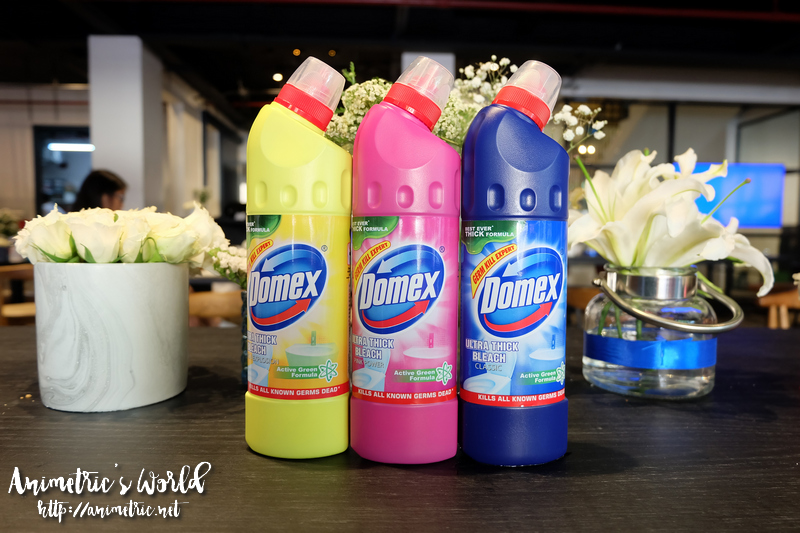 That's where the Domex Extra Thick Bleach comes in. You know I used to dismiss this product. I thought it was just the same as every other bleach product in the market. But it's not, as you'll see in a bit.
We were shown an immaculate-looking white tile. Then the tile was subjected to UV light. See the spots of dirt? Imagine how much germs are in that one tile. You wouldn't know if you just looked at it because as I said, it's an immaculate-looking white tile.
Then they demonstrated Domex's cleaning power on a toilet bowl. Making sure your toilets are clean is an important step in preventing diseases like the flu, diarrhea, and other infections. Domex has done extensive research in toilet sanitation here in the Philippines. Surprisingly, they discovered that 443 million school days are missed due to diseases caused by unsanitary toilets.
See how Domex Extra Thick Bleach cuts through even the toughest bathroom stains? It certainly works better than regular laundry bleach. It lasts after 7 flushes too. The Philippine Public Health Association stated that in order to get rid of germs that could potentially endanger children, a toilet bleach that disinfects is a must for every household.
I learned all about clean toilets over a sumptuous lunch with my mommy blogger friends.
As parents, we should always keep in mind that proper sanitation starts at home. It all begins with a clean toilet. Domex Extra Thick Bleach is so easy to use that it makes cleaning your toilet hassle-free. I've been cleaning our bathroom ever since our all-around helper left and I love using Domex Extra Thick Bleach.
Domex Extra Thick Bleach is available at all leading supermarkets nationwide. A 500ml bottle costs around P80 — definitely a small price to pay for the health of my family.
Like this post? Subscribe to this blog by clicking HERE.
Let's stay connected: