I love love love cooking up easy treats at home. By that, I mean working with whatever I can find to put together something in less than an hour. Five years ago, I never would've uttered love and cooking in the same sentence. But times have changed. I had experienced losing our cook, which forced me to level up and take charge of food prep and well, cooking. Thanks to Google, I scraped on by. I've graduated to experimenting with stuff we have at home, which brings me to today's easy peasy food project: DIY Breadsticks with Gardenia Delicia Cheesecake Dip.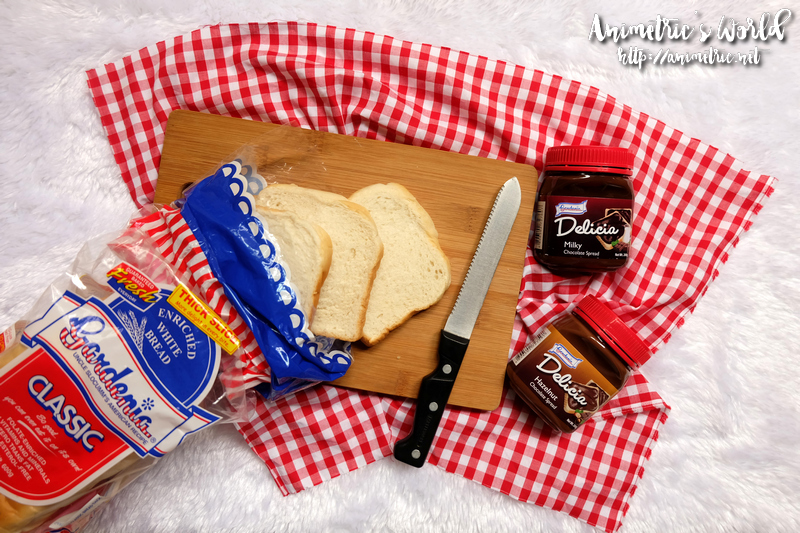 If you have bread and butter, you can already make incredibly crunchy breadsticks. If you have Gardenia Delicia, All-Purpose Cream, and Cream Cheese, you have all you need for the dip. Gardenia White Bread works best for making crunchy breadsticks — and I'm not just saying it. Their white bread is quite firm, not too moist or chewy, which is ideal for what we want to achieve.
I won't even list the ingredients and procedure for DIY breadsticks because all you need are two things: Sliced Bread and Butter. Before anything else, preheat your oven to about 400°F or 200°C. Then:
Slice off the browned edges of the bread.
Cut the bread into sticks. I chose to make breadsticks that are about 1-inch in width. You can make them thinner if that's what you prefer.
Melt some butter and brush on to the bread's surface — front, back, and sides. I used a spatula but it's probably better to use a basting brush.
Pop the sticks into the oven and bake for 10 minutes.
Voila, you now have incredibly crunchy buttery breadsticks! What I'm making today is sweet so unsalted butter was all I added. If you want it savory, say garlic butter breadsticks, just add minced garlic to the melted butter (you can use salted butter) before spreading onto the bread. You can also use olive oil and herbs in place of butter if you want Italian-style breadsticks. The possibilities are endless!
I had some leftover all-purpose cream and cream cheese in the refrigerator because we made lasagna a few days ago. That was where I got the idea for the Gardenia Delicia Cheesecake Dip to go with my DIY breadsticks. Simply mix equal portions of Gardenia Delicia (any variant), all-purpose cream, and cream cheese and blend until smooth. I used 2 tbsps of each of Gardenia Delicia, all-purpose cream, and cream cheese to come up with that amount (shown in photo) of dip.
These DIY Breadsticks with Gardenia Delicia Cheesecake Dip are perfect as a snack or dessert! My daughter liked it so much she finished the entire plate, lol.
You don't need any special equipment to make this. I simply hand-mixed all the ingredients for the dip with a fork. The flavor is fully customizable too! Want it more cheesy? Add more cream cheese. Creamier? Add more cream. Nuttier or more chocolatey? Add more Gardenia Delicia!
Still got a lot of bread and spread? Try my Gardenia Delicia Bread Pudding. 🙂
Gardenia Delicia is available at leading supermarkets nationwide. You can also purchase Gardenia products from the Gardenia Flagship Store on Lazada.
Like this post? Subscribe to this blog by clicking HERE.
Let's stay connected: