A popular question asked in mommy groups is what should I get my teen son / daughter for Christmas? Here's an idea — why not the Divoom Tivoo Pixel Art Speaker (P4,050)? We're all stuck at home for most part until the pandemic is over (who knows when that is?) so getting a gadget makes sense. Before anything else, the Divoom Tivoo is mainly a bluetooth speaker. You can pair your phone, tablet, laptop, etc. with it. So you can use it to listen to music, watch videos, and play games.
I picked the white Divoom Tivoo to give my daughter because it looks classy… in fact I'd go as far as to say it's Apple-ish. She uses an iPad Pro so this will go nicely with it. I love that it looks like a tiny little retro TV set.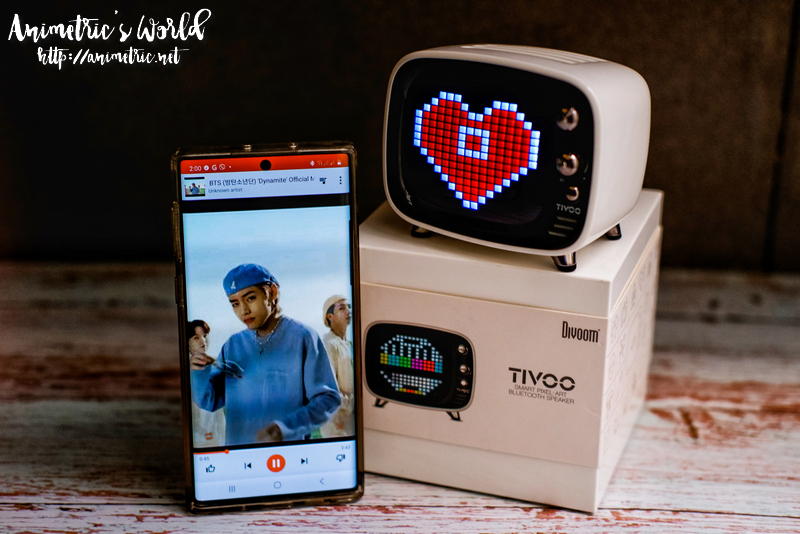 So what sets the Divoom Tivoo apart from other bluetooth speakers? For starters, it has a pixel display screen which can double as a digital clock complete with alarm and stop watch functions. It can also flash images or play animated pixel art while you're listening. There's also a Sleep-Aid mode which plays HQ Alpha Wave audio tracks while flashing melatonin-inducing lighting. I haven't tried this since I don't have a problem falling asleep lol. You can even set it up so you get social media notifications with it.
You can twist the knob and "change channels" to access a different pixel art collection. I find this easy to pair with various devices too. Some bluetooth speakers I've used are um… picky and hard to pair with different gadgets. The Divoom Tivoo readily pairs with everything I have at home.
Download the Divoom app (available on Google Play and the App Store) and create your own pixel art and/or animation. Or you can browse through the stuff other people made and use them on your own unit, like this Among Us pixel art we got. There's also a DJ Mixer so you can make your own remixes.
Audio quality is decent as it uses a 6W 360° full range speaker. This is the first time I've encountered a bluetooth speaker which can do so many other things! It even encourages creativity with the audio-visual creation aspect of the app. It's really perfect for gifting — even the packaging is so nice!
You can purchase the Divoom Tivoo at the Divoom Flagship Store in Lazada.
Like this post? Subscribe to this blog by clicking HERE.
Let's stay connected: