One Saturday evening earlier this month, hubby and I went to check out Diplahan Lechon in an office building in QC. We actually went to their office, lol, because they don't have a restaurant. Diplahan Lechon is offered for delivery only. I was surprised to see my college blockmate there, apparently it's she and her hubby who's bringing over this delicious lechon to Metro Manila (her hubby discovered it in Zamboanga, Diplahan is the name of the town it originates from).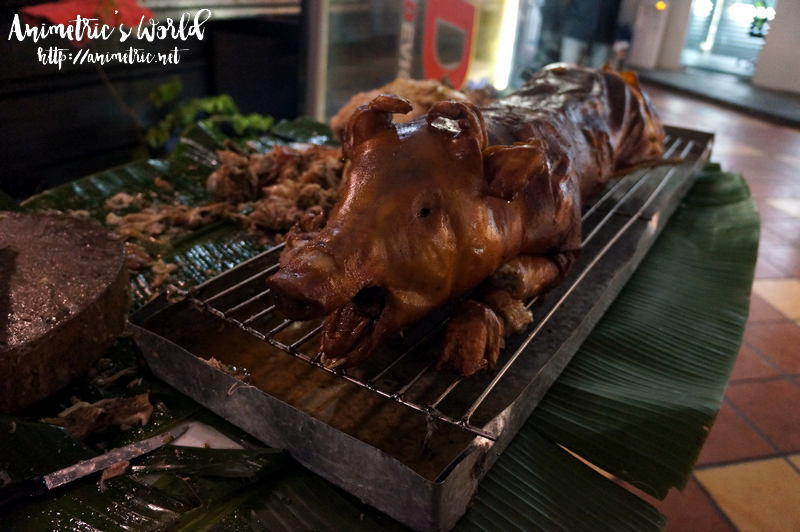 Freshly roasted, hot off the grill! Yep, all we had for dinner that night was lechon, rice, and veggies! What makes this lechon special is the way its made. Let me quote the folks over at Diplahan Lechon:
The Diplahan Lechon is a meticulously prepared and freshly roasted lechon with skin that's cracked, crunchy, and in its natural roasted color of light golden brown. The meat-from nose to tail-is moist, tender, flavorful, and with a tinge of delectable saltiness.
The first thing you'll notice about this lechon is its skin, which is perfectly roasted, rough-textured, devoid of grease, and with a nice hue of yellow. It's packed with a unique but familiar flavor that explodes in your mouth without being overpowering.
The meat is always very tender, very moist, and well-seasoned — with just the right amount of flavors.
Yes it's true, Diplahan Lechon is not greasy, incredibly succulent, tender, and flavorful even without the usual liver-based Mang Tomas-ish lechon sauce we've all grown accustomed to. There was a hint of lemongrass and other spices in the meat. Delicious!
Every order of Diplahan Lechon comes with this special vinegar blend although it's already tasty on its own.
Guess what, the lechon skin can be deep fried to a chicharon-like crisp! Better than chips but oh-so-sinful… I think I had this whole plate LOL. It was like eating super crunchy bacon!
Diplahan Lechon is sure to be a hit in parties! To order just call Carol at 0917-8268010 or Wee at 0917-8268017. Pricing is as follows:
10 – 12 kilos – P 6,500.00
15 – 18 kilos – P 7,500.00
20 kilos and up – P 8,500.00
Please order at least three (3) days before you need it. This is a sure hit at parties! For more info, check out Diplahan Lechon on Facebook.
Like this post? Subscribe to this blog by clicking HERE.
Let's stay connected: