Because of a photo I took, my daughter developed a kind of obsession over Warabi Mochi. This eventually led to our whole family trooping to The Dessert Kitchen one Sunday afternoon.
It was around 2pm when we got there. Lucky for us there weren't really too many people inside The Dessert Kitchen then.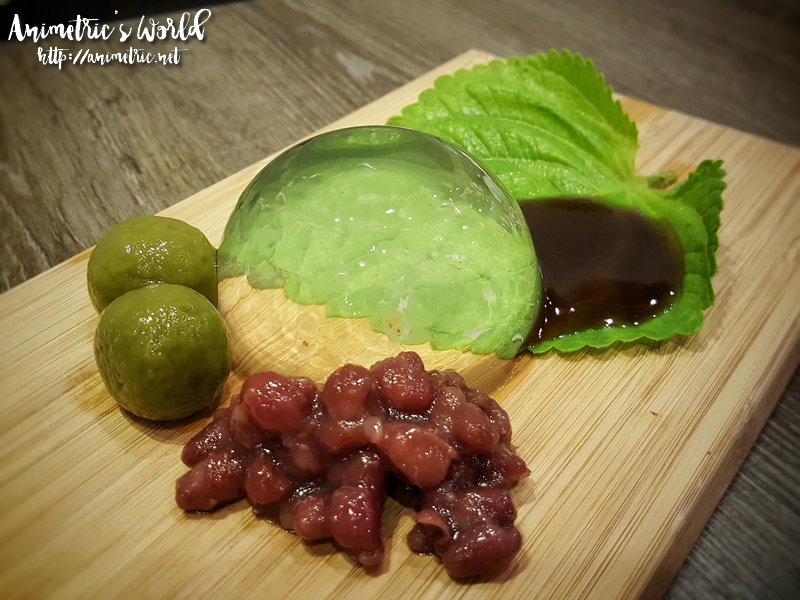 My daughter ordered the Nippon Warabi (P168), also popularly known online as Warabi Mochi or Raindrop Cake. I warned her that the intiguing glass-like jelly tastes just like cold water. It's supposed to be eaten with the syrup and red beans. This actually lacks soybean powder because they had run out and they don't know when they'll have it in stock again. Anyway, my daughter found it insanely refreshing and amusing at first and she was happy with it. Halfway through she said it tastes like nothing and she wishes she had ordered something else. I don't mind though, for me it's a perfect refresher after a hearty meal.
My hubby, who loves green tea, ordered The Dancing Queen (P168). It's green tea ice cream, red beans, green tea kanten (jelly), mini rice balls (mochi), milk pudding, and vanilla ice cream. Wow, I loved the silky smooth milk pudding combined with everything else! Good choice because it's satisfying and not expensive.
I decided to go for something hot and ordered Sesame Rice Ball in Coconut (P188). It looked so impressive on the menu, served inside a coconut shell and all. I was underwhelmed when this all white bowl arrived on our table. It was nothing special too, it tastes just like ginataan. It had two (2) sesame rice balls (mochi filled with black sesame paste) and numerous little rice balls plus coconut strings. Not bad but ho hum… boring!
My son had The Dessert Kitchen's award-winning (Hong Kong Grand Cuisine Awards 2009) dessert called Purple In Love (P258). It's made up of Kyoho grape seaweed balls, grape shaved ice, mini rice balls, fresh grapes, and taro mochi ice cream. It's an explosion of sweet, tart, juicy, creamy, and cold sensations. It's sooooo good! It's refreshingly unique and certainly deserving of the award it had won. It's the biggest among the desserts we ordered in terms of serving size so it can be shared by two people.
Looking through The Dessert Kitchen menu and deciding what to order can be challenging. There are so many kinds of desserts! One visit is definitely not enough. I like the happy yet relaxed vibe the place exudes. The prices are pretty reasonable to boot. We'll probably be back for more.
The Dessert Kitchen
3/F Power Plant Mall
Rockwell Center, Makati City
0995-4488233
Like this post? Subscribe to this blog by clicking HERE.
Let's stay connected: