One restaurant that I really wish would open here in the Philippines is Denny's. I've dined at Denny's in California, Tokyo, and now Guam too! I love the whole idea of being able to get breakfast, lunch, or dinner 24/7.
We arrived in Guam a little before 6am so we needed to find a place to eat that opened early. I asked the airport people if there was a Denny's nearby. Luckily, they said yes! So we drove to Denny's along Marine Drive straight from the airport.
We were very hungry after our red eye flight but knowing how big servings are at Denny's, hubby and I decided to share an order of Ultimate Skillet (US$8.49 / P340). It's sliced breakfast sausage, spinach, roasted peppers and onions, mushrooms, tomatoes, and potatoes topped with grated cheese. It's also served with two eggs your way. We opted for poached eggs.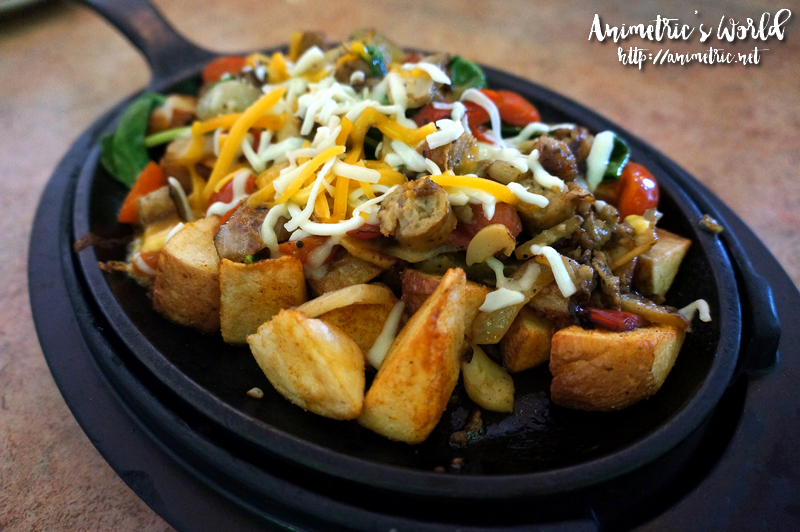 Here's a closer look at the Ultimate Skillet — tasty and satisfying!
Our son, who doesn't like eating airline food, was so hungry he ordered Moons Over My Hammy (US$9.29 / P375), a big thick sandwich with cheesy hash browns. The sandwich has ham, scrambled eggs, plus Swiss and American cheeses in between grilled sourdough bread slices. He liked it a lot.
Since it was a weekday, kids get to eat for free at Denny's if they opt to order from the kiddie menu. My daughter ordered a Softball Pancake, which normally costs US$3.99 / P160. It's a buttermilk pancake served with bacon and sausage on the side then topped with strawberry syrup.
What's surprising in Denny's Guam is the presence of Filipino dishes like adobo in the menu, there was even halo-halo! It's indicated however that only Denny's stores in Guam have these offerings. There are two branches in Guam — one along Marine Road and one in Micronesia Mall.
We really enjoyed breakfast at Denny's. Prices are reasonable, servings are big, and service is both quick and efficient. There's free wifi internet too! I really wish they'd open in Manila soon!
Like this post? Subscribe to this blog by clicking HERE.
Let's stay connected: