I had a standing invitation to try Dekada Historic Filipino Cuisine in Glorietta 3, a Filipino restaurant owned by Marvin Agustin. Since hubby, the kids, and I were spending the long weekend at Makati Shangrila Hotel, I thought it was the perfect time to have a meal there.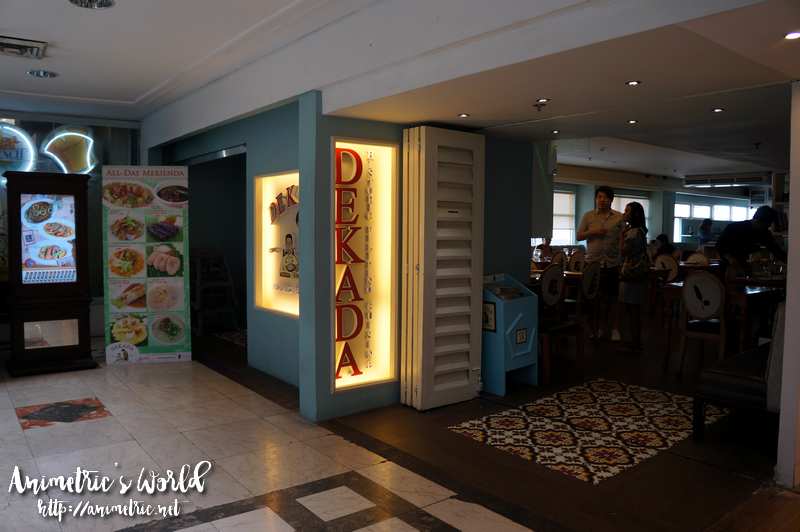 Dekada Historic Filipino Cuisine is located on the second level Glorietta 3, near the walkway to Landmark.
It was a full house during 12nn so it was kind of hard to take a photo, I took this at around 2pm after the lunch crowd had left. I liked the quaint wooden tables and chairs and the homey vibe of the place.
Dekada Historic Filipino Cuisine features books and cassette tapes from the 70's on its display shelves.
For our first course, we had Yamashita Sinigang na Sugpo sa Kamias (P389). It was surprisingly light and even kind of refreshing, not sour at all. In fact, it's very easy to eat if you're not used to the tart kind of sinigang.
Agustino Bagoong Rice (P328) was everybody's favorite. It's topped with grilled liempo, julienned green mangoes, and scrambled eggs. It's tasty, kid-friendly, and it's an all-in-one dish — there's already rice and ulam in one go. One order is good for around 4 people.
Next up was one of Dekada historic Filipino Cuisine's bestsellers, Aguinaldo Twice Cooked Adobo (P389). The meat was really tender. It reminded me of Chinese-style adobo because it's sweet. I liked how garlicky it was too. This was hands down the kids' favorite viand.
We also had Gomburza Ox-Tail and Tripe Kare-Kare (P348). I ate only the veggies drenched in yummy creamy peanut sauce with bagoong because I prefer normal beef parts in my kare-kare, lol. I was only too happy to finish the veggies though.
For dessert, we had Proclamation 1081 Buko Halo Halo Espesyal (P138). This gets plus points for presentation! The usual ingredients consisting of beans, kaong, nata de coco, ube halaya, macapuno, gulaman, leche flan, are topped with a scoop of ube ice cream and a cherry. Syrup is served on the side and we decided not to use it. We loved how creamy and not overly sweet it tasted with just milk and crushed ice!
OMG they have my favorite dessert… Puto Bumbong with Cheese (P148)! I ate 3/4 of this because I love it so much. The cheese in addition to the desiccated coconut and muscovado sugar adds a nice touch to the already awesome sticky rice um… sticks(?) which are basted with margarine.
Hubby ordered Honasan Guinomis (P78). Coconut syrup, crushed ice, sago, pinipig, plus creamy coconut milk make up this delicious dessert. Again, it was surprisingly not overly sweet! So far we were loving every single dessert!
Our daughter had Edsa Milo Godzilla (P168). It's Dekada's version of the Singaporean Milo Dinosaur, it's basically ice cold Milo topped with vanilla ice cream, chocolate syrup, and Milo powder. She finished the entire drink and told me it was super yummy.
Dekada Historic Filipino Cuisine is a nice, reasonably priced Filipino restaurant with all the classic Pinoy dishes everybody usually hankers for. Servings are good for at least 3 people and the selection is pretty diverse. I liked how contrary to the Pinoy preference for sugary tastes, the desserts were not too sweet. There's free wifi internet too.
Dekada Historic Filipino Cuisine
Level 2, Glorietta 3, Ayala Center, Makati City
841-3855
Like this post? Subscribe to this blog by clicking HERE.
Let's stay connected: