Last August 29, I started my 1200 calorie delivery meal plan with Dear Diet Delivery. I found them while checking out diet delivery services online. When I visited their Facebook Page I was surprised they had a promo wherein I would pay only P6,480 for 4 weeks. That came out to just P324 a day. They deliver only from Monday to Friday so you're free during weekends. There are no deliveries during holidays.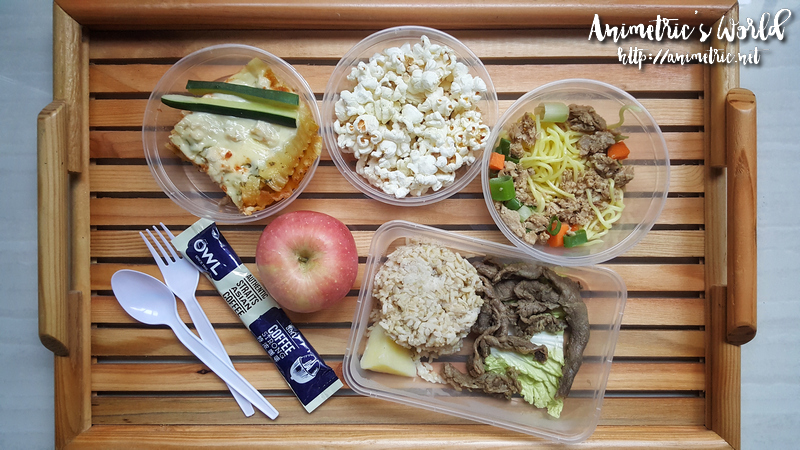 A lot of people have been asking me what Dear Diet Delivery is like. Well for starters they supply 5 meals a day — Breakfast (with coffee), Mid-Morning Snack, Lunch, Afternoon Snack, and Dinner. Not bad for P324, right? The snacks consist of one actual snack and one fruit. The photo posted above is yesterday's delivery:
Breakfast – Breakfast Lasagna
Mid-Morning Snack – Sour Cream Popcorn
Lunch – Healthier Bulalo Rice (soup not in photo)
Afternoon Snack – Fruit
Dinner – Spicy Pork Rameun (soup not in photo)
Aside from the above, daily deliveries include Detox Water, which is basically a plastic cup with 2 slices of lemon and 2 slices of cucumber. I fill and refill it with water all throughout the day. It actually makes me pee more, which I think is good as I feel very un-bloated if there is such a term.
My first week was tough. I was hot-headed from being hungry all the time. However, my body got accustomed to the portions by the second week. I get full really easily now. I'm also more disciplined even on days where there aren't deliveries. I have a better handle on how much I should eat.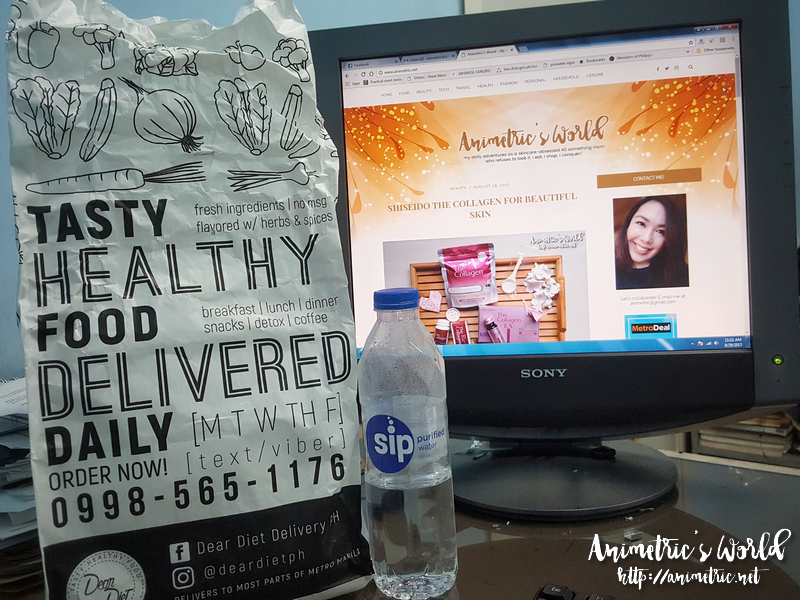 Your whole day's rations fit in one paper bag. So how's the food? It's hit-and-miss actually. But I'm not complaining because I already lost weight. My clothes are already looser after less than 2 weeks into the program. Considering I haven't exercised, the results are satisfactory.
Let's dissect yesterday's menu:
Breakfast Lasagna – Taste was okay but it was dry. They used little bits of chicken as meat. Well we want to avoid oil as much as possible so perfectly understandable.
Sour Cream Popcorn – From the supermarket, I think it's Kettle Corn brand lol. I like Kettle Corn so it was great.
Healthier Bulalo Rice – Okay here's the problem. Their beef supplier sucks. I inwardly cringe whenever beef is on the menu because I can't stand their beef. It's always tough, full of litid, and for me… inedible. See, we are spoiled at home with Tenderbites beef. The soup was fine. All rice meals use brown rice. I end up eating even less whenever beef is on the menu. XD
Fruit – They rotate between 2 fruits daily so you get either Apple or Banana.
Spicy Pork Rameun – Pretty good. I finished every single strand of noodle, every last teeny bit of pork, and all the red soup.
Here's my menu for this week. All the calorie plans get the same food in varying portions. Since I'm on the 1200 calorie plan I get the least food lol. My favorite breakfast is The Daily Oats, which is oats with chia seeds in varying flavors. I get that once a week. Tomorrow's flavor is Coffee Jelly, yay!
So yeah overall Dear Diet Delivery has been good. They deliver consistently around 5:30am every day. Apart from beef dishes, everything else is okay. I wouldn't say these are the yummiest dishes because honestly my cooking trumps theirs but they do the job. I do however doubt the healthy-ness of some of their dishes. I noticed they are rather fond of cream sauces, cheese, and sugar. The main selling point for me is really the price — P324 a day is very realistic and affordable.  Another plus point is their customer service. It's superb. I usually communicate with them via Viber and they always respond in a timely manner.
For more information, log on to the Dear Diet Delivery Facebook Page. Or you can just text / Viber 0998-565-1176.
Like this post? Subscribe to this blog by clicking HERE.
Let's stay connected: