Dear Beaute Himawari is a brand of hair care products which I've come across during my past trips to Japan. I haven't gotten around to buying it because of the word Oil. All the Dear Beaute Himawari products contain Oil — Oil in Shampoo, Oil in Conditioner, and even Oil in Treatment. You see, even if my hair is super dry most of the time, I've never really liked applying oil. I find that oil just coats my hair and weighs it down so it doesn't move. Oil doesn't really soften based on previous experience.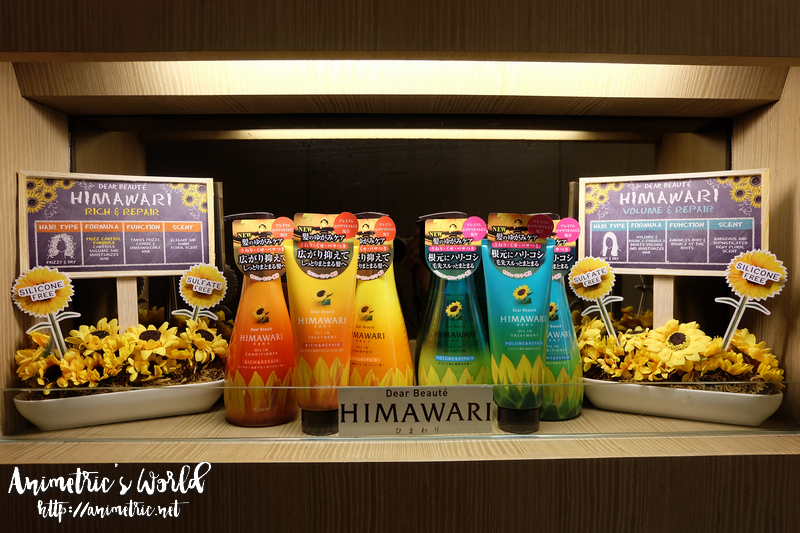 Anyway, last month I was invited to experience Dear Beaute Himawari at Toni & Guy Salon in Discovery Primea. There are two product lines, both of which are sulfate-free and silicone-free:
Dear Beaute Himawari Rich & Repair – Enriched with sunflower extract essence and sunflower seed oil, it's rich texture restores the perfect oil-water balance to hair.
Dear Beaute Himawari Volume & Repair – Contains sunflower extracts especially developed to cater to dry, limp, flat, and rebellious hair.
This was the state of my hair when I arrived at the salon.
We were asked to choose a style — Sleek & Straight (Rich & Repair variant) or Big & Bouncy (Volume & Repair variant). They would use the corresponding product lines based on the hairstyle you choose. Can you guess which one I picked?
I went for the Big & Bouncy style. I had actually already tried the Dear Beaute Himawari Rich & Repair Oil in Shampoo and Conditioner in the past. I found it too heavy, so I decided to try the other variant.
After my hair was shampooed and conditioned, they proceeded with blow drying.
My hair definitely didn't feel heavy or weighed down with this variant.
What I like about Dear Beaute Himawari Volume & Repair Oil in Shampoo and Conditioner:
The scent! I love the fresh scent which lasts a loooong time.
They contain no sulfates and silicone.
I love how my hair felt so soft and light afterwards. These products definitely don't weigh hair down.
Downside? They're a bit pricey since Dear Beaute Himawari Oil in Shampoo and Conditioner are sold in 500ml pump bottles for P695 each. If you want to try these products before you commit to those big bottles, you can grab 10ml samples at Sample Room.
Dear Beaute Himawari products are available at Beautybox Corp. on Lazada.
Like this post? Subscribe to this blog by clicking HERE.
Let's stay connected: