Sunscreen is probably one of my most used products. I make sure apply sunscreen on my face and exposed body parts before I go out of the house. The sun is after all the #1 cause of skin aging, so the more protected I am, the longer I can keep myself from looking like a shriveled up old hag.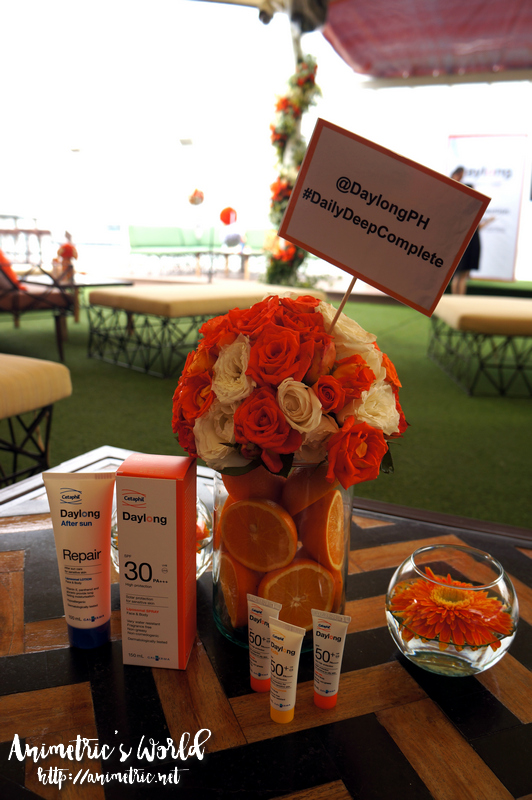 Seeing as I can never get enough of sunscreen, I was very excited when I got the invitation to the launch of Daylong Sunscreen. It's from the makers of Cetaphil, one of the most trusted skin care brands worldwide.
What sets Daylong apart from other sunscreens is its scientific approach to sun protection. Its protection goes deep into the cellular level, protecting all your skin layers from UVA, UVB, and Infrared radiation. It's clinically proven to help protect against cell death and damage, DNA damage, cellular aging, and skin + tissue aging.
It comes in gel form and spray form.
Hahaha, is it obvious we're really excited to try Daylong Sunscreen? So anyway, I got to take this Daylong Gel SPF 50+ PA++++ home from the launch. I was surprised by the PA++++. There used to be 3 +'s max. It's my first time to see 4 +'s!
It's sealed for your protection and what do you know, it's made in Switzerland!
According to the package directions, adults should use 35ml (7 teaspoons) of sunscreen per application. Don't skimp on the sunscreen, believe me, your skin will thank you for it!
I could tell it wasn't your ordinary lotion at first swatch. It's less creamy and more water-like so you don't feel greasy after application.
Spreading it onto the skin makes it thin out and eventually dry to a matte finish.
This is my face right after application. There's a sheen to it, I know, but give it time and it will dry to a matte finish. One of the great things about this sunscreen is it's formulated for both the face and body so you don't need to use 2 separate products anymore! I look sleepy because I apply sunscreen in the morning, lol.
What I like about Daylong Gel SPF 50+ Sunscreen:
It has a high SPF and wow, PA++++. I feel so protected when I use it, lol!
It's free from fragrance and parabens — I swear, there's no scent at all!
It's easy to apply and it's absorbed by the skin quickly.
It's oil-free so it's recommended even for oily skin.
You can use it for both the face and body.
It contains Vitamin E which regenerates the skin.
It's very water resistant so you can use it even if your engaging in water activities like swimming, surfing, etc.
Downside? It does cost more compared to the usual drugstore-variety sunscreen (it's P620 for a 50ml tube like the one I reviewed) BUT you do get complete deep down protection. You know me, I'm willing to pay for skin care so I would gladly invest in something that will keep me young-looking lol.
So anyway, here's the part everybody's been waiting for… the giveaway! Five super duper lucky Philippine-based readers will be taking home a Daylong Sunscreen gift pack worth P5,000 pesos — yes, ALL the following products:
Daylong Gel SPF 50+ PA++++ (P620)
Daylong Spray Lotion SPF 30 PA++++ (P1,290)
Daylong Kids Lotion SPF 50+ PA++++ (P1,430)
Daylong Kids Cream SPF 30 PA++++ (P950)
Daylong After Sun Repair (P890)
To win, just answer the question "What makes you FEEL GOOD every day?" Is it a delicious breakfast to start your day? Is it your cute pet puppy? Whatever it is, take a photo of it and share it on IG while cross-posting on FB. Add the caption "@DaylongPH gives me #DailyDeepComplete sun protection so it's easy to #feelgood #Animetric". That's it!
Daylong Philippines and I will choose the five (5) best entries and each of the winner will take home a Daylong Sunscreen gift pack worth P5,000! This giveaway is open nationwide. Deadline for entries is October 9, 2014.
Oh my, I wish I could join my own giveaway hahahaha! Good luck everybody, looking forward to seeing your photos! And yes, you may create multiple entries.
Daylong Sunscreen products are available at Watson's and SM Department Store branches starting September 2014 and in Mercury Drug branches starting October 2014. Check out this video to see exactly how Daylong protects and takes care of your skin.
Like this post? Subscribe to this blog by clicking HERE.
Let's stay connected: