*This establishment is already closed.
Okay so I'm a little addicted to Darwin Dimsum. It's this small restaurant located on the 2nd floor of a building in San Juan. It's the building beside Kalye Juan Food Park. I've been to Darwin Dimsum something like 3x in 2 weeks lol.
We dined there when our helper took the day off. Then I went back to have lunch there with My Mom Friday. When weekend came, we had lunch there again with my in-laws.
Due to the number of times I've been to Darwin Dimsum, I've tried most of the things on the menu. Let's start with Darwin's Special Siomai (P148 for 4 pcs). Delicious and tasty, they are packed to the brim with meat, shrimp, mushrooms… they serve it with the yummiest siomai sauce too. The sauce is actually for everything, not just the siomai. You pour it onto the rice rolls, congee, hakaw… wahahaha.
This is my hubby and son's favorite Beancurd Sheet Roll (P128 for 3 pcs). I haven't tasted it whoops. But they love it and order it every time we're here.
I love the Xiao Long Pao (P118 for 3 pcs). It's filled with a big piece of meat and piping hot broth that's very flavorful.
Darwin's Special Hakaw (P158 for 4 pcs) is also great. They certainly don't skimp on the shrimp. They have a Hello Kitty version of the Hakaw which sells for P10 more.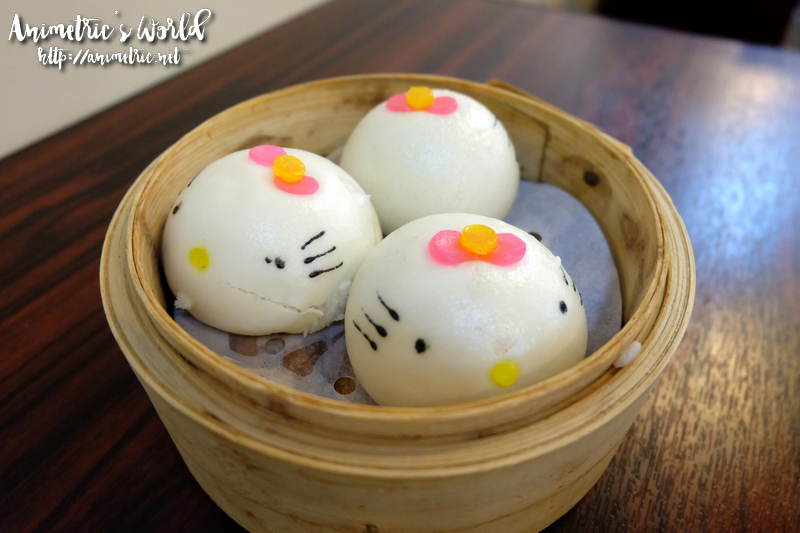 Out of curiosity I ordered Hello Kitty Custard Bun (P148 for 3 pcs). Um they don't really resemble Hello Kitty wahahaha.
It's siopao that's filled with gooey egg yolk filling. It's not really custard. I guess it's okay, although I probably would not order it again.
My daughter and I shared an order of Century Egg Pork Congee (P148). It's a big bowl that can be shared by 2 people. I love this. It's very fine and smooth plus filled with lots of lean pork and century egg pieces.
Hubby and son each ordered Chicken & Sausage Rice (P168). They said it was okay taste-wise, the problem is there are too many chicken bones so it's kind of a hassle to eat.
We tried their Vermicelli Roll with Beef (P138 for 5 pcs). They pour the siomai sauce over this too. I think I prefer the BBQ Pork version. They have Shrimp, Youtiao, and Dried Shrimp versions too.
This is a must-try — Mushroom Bun (P128 for 3 pcs). They look like big mushrooms but they're really soft white bread filled with mushroom and meat. I have no idea what powder they used to create that mushroom-y look and texture.
The Vermicelli Roll with Dried Shrimp (P128 for 12 pcs) is surprisingly tasty considering there's just tiny little dried shrimp pieces interspersed into the rice roll.
OMG the Caramel Malay Cake (P128) is probably the best Malay Cake I've tried, even better than Tim Ho Wan's. Great value for money too since they give you an entire bamboo container full of it. It's got this inexplicably divine caramel taste yet it's super light and fluffy.
Darwin Dimsum currently has a promo that if you like and share their Facebook Page, you get a free drink of your choice from the menu. I did just that and was rewarded with HK Style Milk Tea (P108 for cold). It's really really good, even the kids liked it a lot.
I love Darwin Dimsum. Everything on the menu is in the P100+ range but wow, it's kind of like eating in Hong Kong in terms of food quality. By HK standards, these prices are super cheap. Super love their siomai sauce too, I just wanna pour it on everything.
Darwin Dimsum
2/F TNA Building
17 Jose Abad Santos St.,
Little Baguio, San Juan City
Like this post? Subscribe to this blog by clicking HERE.
Let's stay connected: