Our first time to visit Dambana ng Kagitingan on Mt. Samat was when we went on a long drive to Bataan with friends. It was over the course of the December holidays. We wanted to go somewhere different, not the usual weekend family haunts like Ocean Adventure or Zoobic. Dambana ng Kagitingan (Shrine of Valor) is a memorial to both Filipino and American soldiers during World War II.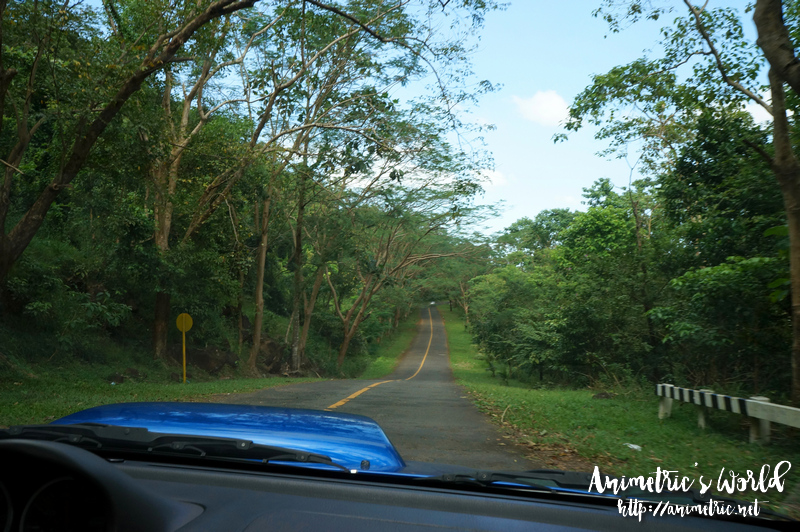 The road up Mt. Samat is long and winding. There are steep turns and a lot of climbing, so good driving skills and a reliable vehicle with sufficient power are a must.
Upon arriving at the gate, you will be charged a minimal entrance fee… something like P10 for students, P20 for adults, and P30 for foreigners. A large cannon greeted us the moment we got down from the car.
You climb the stairs in order to gain access to the memorial.
It actually reminded me somewhat of the Chiang Kai Shek Memorial in Taipei, Taiwan… minus the uniformed guards who stood like statues.
The open air marble structure is bright and spacious. A part of Philippine history is chronicled on its walls.
It's really just a rectangular open space with a story to tell but it's nice to hang out because it's so well-lit and breezy. The marble is literally cool too, some of the kids would actually sit on the floor.
Aside from these writings on the wall, there's also a map which illustrates the historic battles that took place in World War II. Couldn't get a good photo of the map because it was encased in glass and the reflection ruins the view.
There are some weapons on display outdoors.
Our ultimate goal was to visit the memorial cross on top of the mountain. You will have to drive up some more to reach it.
So we drove and went to see the cross up close. You can go inside it and take the elevator to the top for P10 per person.
We paid and rode the elevator to the top. There are viewing decks where you can sit and take photos. It's quite windy here. We all loved the cool mountain air!
This is the view from the top of the cross.
Our kids enjoyed our visit to Dambana ng Kagitingan on Mt. Samat. I think it's a good alternative to the usual theme parks and zoos. This place is something my kids would read about in their civics / social studies text books so they were pretty pleased when they saw it with their own eyes.
Dambana ng Kagitingan is about a 2-hour drive from Manila. There are some stalls which sell hot dogs and drinks but there's no serious dining facility there. Toilets are not so nice plus you have to pay P10 per use. Still, I maintain that it is worth a visit. We found it quite enriching. 🙂
Like this post? Subscribe to this blog by clicking HERE.
Let's stay connected: