Some days ago, hubby and I were wandering around SM Megamall looking for some Samsung toner cartridges for our printer/copier. It was around 3:30pm and we wanted to grab a light snack. We wanted something quick but didn't want to eat at a fast food joint. We were already getting sick of all the processed fare we're usually forced to have on the road.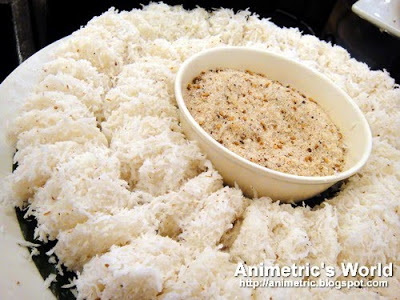 We passed by Dads on the fourth level and spied a poster outside which said P139 Eat-All-You-Can Merienda (merienda means light afternoon snack). We found it so unbelievable that we asked the lady standing beside it if it were actually ongoing and true. She said yes, so we went in. We could hardly believe our eyes when we saw the spread inside. I was immediately attracted to the palitaw (pictured above). Palitaw are small and chewy sticky rice cakes covered with dessicated coconut and dipped in sugar. It has always been a favorite of mine, my grandma would make it fresh for merienda when I was a little girl. Yummy! I had so many of these tiny palitaw.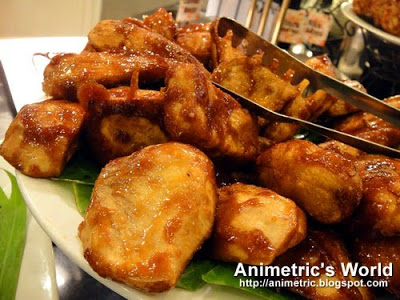 There was also Kamote Cue (pictured above), caramelized sweet potato chunks and slices which are usually served hot. Other sweet treats included Cream Puffs, Chocolate Cake, Biko (another type of sticky rice cake), and Cassava Squares.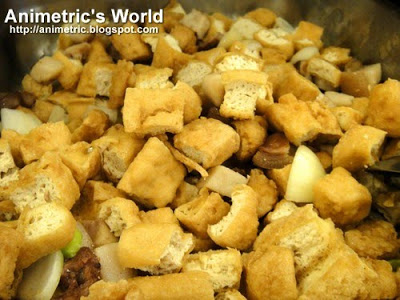 Dads merienda buffet isn't all sweet though. There are even more savory items, like the Tokwa't Baboy (pictured above). Tokwa at Baboy literally mean beancurd and pork. It's a Filipino dish with beancurd, bits of pork, onions, and chili peppers in soy sauce and vinegar. There was also Spaghetti, Pancit Palabok (noodles in shrimp-based sauce), Mami (Chinese noodles), Siomai (Chinese steamed pork dumplings), Siopao (Chinese steamed pork buns), Dinuguan at Puto (Filipino pork blood stew and steamed rice cake), Lumpiang Ubod (Filipino spring rolls), various sandwiches, and Empanadas (Spanish stuffed pastry). It's mostly Filipino fare with a couple of stray Chinese stuff.
Taste-wise, the food is okay, considering you're paying only P139 to have an unlimited amount of it. Nothing special or extraordinarily delicious, but it's got that home-cooked charm. It's nice to eat real food for a change and not those factory-processed patties with salted sticks pretending to be potatoes. We thought it was well worth our P139 per head. Dads Ultimate Merienda Buffet is available from 3pm to 5pm only.
UPDATE as of December 2013: Dads Merienda Buffet now costs P228 weekdays and P258 weekends. There are more food choices, drink-all-you-can, and all the desserts from lunch and dinner including the ice cream station can be availed.

Dads The Ultimate Buffet
Level 4 Bridgeway, SM Megamall
EDSA, Mandaluyong City
636-3785 / 633-1758

Like this post? Subscribe to this blog by clicking HERE.
Let's stay connected: