When I got the invitation to try Cynos Color and Cynos Keratin Treatment at Tinette and Co., I was REALLY excited. As in. There were so many events happening that day but I chose to go to Cynos. I've been having one bad hair day after another because of yucky dark roots, super dry ends, and well… I have no one but myself to blame with all the abuse I subject my hair to.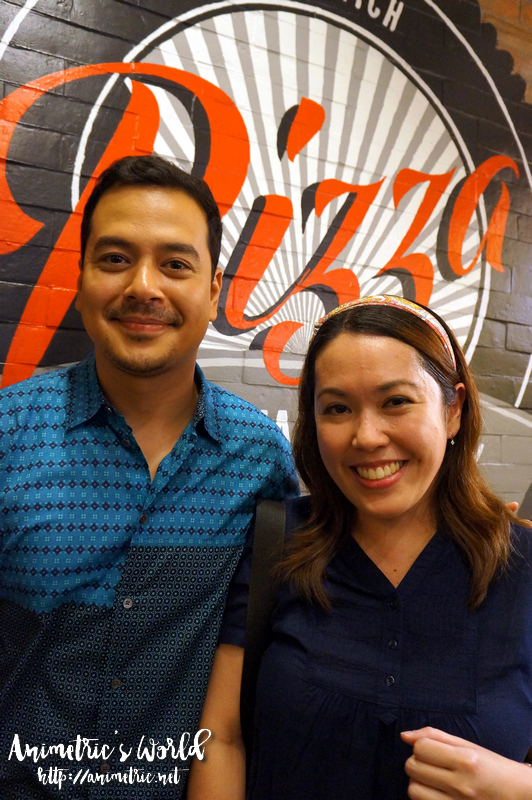 This photo with JLC best shows the sorry state of my roots. I tried using a home coloring kit to "match" the lighter color but I wasn't successful in any way so there.
Of course, my forever partner-in-crime Mrs. M and I picked the same schedule.
Wow, I was so impressed by the efforts of the Cynos folks — they even had personalized placeholders for each of us! Refreshments were served too. 🙂
My before photo — dark roots and super dry icky hair. I have not had my hair rebonded in over a year and honestly I don't want to any time soon.
I was shown the Cynos Color swatches. To make my hair evenly colored, they were going to use shade 7, which is Medium Blonde (although it looks more brown than blonde).
After coloring, I would be experiencing the Cynos Keratin Treatment to moisturize and revitalize my good-as-dead tresses.
My hair was colored, shampooed, and then Cynos Keratin Treatment was combed in. It was left on my hair for maybe 20-30 minutes? I don't remember exactly. Afterwards, my hair was blow-dried.
After blow-drying, my hair was ironed.
Wow, smoothness! I love it when my hair is this soft, smooth, silky, and shiny… to clarify, Cynos Keratin Treatment is NOT a rebonding service. The goal is not to straighten hair but to repair and treat it by infusing it with protein (specifically keratin). The result is hair that seems like it was just blow-dried (permanent blow-dry). You know how curly roots is a problem with rebonded and straightened hair? With this, you won't have that problem because hair eventually goes back to its natural shape (in 6-8 weeks) so there won't be an awkward stage where you have curly roots and straight ends.
I love my hair now! I wish it could stay this way forever — no more dark roots and no more frizz! What's even more wonderful is the fact that Cynos Keratin Treatment doesn't take like 4-6 hours like rebonding does. I was done in 2 hours and that included coloring!
The Cynos folks are soooo nice they even gave me the Re+5 Daily Shampoo and Re+5 Daily Conditioner so I can maintain my new do properly (using these makes the treatment last longer). These are keratin-based too, like the treatment I had. I had to hold off shampooing my hair for 72 long hours (yes, 72 instead of the usual 48 as per the shampoo directions).
It was worth it! Yes, Cynos Keratin Treatment definitely passed my shampoo test. My hair looks natural, not like it was straightened. No "walis tingting" look.
Yes I really love it! My hair feels as good as it looks.
It's everything I want — soft, smooth, shiny, and flexible. Yes, flexible. You know how you can't tie your hair when you get it rebonded? Cynos Keratin Treatment has NO such limitation. You can do whatever you want — tie it, braid it, twist it… the possibilities are endless!
What I like about Cynos Color:
There are a lot of color choices.
It's gentle and doesn't dry out hair.
It effectively covers gray/white hair.
It's reasonably priced. Can you believe that color costs start at P1,850 (for fixing the roots like I did)? Wow!
What I like about Cynos Keratin Treatment:
It makes hair soft, smooth, shiny, and manageable.
It doesn't limit what you can do with your hair — tie it, twist it, braid it, wear it in a bun… do what you want!
It removes dryness and frizz.
It's easy to maintain at home. You can literally just wash and wear your hair.
You won't have an awkward time when hair grows out since hair eventually goes back to its natural shape.
It takes 2 hours tops. If your hair is shorter and less thick compared to mine, you won't reach 2 hours.
It costs a lot less than rebonding. For my hair length and thickness (my hair is really thick), it's just P3,500. I used to spend at 6k and up for rebonding.
There are several salons which offer Cynos Color and Cynos Keratin Treatment but I highly recommend Tinette & Co. where I had them done. I can personally vouch for Tinette & Co. especially as the owner Ms. Tinette Ozamiz-Puyat herself has wavy hair like mine and she truly understands my hair woes.
Tinette & Co.
G/F San Antonio Plaza,
Forbes Park, Makati City
806-7050
Tinette & Co.
G/F Forbeswood Heights,
Rizal Drive, Bonifacio Global City, Taguig City
856-9806 to 09
Like this post? Subscribe to this blog by clicking HERE.
Let's stay connected: