Cyma Greek Taverna has always been one of my favorite places to eat with my girlfriends. In fact I've blogged about it a couple of times in the past. Food is always good and it's the home of my most favorite salad in the world, Roka Salata. I first tried Cyma back in 2009. Imagine my surprise when 6 years later, I was invited to the launch of their new menu! 😀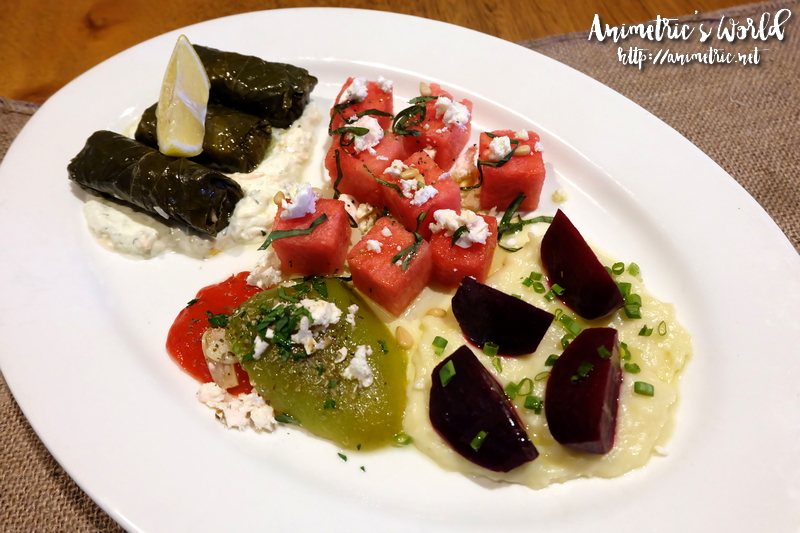 Chef Robby Goco had a lot in store for us — 7 new appetizers, 5 new main dishes, and 2 new desserts. He made it clear that what he is serving is progressive Greek cuisine, a fusion of Greek flavors and cooking styles with Filipino tastes and preferences. Anyway, we started off with the Krii Vegetarian Sampler Mezedes, a vegetarian appetizer which consisted of olives and feta, roasted peppers, watermelon and feta, roasted beets skordalia (a thick puree made of crushed garlic, potatoes, olive oil, etc) and dolmadakia (rice mixture wrapped in leaves). It was surprisingly good. If all vegetarian dishes are this yummy and refreshing I'd gladly forego meat. I especially enjoyed the dolmadakia, which was kind of like a savory suman.
Then we had Dips with Homemade Pita (P695). OMG, the five dips were all soooo good! There was classic tzatziki (yogurt and cucumbers), pine nut melitzonalata (eggplant-based dip), htipiti (red pepper and feta cheese), taramosalata (carp or cod roe — no wonder it tasted like fish!), and Kalamata hummus (olive-based hummus). I can't make up my mind which one I like best, they're all really delicious!
Dakos is crunchy Cretan rusk topped with tomato, feta, capers, oregano, and EVOO (Extra Virgin Olive Oil). It's like levelled up bruschetta. It was surprisingly wonderful, I had to control myself from eating more than two pieces lol.
I initially thought Mezedes Tis Oras (P900) was one of the main dishes but no, it was still a starter! Baby scallops, calamari, octopus, shrimp, and clams in garlic, herb EVOO, lemon, and Greek oregano make up this hearty dish. I love how flavorful all the seafood was.
Mezedes Tis Oras is served with EVOO toast on the side. Wow it may look like ordinary toasted bread but these are so crunchy, chewy, and tasty all at the same time that they're addictive.
Oh my… one of my favorite starters at Cyma has always been their Saganaki or flaming cheese. This is Saganaki with Figs (P350). Fried kefalotiri (Greek salty yellow cheese) is topped with peppered fig jam and like the previous dish, also served with EVOO toast on the side. The fig jam makes the smokey melty cheese buttery, toasty, and sweet all at the same time. It's sooooo good, I swear I can finish an order by myself.
I can probably live on Cyma's Roka Salata forever so from the start I doubted if the new salads could live up to it. This is the Watercress Salad (P300 Solo / P495 Share / P695 Family), it's comprised of fresh watercress, bleu cheese, sweet pears, walnuts, and romaine in summer herb vinaigrette. It's actually quite refreshing but Roka Salata still has my vote.
This is the Fried Calamari and Black Rice Salad (P410 Solo / P590 Share / P730 Family). It's tomato, cucumber, parsley, sultanas, and walnuts in red onion pomegranate dressing. The way to eat it is to mix it all up so that the rice and the parsley get spread around. Like the Watercress Salad, this is really refreshing and quite perfect for the hot summer months. Yep, still Roka Salata for me hahaha!
I had to go somewhere and so I had to cut my meal short (boo!). I missed the 5 main dishes (they had Roasted Alaskan King Crab Legs!!!) and 2 desserts (darn I was really curious about the Olive Oil Cake!). Anyway, I'm pretty sure I'll be back in Cyma Greek Taverna soon since their Robinsons Magnolia branch is in my side of Metro Manila.
Thank you Chef Robby Goco for the lovely lunch!
Have you tried Cyma Greek Taverna?
Cyma Greek Taverna
G/F Greenbelt 2, Greenbelt Drive,
Makati City 1223
729-4837
Like this post? Subscribe to this blog by clicking HERE.
Let's stay connected: