I'm going to be somewhat (okay I'm still a bit in denial) in my mid-40's this year. The rate the years pass by is just CRAZY. Honestly, I feel 30-something but the reality is, I'm not. It's a known fact that the older we get the more we have to take care of our bodies by eating right and at least trying to be fit. At this age, I no longer have unrealistic body goals — I just want to be fit and healthy. Never mind the washboard abs lol, as long as I look okay, I'm fine.
I visited Curves in Robinsons Magnolia earlier today. You know I'm always in this mall but this is the FIRST TIME I've been here. I didn't even know there was a Curves Magnolia. I'm happy of course. I've always been interested in Curves' 30-minute circuit workout when they opened in BGC but it was just too far from me. This location is perfect since I'm based in Quezon City.
So the way Curves works is there are many different workout stations. You spend 30 seconds in each one. The progression is machine-mat-machine-mat and so forth until you complete the circuit. It takes 30 minutes to do so. After 30 minutes, you're done for the day. They don't recommend doing more than 1 round at a time. Curves caters only to women, so there's less likelihood of feeling self-conscious when you're working out.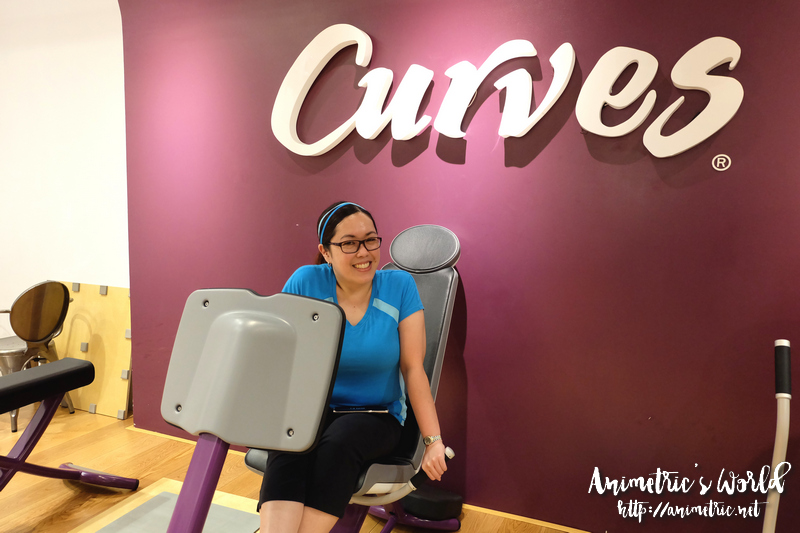 The machines look deceptively easy to manage but they are actually quite challenging. They work out various body parts.
This one requires one to squat and then snap back up to stand. The snappy stand-up is not easy to do because of the resistance.
So far I'm really liking the kind of circuit training Curves offers. I'm really the farthest from being fit because I haven't worked out in years so this is a good way of easing yourself back into exercise.
Curves Magnolia also offers group exercise classes like Zumba, Yoga, Cardio HIIT, and Box & Tone. I tried Zumba earlier this morning and I sweat buckets in spite of the super cold aircon!
Thank you Curves Magnolia for welcoming mommy bloggers today!
Curves Magnolia makes working out convenient. They have lockers where you can store your things.
The lockers are equipped with combination locks so you don't need to bring padlocks.
There are showers and changing rooms too.
I was so sweaty from Zumba I had to change shirts lol. But wow, I will definitely be back for more circuit training! I can definitely make space for a 30-minute daily workout that's close to home. Would you like to try working out at Curves Magnolia? I'm giving away a Curves Surprise Bag which will contain a GC for a FREE month at Curves Magnolia worth P3,490! It will also have a few other surprises of course. This is the 6th leg of my 9th blogversary giveaways. You will have to go to https://www.instagram.com/p/Bfkoq4GHsOT/ for the giveaway mechanics since it's easier to monitor entries there.
Curves Magnolia
G/F The Magnolia Residences,
Dona Hemady St. cor. N. Domingo St., Quezon City
0906-5267307
Like this post? Subscribe to this blog by clicking HERE.
Let's stay connected: