We were invited to dinner at Cue Modern Barbecue last May 22, 2012. It's one of the newest restaurants on the block and so I was really interested to see what it had to offer.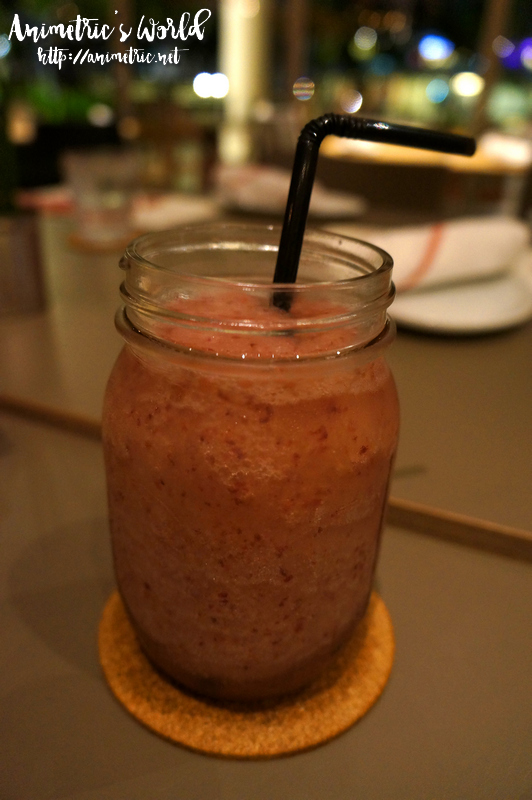 I ordered Grapes n' Ginger Shake (P135) to help me cool down since it was so hot and humid that afternoon. It's a tad too sweet for my tastes and I really didn't taste the ginger. Next time I think I'll go with Green Mango n' Basil. My dinner companion Frannywanny loved it though. 🙂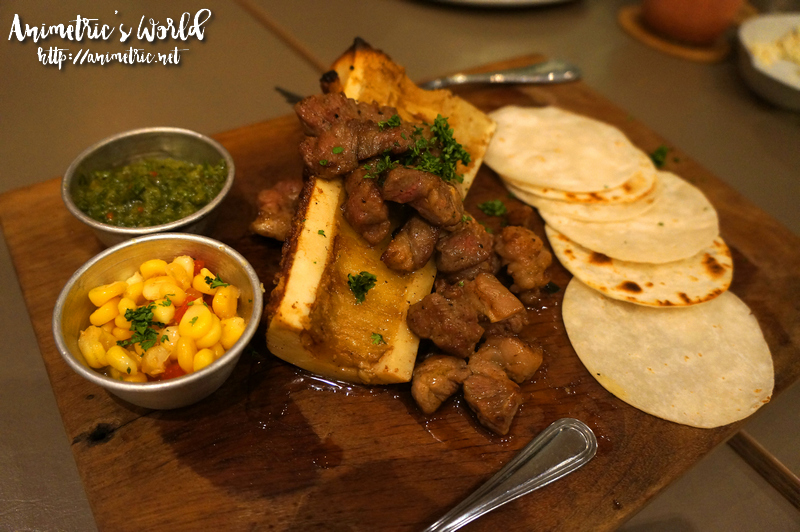 For starters, we had Bone Marrow and Steak Tacos (P485). Basically you get one of the soft flour tortillas and then fill it up with steak pieces and salsa then top off with a bit of sinfully rich and fatty bone marrow. It was incredibly tasty, but I was too afraid to have more than one small serving, haha! XD
Then we had Fried Buttermilk Wings (P355). Crispy fried chicken is marinated in buttermilk then coated with crunchy breading and maple pepper glaze. I loved how well-cooked the chicken was. I normally dislike chicken but this dish gets my thumbs up.
We also had A Skillet of Homestyle Mac & Cheese (P375). Three different cheeses (cheddar, gruyere, and mozzarella) combine with lots of savory bacon bits and tomatoes for a deliciously creamy dish.
Then we shared The House Burger (P395). A double 3-oz. juicy all-beef patty is layered with cheddar cheese, lettuce, tomato, and house-made ranch dressing sandwiched in the middle of a butter-grilled bun. It's served with sweet potato fries on the side too. One order of this is a meal in itself.
Chicken Chipotle Chorizo Pot Pie (P325) is another must-try. Chicken and chorizo cubes garnished with carrots, onion, and celery are smothered in bourbon cream and then blanketed with a chewy, hand-rolled crust. Yummy!
Since Cue Modern Barbecue IS a barbecue place, you can't visit and not try The Baby Back Ribs (P645 Half Slab / P1,185 Full Slab). You can choose whether to have it slow baked and barbecued wet with house-made glaze or slow baked and barbecued dry with house-made spice rub. We had it half wet and half dry. I must say I prefer it wet because I love the sauce it's glazed with. The meat is fall-off-the-bone tender and tasty. It's served with your choice of side dishes too.
Then we had Beef Belly (P695 for 250g). Braised in dark ale and crusted in mustard, it's a different take on the usual grilled Beef Belly with gravy that's normally served in restaurants. The side dish we chose to go with it was Cue's Chili Monggo (P125 if ordered ala carte) which amazingly tastes both like chili con carne and monggo.
For dessert, we opted for The Chocolate Chip Cookie Cake (P195). I don't know how they did it but a moist and chewy cookie as thick as a cupcake was smothered in vanilla ice cream and whipped cream then drizzled with hot chocolate fudge. It's so good it was like I had gone to dessert heaven.
Then there was Caramel Pecan Cheesecake (P235). Smooth, rich, and creamy, it's definitely a decadent way to end your meal.
Cue Modern Barbecue is every meat lover's dream come true as virtually everything from beef to pork to lamb and even chicken has a special place in the menu. There is a little bit of a seafood selection for the not-so-carnivorous but what you really must try are the meats. If you do plan on dropping by, I suggest coming in earlier than the usual mealtime because this place is almost always packed. Better yet, contact them for a reservation.
Cue Modern Barbecue
Lower Ground Floor Bonifacio High Street Central
Fort Bonifacio Global City, Taguig City
0917-8992283
Like this post? Subscribe to this blog by clicking HERE.
Let's stay connected: