The first time I dined at Cue Modern Barbecue was back in 2012. They had just opened and I was invited to try their offerings. I really loved everything we ordered back then.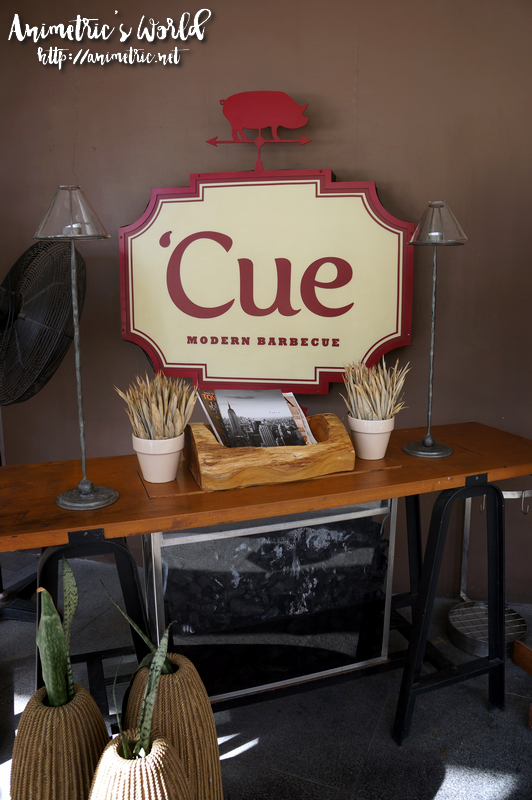 Let's fast forward to more than one year later. Cue Modern Barbecue is now one of the most popular restaurants at Bonifacio High Street Central. It's almost always a full house, especially at night.
I was once again invited to try their latest offerings. As a holiday treat, I was told that a table for six would be reserved for me so I could bring my friends along. This time, I scheduled my visit during lunch. It was December 30, so it was a holiday. I went with my hubby and kids, plus I asked Frannywanny and her hubby Paul to join us since she was in town. Frannywanny relocated to Singapore some time ago but she and Paul visit Manila often. Hubby and I always make it a point to try and meet up with them when they're here. Bonifacio High Street Central was pretty deserted in general that day but Cue Modern Barbecue still had several tables filled.
While waiting, you're served popcorn instead of the more common bread basket. You can choose between plain salted popcorn or cheese-flavored popcorn… or you can ask for both, lol!
Without further ado we got started with the Porch Menu sampling. Cue Modern Barbecue's Porch Menu features finger foods and bar chow that's good for sharing. For the first round, we had Campfire-Style Skillet of Queso Fundido (P190). It's gooey melty white cheddar cheese mixed with chorizo and topped with tomatoes and cilantro. It's served with flour tortillas on the side. It may be considered bar chow at Cue but the kids really loved this dish.
Then we were served with the all too familiar Bone Marrow & Steak Tacos (P485), the very same dish I tried on my first visit. You're supposed to spread the bone marrow like you would butter all over the flour tortilla, add some salsa, and then put a chunk or two of beef on it. Wrap and eat. It's still as good as the first time I tried it. The kids liked it too.
Us adults were served a Patio Cooler (P225) which was divided into four shots to pair with the Queso Fundido and the Bone Marrow & Steak. The Patio Cooler is Beefeater Gin blended with an assortment of fruits, veggies, and spices… well, those and Sriracha hot sauce. It looks deceptively fruity but a sip reveals that it's quite strong, spicy, and let's just say I couldn't really taste the fruits and veggies. It's more like hot sauce and alcohol. The kids had milkshakes, hahaha!
For our second round, we were served Good Ol' Chicken Skins (P145). Wow, this is how I like my chicken skin — perfectly crispy and crunchy! It was like eating chicharon (crunchy pork rind). They're already very tasty as is but you can dip them in the accompanying red & green chili sauce or honey dip.
Then we had Hot Pork Belly Tips (P245). Soft and tender chunks of pork belly are battered and served with dijon-honey and bourbon char siu BBQ dips. These are sooo good it's hard to stop eating once you start.
Pitmaster's Pick (P205) was the cocktail served to us to pair with the chicken skin and pork belly. It's vodka or gin martini, Filipino chili (siling labuyo), Cue's house brine, olives, and pickles. It's a savory cocktail, kind of salty and spicy at the same time. We split it into four shot glasses, I couldn't possibly finish one whole on my own because I have very low tolerance for alcohol.
For our third round, we had Buttermilk Wings (P285). Meaty chicken wings are battered and fried with buttermilk and then coated with a sweet maple-pepper glaze. Crunchy, sweet, and savory, it's kind of like Korean style fried chicken except that it's not the usual soy garlic or spicy kind.
Li'l Clams & Bacon Bits (P210) was served with the Buttermilk Wings. It's quite literally a dish full of little clams cooked in beer broth, topped with crunchy bacon bits, and served with bread. Tasty, albeit the clams were so small the meat is more or less the size of a flattened green pea.
Of all the cocktails served that day, I liked this third one best. It's Bonifacio Sour (P295, pictured above) and it's comprised of Buffalo Trace Bourbon, lemon, calamansi, egg white, and red wine float. It's kind of citrusy. The first two cocktails were on the savory side, this one is kind of sweet.
For our last round, we got to try Crunchy Baby Squid (P225). It's basically calamari served with garlic aioli and finger chile-lemongrass dips. It's best to squeeze the lemon all over the squid before eating. Crunchy outside and chewy inside, this would make a great appetizer if you're not having it as bar chow.
Then we had DIY Fish Tacos (P245). Sesame cornmeal-crusted white fish chunks are served with roasted corn salsa and cilantro lime tartar. You take a flour tortilla, fill it up with fish and the accompanying condiments, wrap, and eat. Yummy! Cue's bar chow can actually double as appetizers and/or snack items for the entire family. The kids loved almost everything we had.
The fourth and last cocktail was the Sweet Soul Picnic (P225). It's made of Sauza Tequila Gold, fresh watermelon, cardamom-agave, and fernet branca. It's the fruitiest of all the cocktails we tried and it's better if you actually eat the watermelon wedge that comes with it.
For dessert, we had Apple Pie (P235). It's served in a little pot and it's quite different from the traditional apple pie. Pieces of cubed apples with cinnamon are underneath the soft and chewy crust. It's topped with vanilla ice cream and a thin slice of dried apple. If you love desserts you can easily finish one serving on your own.
We also had Chocolate Chip Cookie Cake (P195). I'm really wondering what happened to this. This was the first dessert I tried at Cue back in 2012. It used to actually be a chocolate chip cookie cake and not two chocolate chip cookies with vanilla ice cream.
Check out the first time we had Chocolate Chip Cookie Cake back in 2012. I wonder if they still serve it this way or if they've somehow changed it to two cookies with ice cream. I actually like this original version a lot better because it's more delicious and unique, and I never thought it was possible to actually make a chocolate chip cookie that's also a cake at the same time.
The food items off the Cue Modern Barbecue Porch Menu are good for sharing between maybe 3 adults as bar chow or appetizers, but if you're having say DIY Fish Tacos as your main course, you can finish one order easily.
Cue Modern Barbecue's cocktails were concocted by Enzo Lim, the bartender-turned-entrepreneur behind New York's famed Filipino restaurants Maharlika and Jeepney.
It was a nice leisurely lunch made even better by the fact that we got to catch up with Fran and Paul. Thank you for the holiday treat, Cue!
Cue Modern Barbecue
Lower Ground Floor Bonifacio High Street Central
Fort Bonifacio Global City, Taguig City
621-4052
Like this post? Subscribe to this blog by clicking HERE.
Let's stay connected: