It's no secret that we love buffets… especially when we dine in a posh restaurant. This is because we feel that buffet dining lets us sample a lot of different dishes without having to order stuff we can't finish. Of course the fact that we pay a flat rate per head makes it the more practical way to go.
So the latest hotel buffet we tried was the lunch buffet at Cucina, Marco Polo Ortigas' all-day restaurant. We went during the APEC week when everyone was busy trying to dodge traffic and drooling over the APEC hotties lol.
Cucina's lunch buffet offers an eclectic mix of dishes from different parts of the globe. The time we visited, they were highlighting Spanish food — Catalan cuisine to be exact. I noticed there was a lot of seafood. Got a few big and fat crab claws from this section plus tartar sauce, cocktail sauce, and coriander vinegar to go with them. You can actually have crabs and shrimps cooked the way you want them at the grilling area. Yum!
I also got to watch them cook a huge serving of paella. Imported rice from Spain is used to make this. We were served some freshly cooked paella later on and it was very very good. There wasn't any crunchy toasted rice bits as it was a pretty moist and chewy kind of paella. If this were a pasta dish I'd describe it as al dente.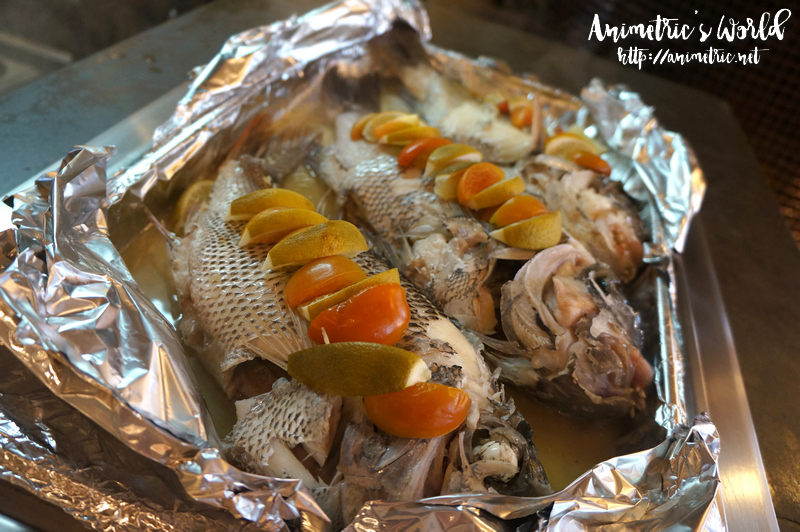 Steamed Sea Bass
Buttered Garlic Seafood
Seafood Thermidor
Paella Negra
If you're a seafood lover, Cucina's lunch buffet is paradise.
There's a modest selection of breads, cold cuts, and cheeses.
Roast Chicken
Roast Beef
Yang Chow Fried Rice
There are also Chinese dishes which include Yang Chow Fried Rice and dimsum like Siomai, Siopao, Steamed Spareribs with Tausi, Chicken Feet, etc.
There's a Pasta Station where you can have a custom-cooked dish with your choice of pasta, sauce, and garnishings. There's also a Salad Station where you can DIY your own salad.
Chicken Tinola
Pork Sisig
Beef Kare Kare
I was surprised to find Filipino dishes incorporated into the buffet.
Salmon in Lemon Butter Sauce
Like I said earlier, lots of seafood in this buffet!
Chicken Biryani
Wow they even have Indian dishes! I like Biryani because it's flavorful but not greasy like the usual fried rice.
King Prawns Curry
Dessert Selection
Now comes my favorite part — dessert! There's an Ice Cream Station, Crepe Station, plus lots of assorted pastries and fresh fruit.
Bonnet
Cassatta a la Siciliana
Tiramisu and Red Velvet Cakes
Buffet dining at Cucina in Marco Polo Ortigas starts at P1,500++ per head (P1,850 nett). Kids ages 0-6 get to dine for free while kids 7-12 years old pay half price. While it's not cheap, it is a bit less expensive compared to other posh hotels' buffets (most will set you back over P2k per adult head). You can add P320 net per head for unlimited sodas and juices or P850 net per head for unlimited wines.
Cucina
24/F Sky Lobby Marco Polo Ortigas
Meralco Ave. cor. Sapphire St.,
Ortigas Center, Pasig City
720-7720
Like this post? Subscribe to this blog by clicking HERE.
Let's stay connected: