Every Chinese New Year, my in-laws make it a point to have a family dinner in a Chinese restaurant. We'd usually have a sit-down lauriat dinner with more or less the same type of dishes. Since Chinese New Year falls on a different date every year, this year, that's going to happen on Feb. 19, 2015. I would like to clarify that although this is Crystal Jade Dining In, it's different from the Crystal Jade Shanghai Delight in Greenhills (which is now closed). Crystal Jade Dining In BGC is the fine dining version of Crystal Jade here in the Philippines.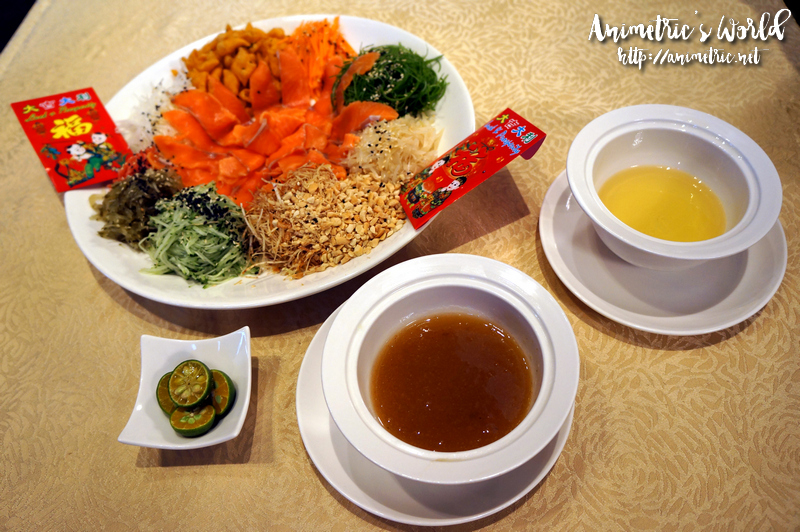 Yu Sheng or Prosperity Toss Salad
Anyhow, I was invited by Crystal Jade Dining In BGC to check out their new dishes sometime last month. It's very timely because my in-laws asked me to find a restaurant we can have dinner at on Chinese New Year. Crystal Jade Dining In BGC prepared something especially for the upcoming Chinese New Year, a salad called Yu Sheng a.k.a. Prosperity Toss Salad. The ingredients consist of a mix of shredded vegetables, fish, chopped nuts, and crunchy fried wonton strips. Crystal Jade Dining In's Yu Sheng uses two sauces — plum sauce and a more citrusy vinaigrette-ish dressing.
Yu Sheng or Prosperity Toss Salad
Yu Sheng literally means "tossing up a good fortune". The red packets beside the salad ingredients actually contain pepper which you sprinkle over the entire dish. After the sprinkling, everyone gathers around with chopsticks in hand and all together they toss the salad upwards. The higher you toss upwards using your chopsticks, the better your fortune will be.
Yu Sheng or Prosperity Toss Salad
It's bound to get messy so I stretched out my hand and kept my distance. I had to go somewhere else after this luncheon so I couldn't get food on my clothes. This is the aftermath of the tossing. By the way, the salad is really really good. I found it light and refreshing.
Green Apple Shake (P150+)
I ordered a Green Apple Shake to go with my meal. I don't remember the exact price but it was around P150+ I think. I would've liked it better if it were a bit more tart. It was a little too sweet for me.
Roasted Peking Duck (P2,700 for one whole)
The next dish out was Peking Duck. It's my first time to try Crystal Jade's Peking Duck. This isn't really a new dish but it's a classic and I'm glad they served it!
This is my favorite way to eat Peking Duck, sliced and wrapped together with veggies and hoisin sauce in a warm and soft flour tortilla. Delicious! It's definitely at par (if not a notch better) with Peking Garden's, widely considered as one of the best in Metro Manila.
Double Boiled Fish with White Fungus and Papaya
A very unique soup was brought out next — Double Boiled Fish with White Fungus and Papaya. The fish aroma was very strong, leaning towards the pungent side and may take some getting used to.
Double Boiled Fish with White Fungus and Papaya
It is however very clean-tasting and rather comforting once you get around to it.
Golden Sesame Balls Stuffed with Fresh Mushrooms
I thought we were already having dessert when the next dish was served since it looked a lot like Buchi. Yes, it's kind of like Buchi on the outside — fried glutinous rice balls coated with sesame seeds. It's the filling that makes it a savory dish.
Golden Sesame Balls Stuffed with Fresh Mushrooms
Inside the ball is chopped fresh mushrooms. Incredibly juicy and flavorful, I wouldn't mind having more of this.
I had to leave mid-meal for another commitment (lunch started kinda late) so the Golden Sesame Balls was the last dish I had. I missed the following:
Crispy Prawn with Sliced Apple and Sweet and Sour Sauce
Steamed Live Garoupa with Olive
Sauteed Assorted Vegetable with Preserved Vegetable
Braised Noodles with Shredded Duck Meat and Mushroom
Japanese Glutinous Rice Dumpling with Mango Cream
Chilled Coffee Jelly
Taro Balls
Anyhow, I was quite happy with what I was able to have in terms of taste and presentation, too bad I couldn't stay longer. I promise to take photos of Crystal Jade Dining In BGC's interiors when I go back.
Crystal Jade Dining In
Bonifacio High Street Central
30th St. cor. 7th Ave., Bonifacio Global City, Taguig City
808-5233
Like this post? Subscribe to this blog by clicking HERE.
Let's stay connected: