It's summer once again. My ravenous teenage kids are off school, which means they are at home most of the time. The problem is, they're always hungry! When they have classes, all I need to cook is dinner because everyone makes their own breakfast. Then we have lunch at my in-law's house which is near our office. I give the kids lunch money so they eat in school. Now that they're on vacation, I need to make sure they have something to eat at home the entire day!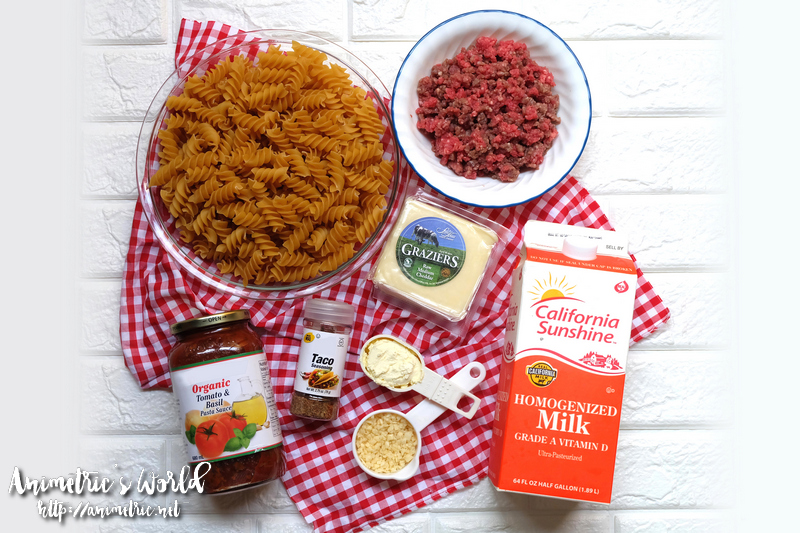 One of my go-to dishes for the kids is my very own Creamy Cheesy Tomato Pasta. I came up with the recipe by imagining what ingredients would go well together in my head. Then I tried cooking it. Everyone at home liked it and I've been making it regularly ever since. However, I recently came across some Real California Milk products and so I decided to level it up.
Before anything else, can I just say that California Sunshine Homogenized Milk is probably the best-tasting milk I've tried so far here in the Philippines? It takes me back to vacations at my mom's house in California, where we'd get the gallons of delicious Real California Milk from Walmart. Incidentally, California is the USA's leading producer of milk, ice cream, butter, nonfat dry milk, and whey protein concentrate. It is also the second largest producer of cheese and yogurt.
Anyhow without further ado, here's my recipe:
Creamy Cheesy Tomato Pasta
Ingredients:
1 package 500g Pasta — my kids prefer Fusilli, so that's what I use
250g Lean Ground Beef
Taco Seasoning (the type with NO MSG)
1/4 cup Minced Garlic
500g Tomato and Basil Pasta Sauce
1/4 cup All-Purpose Cream
1/4 cup Real California Milk (for this I used California Sunshine)
2 cups grated Real California Cheese (for this I used Graziers Raw Medium Cheddar)
2 tbsps Muscovado Sugar
Salt and Pepper to taste (optional, I didn't use either)
Olive Oil for frying
Procedure:
Cook pasta according to package directions.
Sprinkle taco seasoning all over the ground beef. Then mix together. I don't know how much taco seasoning I use but I just cover the surface of the ground beef.
Mix together 1/4 cup all-purpose cream and 1/4 cup Real California Milk.
Drizzle your pan with olive oil and saute all of the minced garlic.
Add the ground beef when the garlic is slightly toasted.
Saute ground beef until it is no longer red/pink.
Add pasta sauce. Mix well.
Add milk + cream mixture. Mix well.
Add 1 cup grated cheese. Mix well until cheese melts into the sauce.
Add 2 tbsps muscovado sugar.
Add cooked pasta. Mix well.
Transfer pasta into a baking container and top with 1 cup grated cheese. Bake in pre-heated oven until cheese on top is melted (took about 3 mins on my end).
I season my ground beef with MSG-free taco seasoning (all herbs and spices) to give it a more distinct flavor.
This is how much taco seasoning I use. I mix it in the ground beef so the flavor is even. I find that taco seasoning complements tomato-based pasta sauces perfectly.
Here's a hack: I mix together equal parts of all-purpose cream and milk to make my own culinary cream. From what I've seen in the supermarket, culinary cream is expensive at P100+ for a small tetra pack. Milk and all-purpose cream cost less. Since my kids drink milk all the time, there's no wastage. Want a richer and more flavorful culinary cream? Use whole milk like California Sunshine Homogenized Milk. Want culinary cream that is lower in calories? Use skim milk or non-fat milk.
This is how much olive oil I use to saute the garlic.
Saute the ground beef with the garlic until it's no longer red/pink. I added another tbsp of olive oil when I added the beef.
Pour the entire 500g of pasta sauce into the cooked beef.
Follow up with the DIY culinary cream (milk + cream mixture).
Add 1 cup of grated cheese as soon as you mix the milk mixture into the sauce. Mix until cheese melts. Add 2 tbsps of muscovado sugar and mix until it melts into the sauce. This takes the edge off the tomato's natural tartness.
Mix in the cooked pasta. You're almost done!
I put the pasta in a baking dish and topped it with 1 cup grated cheese. I think I should've used 2 cups to make it extra cheesy because the 1 cup of cheese kind of disappeared after baking lol.
Voila, my Creamy Cheesy Tomato Pasta made with Real California Milk is ready! I will definitely use 2 cups of grated cheese to top it next time. For more flavorful and nutritious dishes, always look for the Real California Milk or the Real California Cheese seal. There's really a big difference in taste and quality. The seal means that the product is certified as having been made with 100% Real California Milk from Real California Dairy families.
Real California Cheese is made from Real California Milk, you can really taste the difference. My kids don't want to go back to the heavily processed and filled cheeses I used to buy. I made the switch when I tried cooking with Real California Cheese for the first time last year.
This is the perfect dish for the kids because they can't finish it in one sitting. We store what's left over in the refrigerator. They can easily reheat a portion when they need a snack — and they get hungry a lot! I told them to just grate more cheese before heating so that they can enjoy freshly melted cheese topping every single time.
My Creamy Cheesy Tomato Pasta provides carbohydrates (for energy) from the pasta and protein (for building and repairing tissues) from the ground beef. Real California Milk enriches it with calcium (for healthy bones), Vitamin D (also for stronger bones), Vitamin A (for glowing skin and immunity), and Vitamin B12 (for building blood cells).
The best part is, all the kids love it! I served it for merienda when our nephews came to visit and they said it was yummy! 😀
Real California Milk and Real California Cheese products are available at S&R Membership Shopping (you can get California Sunshine Homogenized Milk here!), Landers Superstore, Robinsons Supermarket, Unimart, Merkado, and SM Hypermarket.
For more information, visit http://www.realcaliforniamilk.com.
*This is a sponsored post for Real California Milk. The recipe and all opinions stated herein are mine. 
Like this post? Subscribe to this blog by clicking HERE.
Let's stay connected: