Beauty products with natural ingredients are becoming more popular, thanks to consumers who are becoming more health-conscious. Harnessing the power of nature, Cream Silk releases its newest line of hair conditioners in the market — Cream Silk Rich Organic Powefusion Ultra Conditioner. This combines Cream Silk's signature moisturizing technology with organic balms and luxurious oils.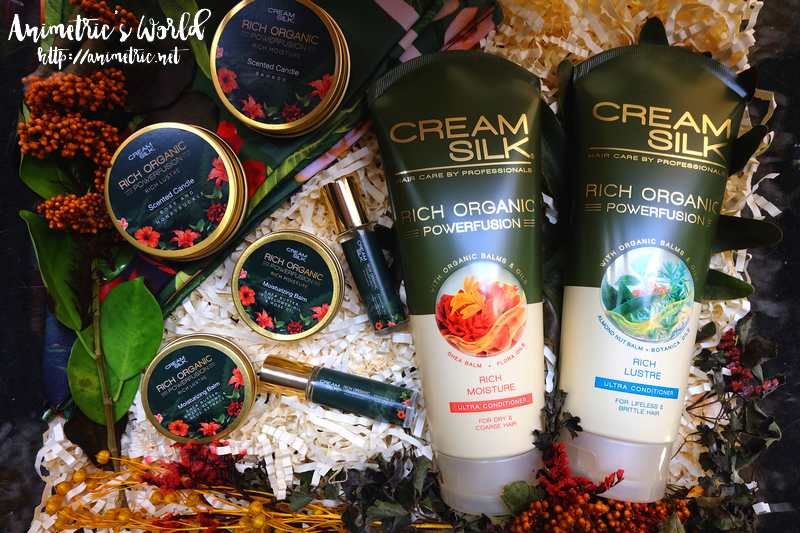 There are two (2) variants in this line so far:
Cream Silk Rich Organic Powerfusion Ultra Conditioner in Rich Moisture – This uses shea balm, rose oil, plus hibiscus and honeysuckle extracts to smoothen dry and coarse hair, strengthening hair as it grows.
Cream Silk Rich Organic Powerfusion Ultra Conditioner in Rich Lustre – This uses almond nut balm, cinnamon leaf oils, plus bamboo and aloe extracts to add shine and smoothness to fortified hair.
Both variants are formulated with sunflower seed oil which naturally penetrates hair at the root to nourish each strand from within. Science and nature come together to give Filipinas the richness their hair needs.
So far I've tried the Rich Moisture variant and it smells really nice. My hair is also easy to comb after shampooing when I use it. My hair was at its driest prior to me trying this product and I'm happy to report that's no longer the case. I'm pretty satisfied with the moisturizing effect and I'm just finishing up my tube before I move on to the other variant.
Cream Silk Rich Organic Powerfusion products are available in 2 sizes: 150ml for ₱150.50 and 300ml for ₱261.60. Discounted bundles on sale for the launch promo at the moment, so do check out your favorite online store for these offers. You can purchase Cream Silk products at the Unilever Beauty Flagship Store on Lazada.
Like this post? Subscribe to this blog by clicking HERE.
Let's stay connected: