If there's one hair product I can't do without it's conditioner. My hair is just impossible to comb without it! I love trying different ones too. Now one of the brands I use is Cream Silk. Cream Silk has several variants and I've actually tried them all. I can attest that each one has a different effect on my hair, so there are only 2-3 variants which I find ideal.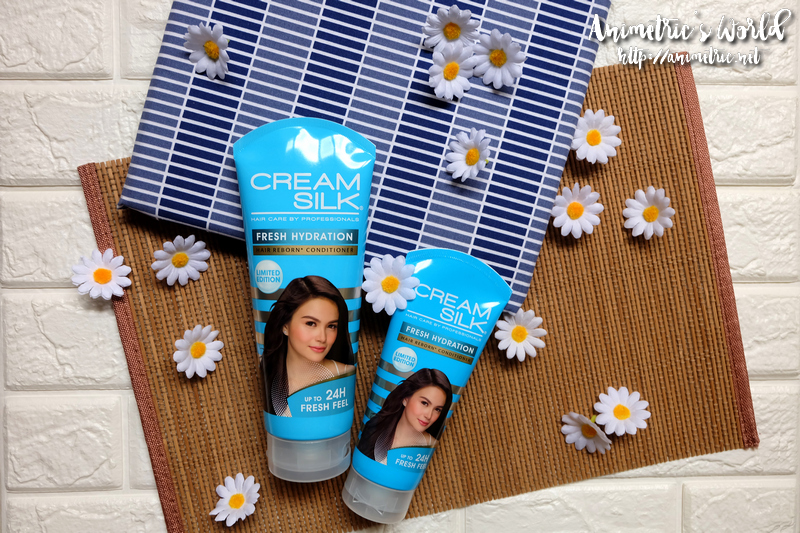 This March, Cream Silk is releasing a limited edition conditioner for the hot summer months — Cream Silk Fresh Hydration. It guarantees up to 24 hours fresh feel to keep your hair hydrated without the greasiness.
The hot summer months are quite confusing where hair is concerned. It's super hot so you get all sweaty… not to mention greasy and sticky. But at the same time, the additional sun exposure can dry out hair. Cream Silk Fresh Hydration is the customized solution to keep your hair fresh and moisturized.
I was so excited to try this new variant that I used it right away. The conditioner is actually light blue! All of the other Cream Silk variants are white. It smells so nice and fresh too.
Wow, just wow. I honestly wasn't expecting anything dramatic but my hair was so much easier to comb through after I used Cream Silk Fresh Hydration Conditioner. I didn't even need to use a straightening iron to achieve this level of smoothness. Normally I have to.
Snapped these photos 24 hours after I used Cream Silk Fresh Hydration Conditioner and yay, my hair isn't greasy. In fact, I think it'd still be okay if I decided to just shampoo again the next day.
What I like about Cream Silk Fresh Hydration Conditioner:
It smells so nice and fresh, really perfect for the summer.
My hair was noticeably easier to comb afterwards.
My hair was soft, smooth, and pretty sleek even if I didn't use a straightening iron.
After 24 hours has passed, I noticed my scalp wasn't oily! So yes, the fresh feel is real.
Downside? It's a limited edition product that's available only for the summer. Since it's now officially my favorite Cream Silk variant, I guess I have to hoard lol.
Cream Silk Fresh Hydration Conditioner is available at leading supermarkets and drugstores nationwide. Suggested retail price is ₱109 for 170ml and ₱197.50 for 340ml. You can purchase Cream Silk products at the Unilever Beauty Flagship Store on Lazada.
Like this post? Subscribe to this blog by clicking HERE.
Let's stay connected: