I got the Crazy Skin Lifting Mask some weeks ago for review. You know me, I can never say no to Korean beauty products. Especially those recommended for mature skin. Lol, I'm there — mature skin. But I'll be damned if I start looking like an old hag. I'm fighting aging every step of the way… at least where my skin is concerned.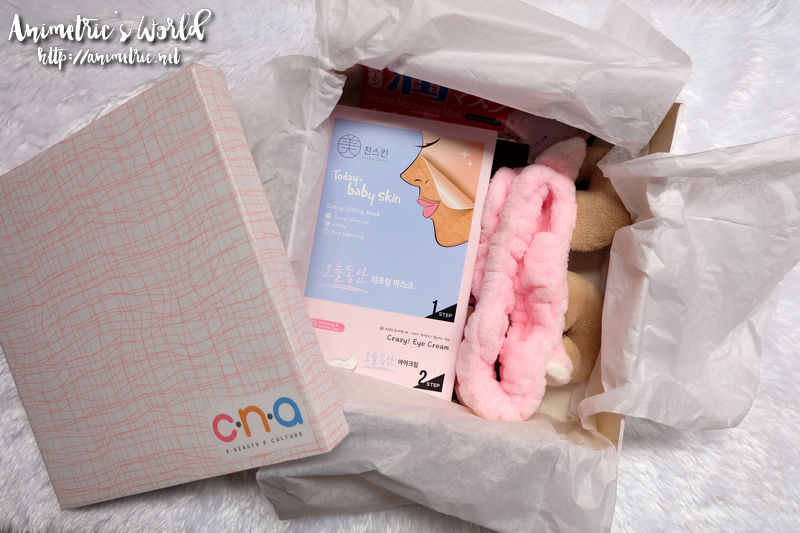 Anyway I got a nice pink box from CNA Philippines, the local distributor of the Crazy Skin Lifting Mask.
They threw in a couple of extra stuff too — namely a cute animal headband and a reusable face mask (not in the photo). The Crazy Skin Lifting Mask comes in boxes of 5 masks. It costs P150 per sheet. CNA Philippines and BeautyMnl actually sell this on a per sheet basis. The price is very reasonable because aside from the mask sheet, a separate sachet of Crazy Eye Cream is included in the foil pack.
Everything is in Korean. Thank goodness CNA Philippines included step-by-step instructions in English. There's a how-to video on CNA Philippines' Facebook Page too.
The mask sheet comes with a mesh backing sheet you will have to remove.
The first thing to do is put on the mask sheet on your clean face. I cleansed and toned prior just to make sure there's no dirt, grime, or leftover makeup.
After about 8 minutes, take off the mask sheet. There will be essence left all over your face where the mask was.
Wait for another 8-10 minutes until the essence dries up and cracks start to show.
By cracks I mean these. After you see cracks all over your face, wash the mask off with warm water. Then pat your face dry.
Some Crazy Eye Cream is included in a separate sachet. This is meant for application right after washing off the mask. According to CNA's website, you can use this not just under the eyes but for the entire face.
So this is my face after washing off the mask and applying Crazy Eye Cream.
What I like about the Crazy Skin Lifting Mask:
My face felt soft, smooth, and firm right after use. It's worth mentioning that the Crazy Eye Cream was absorbed quickly and I had a lot leftover for a couple more uses.
Makeup application was a lot easier. I didn't have to spend any time priming.
When I went to the office, all my officemates asked me what I had done to my face. They said I looked younger and brighter lol. I didn't tell anyone I was using the Crazy Skin Lifting Mask the day before. So yes, there's definitely an obvious lifting and brightening effect.
The price is reasonable at P150 per sheet for what this mask can do… plus there's the Crazy Eye Cream which you can use afterwards.
Downside? Well unlike other sheet masks which you just put on and take off, this takes a bit more effort. It's worth it though.
The Crazy Skin Lifting Mask is available for P150 per sheet at BeautyMnl and the CNA Philippines website. I forgot to take before and after photos but I'll do so and update this post the next time I use this mask.
Like this post? Subscribe to this blog by clicking HERE.
Let's stay connected: