During our vacation in Los Angeles last holiday season, it was so cold and dry that no matter how much lotion or cream I apply to moisturize my skin, it was never enough. My hands would crack and my skin became rough and dry all over (except for my face because I brought along heavy duty Laneige products formulated for the Korean winter!). That was when I realized just how lucky I am to live in a humid country. I can look younger than I actually am longer because of all the moisture in our air here in the Philippines. This is where the Crane Humidifier comes in.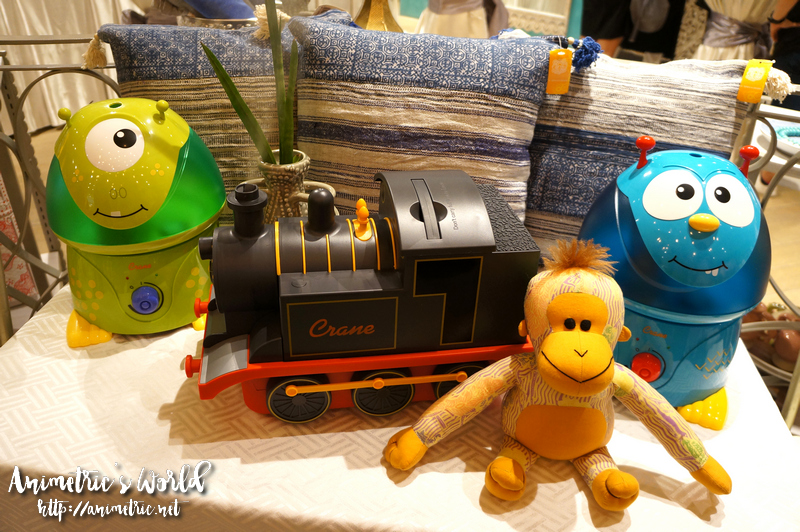 Did you know you can actually remedy lack of moisture in the air by using a humidifier? I got acquainted with the Crane Humidifier recently. Crane is an American brand of humidifiers, air purifiers, fans, night lights, and heaters. Here in the Philippines, we have the humidifiers and air purifiers. They come in all shapes and sizes — animals, water drops, and even in train form!
The sleek black unit with a remote control is the Crane Digital Humidifier EE-6905 (P6,099.75).
You can set the humidifying mist it releases to warm or cool. This Crane Humidifier model also has a LED screen with digital humidity display. It has an ionizer function as well. This is the top-of-the-line model.
Crane carries a lot of fun, animal-shaped humidifiers as well (check out the "Mya the Monkey" Humidifier priced at P2,799.75). They would fit in nicely in the kids' room. Some of the benefits of having a Crane Humidifier in the room include:
Increased air moisture for easier breathing
Relief from cough, cold, and flu symptoms including nasal congestion, dry cough, sinus irritation, nose bleeds, and dry skin
The cool mist humidifier is a safer alternative to the vaporizers we used to use when I was a little girl which entailed boiling the water.
This is "Curtis the Cow" (P2,799.95).
Personally, I prefer the Crane Drop Shape Ultrasonic Cool Mist Humidifier (P2,999.75). I really like the ergonomic, modern design. Plus, my kids are already in their teen years (well I have a teen and a tween so almost) so they're not so keen on stuff that strike them as baby-ish at the moment.
If you're always on-the-go, the Crane Travel Humidifier (P1.899.75) is perfect for you. Had I known it would be so dry in California last December I would've considered taking one along. Until now my hands are extremely dry and I've been using hand cream at that.
So anyway I picked the Crane Drop Shape Cool Mist Humidifier in White and Blue to take home. I like that it's low maintenance. I don't need a filter and it's easy to clean. It also accommodates 3.4 liters of water which lets it run quietly for 24 hours.
I had it personalized with both my kids' names since they share a room.
Crane Humidifiers are available at Rustans, Shopwise, S&R, Babyland, Toys R Us, and Toy Kingdom. You can also buy online at http://keywestinternationale.com/.
Like this post? Subscribe to this blog by clicking HERE.
Let's stay connected: