Whenever I eat at CPK (California Pizza Kitchen) with my family, we always order The Original BBQ Chicken Pizza, Chinese Chicken Salad, and Kung Pao Spaghetti. I don't know why but it's automatic. Those are the food items we ordered the last 3-4x we were there. So anyway, when I was invited to try the Vintage Pizzas that CPK is bringing back, I grabbed the opportunity.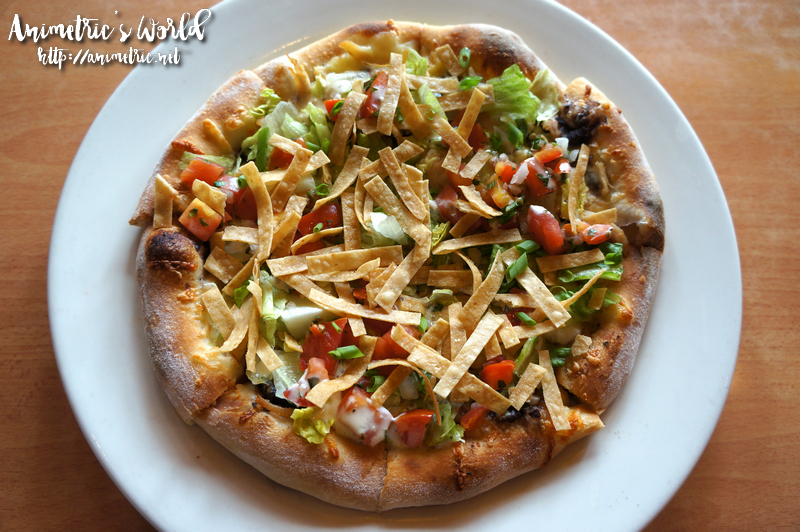 So yeah during that particular lunch time, I ate five slices of pizza (one of each variant). All of them had been phased out but now they're back on the menu for good. First one on our table was the Tostada Chicken Pizza (P395). Our kids are not very adventurous when it comes to food and so if they see something that even remotely resembles salad on top of their pizza, they will most likely refuse to eat it, lol. This one is topped with black beans, Monterey Jack cheese, queso quesadilla, grilled chicken breast, tomato salsa, greens, and crispy tortilla strips.
Let me describe it as taco salad pizza. I love how fresh tomatoes and vegetables are used. Different textures (chewy crust, crispy tortilla strips, and juicy tomatoes) all come together for a light and refreshing eating experience. If you're a meat lover though, you may find this pizza lacking in that department since it only has chicken breast strips. Personally, I liked it.
Next up was another Mexican-themed pizza — Santa Fe Chicken (P395). Again, CPK's perfect chewy crust is topped with grilled chicken, but this time there's also caramelized onions, gooey mozzarella cheese, cilantro, tomato salsa, guacamole, and sour cream.
The way to eat this pizza is to spread the guacamole, sour cream, and salsa all over the surface and then squeeze the lime wedge on it for additional zest. Oh my… this pizza is soooo good. So so so good. In fact, it's my favorite among all the vintage pizzas. It's also one of the most unique ones I've tried.
Going oriental, we had Peking Duck Pizza (P475).
It's topped with roasted duck, shiitake mushrooms, mozzarella cheese, hoisin ginger sauce, fried wonton strips, and slivered scallions. This pizza had a much stronger taste compared to the first two. I found it too tasty, lol, if there was such a thing. It's possible that the sauce was a tad too sweet for my tastes. Although I liked it the least, it was very popular with everyone else.
The next pizza, Goat Cheese (P395) inspired a bit of fear in me. I can't stand odorous meats like lamb, goat, rabbit, etc. and the main ingredient here is Goat Cheese. My sister brought me some goat cheese from Malagos Farm in Davao and I had to give up trying to eat it after one bite because it was so smelly.
This pizza is topped with goat cheese, mozzarella cheese, onions, eggplants, red and yellow bell peppers, tomato sauce, and parsley. Surprisingly, the goat cheese was nowhere near as smelly as the one from Malagos Farm. There was only a faint gamey scent. I actually finished one whole slice. Pretty good.
The last (but not least) of the Vintage Pizzas is Teriyaki Chicken (P375).
It's topped with teriyaki chicken strips, mozzarella cheese, queso quesadilla, red and yellow bell peppers, onions, slivered scallions, and teriyaki ginger sauce. Savory, sweet, and yet not overwhelmingly so. When it comes to chicken pizzas, my vote still goes to CPK's Original BBQ Chicken Pizza… hehe.
These Vintage Pizzas are available at all CPK branches for good. Log on to http://www.cpk.com.ph/locations.php for a complete list of stores.

Here's some more good news… starting July 1, visit any CPK Philippines location and get a CPK Passport which earns one stamp for every Vintage Pizza purchase. Collect 5 stamps and get P500 worth of CPK GCs! That's kinda like getting P100 rebate for every Vintage Pizza you order (so long as you reach five). This promo will run from July 1 to August 31, 2013.
Like this post? Subscribe to this blog by clicking HERE.
Let's stay connected: