I've been cooking for a little over 4 months now. It used to be a really big deal, but now it has become the norm instead of the exception. We are all the more happier and healthier because I now have a direct hand in what goes into our bodies. It helps that know exactly what hubby and the kids want taste-wise. I've been trying different things in the kitchen while trying my best to make every mealtime enjoyable for all.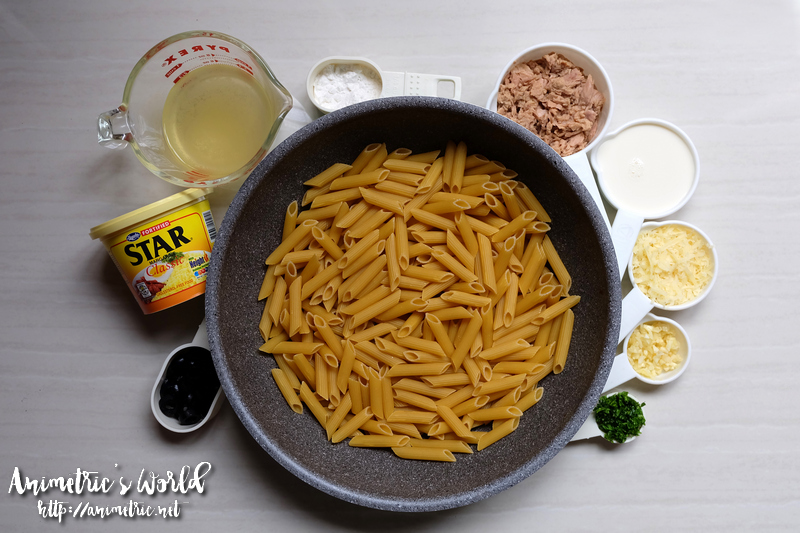 Pasta is my ultimate shortcut. When I'm pressed for time or if I'm tired, I cook pasta. It's quick and easy. It's versatile enough so it's a totally different dish every time. It never gets boring. Anyway, some days ago, I received some jars of Star Margarine to try. Images of the bright yellow Star Rice pop into my head. Lol. I still remember the TVCs for Star Rice when I was younger… when I still watched TV.
Before I started cooking, I did a bit of research about margarine. According to the Mayo Clinic, margarine usually tops butter when it comes to heart health. In fact, a study conducted in the United States reports that 46 families who swapped their butter for margarine successfully lowered their blood cholesterol levels. This is because unlike butter which is made from animal fat, margarine is derived from vegetable oil. With that in mind, I was game to try cooking with Star Margarine!
Check out how creamy and spreadable Star Margarine is! The Mayo Clinic states that the more solid the margarine, the more trans fat it contains. Trans fat increases blood cholesterol levels and the risk of heart disease. That said, a tub of soft margarine is better for you compared to hard margarine in stick form. Star Margarine is fortified with vitamins B6, B9, B12; vitamin D; and iodine too. Active kids especially stand to benefit from the B vitamins which help with the absorption of nutrients as well as vitamin D which is essential for muscle function. These vitamins are important for children who are into sports as it helps them function more and be better in their game.
Did I mention it's also easier to cook with soft margarine versus hard butter which I have to soften? Star Margarine comes in 6 yummy flavors so it's also perfect for spreading onto breads.
I started making my pasta sauce by melting 2 tablespoons of Star Margarine on a hot stone wok. Then I added some minced garlic.
I mixed in some flour, chicken broth, milk, tuna, olives, chili flakes, grated parmesan cheese, and fresh chopped parsley.
Then I tossed in some penne I cooked in a separate pan.
Voila, I had Creamy Tuna Penne Pasta topped with Spanish Paprika which I served for dinner! Let me share the recipe below.
Creamy Tuna Penne Pasta
500g Penne Pasta
2 tbsps Star Margarine
1 tbsp minced garlic
2 tbsps flour
3/4 cup chicken broth
3/4 cup of milk
200g tuna flakes in oil, drained
1/4 cup chopped black olives
2 tsps chopped fresh parsley
1/3 cup grated parmesan cheese
salt and pepper to taste
Spanish paprika (optional)
Melt butter and add garlic in a pan with medium heat. I used a stoneware wok.
Add flour and stir for about a minute.
Stir in broth and milk. Stir frequently until sauce boils and thickens.
Add tuna, olives, parsley, salt, pepper, and cheese. Stir until cheese is melted.
Toss pasta with sauce. Top with more chopped parsley and Spanish paprika if desired.
Guess what? The kids loved this dish! Next time though I think I'll add a bit of honey for a hint of sweetness.
Star Margarine is available at all leading supermarkets and convenience stores nationwide. A 250g tub retails for around P65.
Like this post? Subscribe to this blog by clicking HERE.
Let's stay connected: