Salmon is one of the few fish we eat at home. That said, I was only too happy to try cooking Seaking Wild Alaskan Keta Salmon when they sent us several packs to try. Seaking Wild Alaskan Keta Salmon is caught in the wild and not farmed. Wild salmon has a better ratio of good-to-bad fats compared to farmed salmon so it's more nutritious. It has also been found to contain less contaminants. That said, wild salmon is the healthier option.
Seaking Wild Alaskan Keta Salmon comes in four (4) different cuts: Chunks (500g), Belly (500g), Steak (200g), and Slab (200g). Each pack is reasonably priced at P200+ to P300+. I cooked the Slabs for lunch today.
I got the recipe idea from Delish.com but did a few tweaks based on our taste. What you see on the photo are more or less the main ingredients.
The first thing you need to do is to follow the package directions on how to thaw the Seaking Wild Alaskan Keta Salmon. For the slabs, you just need to submerge the packs from the freezer in cool water for 30 minutes. They're ready to cook after that as you can see in the photo.
Honey Garlic Glazed Salmon with Honey Butter Vegetables
Ingredients:
1/3 cup Honey
3 tbsps Low Sodium Soy Sauce
Juice from half a lemon (slice the other half of the lemon into circles)
1 tsp Red Pepper Flakes
Olive Oil
3 packs Seaking Wild Alaskan Keta Salmon Slabs
3 cloves Garlic, minced
Blanched Brocolli Florets (one head worth)
Carrots (julienned)
3 tbsps Unsalted Butter
1-2 tbsp Minced Garlic
2 tbps Honey
Procedure:
Whisk together honey, soy sauce, red pepper flakes, and lemon juice in a bowl.
In a large skillet, heat olive oil. When oil is hot, add salmon skin side up and season with salt and pepper. Cook salmon until golden and flip over, add a bit more olive oil (about 1 tbsp).
Add minced garlic and cook until fragrant. Add honey mixture and sliced lemons. Cook while basting salmon in sauce. Transfer salmon to serving plate.
In another skillet, melt butter. Saute garlic until fragrant. Add blanched broccoli florets and julienned carrots. Drizzle with honey and saute. Remove from heat and arange beside or around the salmon on the serving plate.
The original recipe called for 1/4 cup soy sauce but I found it too salty so I reduced it to 3 tbsps instead.
I love how nice and firm the Seaking Wild Alaskan Keta Salmon Slabs were.
I flipped them over when they became golden.
Then I added the honey mixture. The original recipe said to wait for the sauce the reduce to 1/3 the original volume. What I did was I kept basting and cooking until the salmon was done. As soon as they were done, I removed from the heat and I just left the remaining sauce. I found it too intense to pour over plus I didn't want soy sauce on the veggies.
I cooked the broccoli and carrots on a different skillet because I only wanted honey, butter, and garlic on the veggies.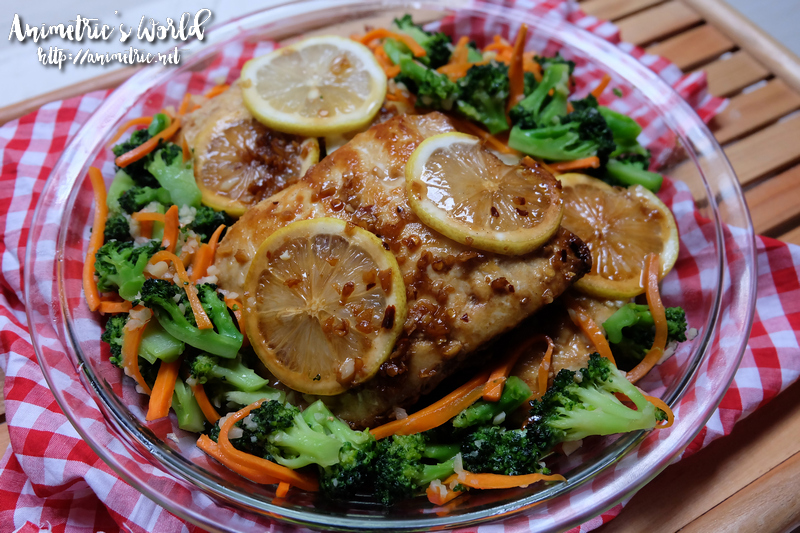 This is how I assembled the salmon and the veggies on the serving plate after cooking.
Seaking Wild Alaskan Keta Salmon is available at leading supermarkets nationwide. I love how convenient and hassle-free they are, perfect for quick and easy dishes. For more information, log on to https://www.seaking.com.ph/.
Like this post? Subscribe to this blog by clicking HERE.
Let's stay connected: