A little over a week ago, I attended MIDA Food's 20th anniversary dinner at Enderun. MIDA Food is the company behind Pacific Bay Seafood. Since I don't go to the wet market, I buy almost everything from the supermarket. Pacific Bay Seafood has always been my go-to brand for tuna, gindara, halibut, and other types of fish. They also have shrimps, scallops, and mussels but I haven't mustered the courage to buy them lol.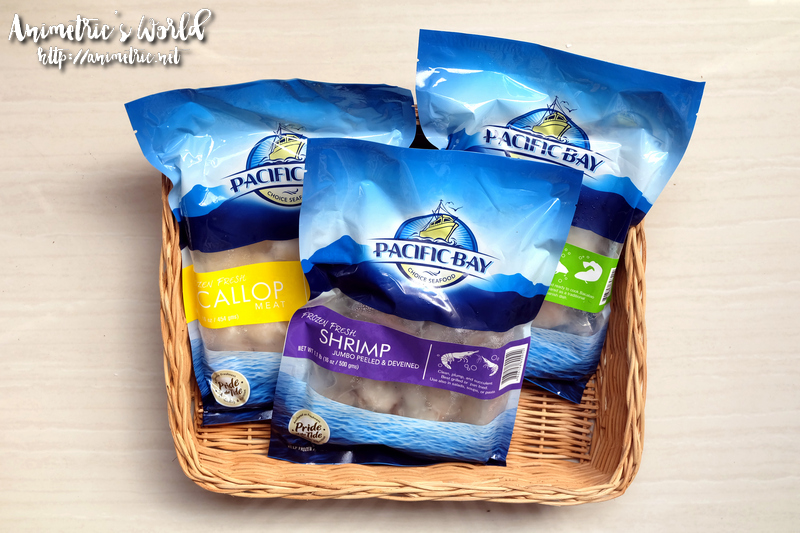 Anyhow, I got to take home seafood I don't normally buy from the party. I figured it was a good time to see if I could cook them into a dish my family would like.
I decided to try cooking Pacific Bay Frozen Fresh Jumbo Shrimp. They're already peeled and deveined so it's very convenient. I asked my daughter how she wanted me to cook the shrimp. She said she wanted Gambas like La Tienda's. Ooookay. I googled some gambas recipes and finally decided on this one. It seemed closest to the one we had at La Tienda. It called for a lot of garlic, which was a plus because everyone at home loves garlic.
Gambas Al Ajillo from Serious Eats
Ingredients
12 cloves garlic
1 pound large shrimp, peeled, shells reserved
1/2 cup extra-virgin olive oil
Kosher salt
1/4 teaspoon baking soda
Pinch red pepper flakes, or a 1-inch piece dried guajillo chili
1 1/2 teaspoons sherry vinegar
2 tablespoons chopped fresh parsley leaves
Procedure
Finely mince 4 garlic cloves and place in large bowl. Smash 4 cloves under the flat side of a knife and place in a large skillet. Thinly slice remaining four garlic cloves and set aside.
Add shrimp to bowl with minced garlic. Add 3 tablespoons olive oil, 3/4 teaspoon kosher salt, and baking soda. Toss to combine thoroughly and set aside at room temperature.
Add shrimp shells to skillet with smashed garlic and add remaining olive oil and pepper flakes. Set over medium-low to low heat and cook, stirring and tossing occasionally, until shells are deep ruby red, garlic is pale golden brown, and oil is intensely aromatic, about 10 minutes. Oil should be gently bubbling the whole time. When ready, strain through a fine mesh strainer into a small bowl, tossing and pressing the shrimp shells to extract as much oil as possible. Discard shells and garlic.
Return flavored oil to skillet and heat over medium-high heat until shimmering. Add sliced garlic and cook, stirring constantly, until pale golden brown, about 1 minute. Add shrimp and cook, tossing and stirring constantly until shrimp are barely cooked through, about 2 minutes. Add sherry vinegar and parsley and toss to combine. Season to taste with salt. Serve immediately.
Okay so here's the problem… the shrimp I got was already peeled and deveined so there was no way I could use the shells as the recipe suggested. I decided to just compensate by adding more garlic. Keeping my fingers crossed it would be enough. Now that I think about it I should've used maybe 1/4 or 1/2 shrimp cube (I had some) to make up for the missing shells.
So I followed the recipe to the letter minus the part about using the shells. It smelled really really good so I was hopeful.
I didn't have fresh parsley so I used dried parsley. I substituted apple cider vinegar for sherry vinegar too. I'm pretty sure fresh parsley would make this dish better. The verdict? Despite the missing shells and the dried parsley, hubby and the kids liked it. In fact, we finished the entire serving.
Okay this dish is so tasty it goes really really well with plain white rice.
My daughter said it's yummy but La Tienda's is better hahaha. I'll take that as a compliment. Next time, I'll try this recipe with shrimp shells and fresh parsley.
Pacific Bay Seafood is available at leading supermarkets nationwide.
Like this post? Subscribe to this blog by clicking HERE.
Let's stay connected: