I've been actively looking for healthier alternatives when it comes to cooking at home. That said, we've been trying out different kinds of oil. I've bought canola oil, soya oil, vegetable oil… I've been reading about them too. So far I haven't found an oil with no negative points… except maybe olive oil but it's too expensive to use daily for cooking. That said, when I was asked to try Minola Premium Cooking Oil, I said yes.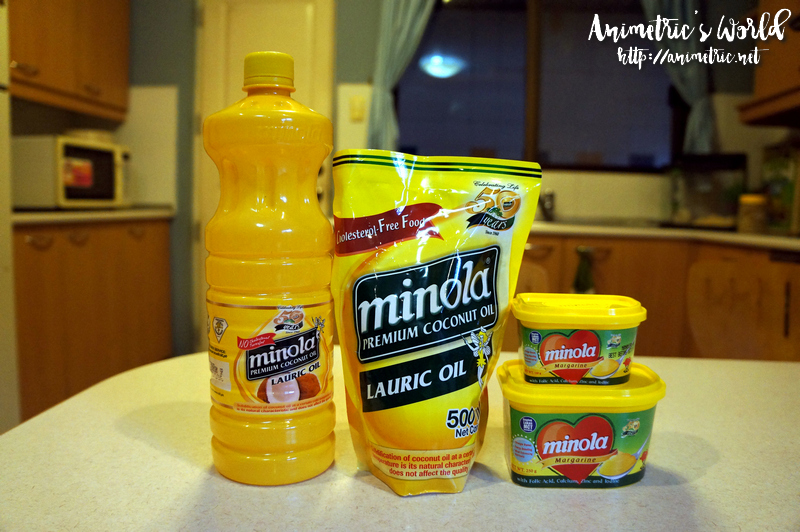 Minola Premium Cooking Oil is coconut oil (or lauric oil because coconut oil contains lauric acid which has antimicrobial properties). Yes, lauric acid can fight organisms like fungus, bacteria, and viruses giving it immunity-boosting benefits. In fact, lauric acid can be found in human breast milk. One of the leading brands of coconut oil in the Philippines for the last 50 years is Minola Cooking Oil. I must admit, this came as a surprise to me because I've always dismissed Minola as just another brand of vegetable oil. Anyhow, it's our first time to try coconut oil for cooking. 🙂
So anyway, the first dish we cooked with Minola Cooking Oil was our Homemade Lumpiang Shanghai. The kids love this. We would usually make a batch and store them in the freezer so we always have something ready for those sudden hunger pangs.
We make our Homemade Lumpiang Shanghai by combining the following ingredients:
500g ground pork
200g ground shrimp
1/4 cup chopped carrots
1/4 cup chopped green onions
2 tbsp chopped onions
1 tbsp chopped garlic
1 egg
1 tbsp liquid seasoning
1 tbsp salt and a pinch of pepper
1 tsp white sugar
1 tbsp cornstarch
12 pcs lumpia wrapper
1.5 cups cooking oil for frying
In a bowl, combine all the ingredients except oil and lumpia wrappers. It should look something like my photo above.
Get a portion of the mixture enough to form a stick of lumpiang shanghai and place on the wrapper.
Wrap and roll! We use some egg to act as "glue" to make sure the wrapper doesn't unravel while you're frying.
It should look something like this.
Now we fry! This is our first time to use Minola Cooking Oil. I sort of expected it to smell like coconuts but there's actually no scent. Anyhow, pre-heat the oil before frying.
Place your rolled lumpiang shanghai into the pre-heated oil in the pan and then let them fry until golden brown, turning them around for even cooking.
One recipe actually yields about a dozen pieces of lumpiang shanghai.
Here's the finished product! We had it for dinner last night. 🙂
So far I'm quite happy with the results of our first dish cooked with Minola Cooking Oil. Our homemade lumpiang shanghai turned out crispy outside and it was good! I honestly couldn't tell the difference versus the lumpiang shanghai we cooked using more expensive imported oils — plus there are a lot of health benefits too!
Minola Cooking Oil is available for about P107 per liter at all leading supermarkets nationwide.
Like this post? Subscribe to this blog by clicking HERE.
Let's stay connected: