My daughter is graduating from high school this year. So what's the next step? College. She still hasn't made up her mind what course she'd like to take so we've been throwing ideas around. She's sure she wants to go to Ateneo and there was a time she had considered the culinary degree course being offered in partnership with the prestigious Le Cordon Bleu. But it's not that simple, is it? Not everyone who wants to take a culinary course wants to become a chef. There are a lot of other possibilities that can be explored. That's when I came across culinaryschools.org.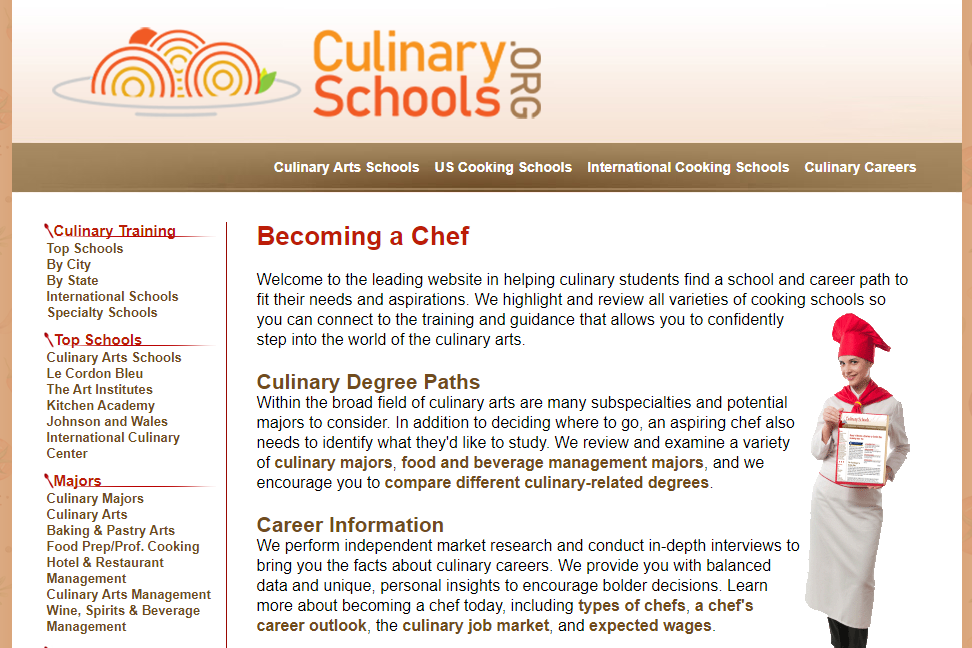 Culinaryschools.org is a comprehensive online resource for those who are interested in culinary arts-based careers. It makes it easy to look for a school based on location, specialty, and school ranking.  Aside from culinary school information, culinaryschools.org also explores career paths related to this field so you have a better idea of what you'll be getting into. I had no idea there were so many different types of chefs in the business — including chefs who are solely in charge of vegetables or poultry. If you're unsure if culinary arts is for you, this site will definitely help you make up your mind.
If you're in the United States, you can use their School Finder to find a school based on your zip code and education level. They even have a list of international cooking schools in case you'd like to start your journey elsewhere in the world.
Culinaryschools.org also has useful content like the Tip Calculator. When I'm in the US I'm usually stumped as to how much I should tip servers. This makes it easy. There's also a Recipe Ingredient Conversion Calculator to make it easier for you to cook or follow recipes using the system of measurement you're most familiar with.
Since this worldwide pandemic has most of us cooped up indoors, culinaryschools.org also has cooking games for kids. They can slice stuff, serve hungry customers, go grocery shopping, match food items, and do a lot of other things just by playing games. There are over 20 games to choose from. This is a screenshot from Cut Fruit, a slicing game I tried out. It's easy to lose yourself in these games even if you're not a kid, lol.
Anyhow, this site can provide useful and relevant info that can help you at any stage in life — whether it's to plan your future or to help you make a career switch. Remember, it's never too late to fulfill your chef and restauranteur dreams!
Like this post? Subscribe to this blog by clicking HERE.
Let's stay connected: