My daughter and I went to the newly opened trampoline park, Jump Yard, at Frontera Verde last week. We were invited by Converse Philippines for the launch of their newest footwear for girls — Converse Loopholes. They're the iconic Converse Kids Chuck Taylor All Stars with a DIY twist.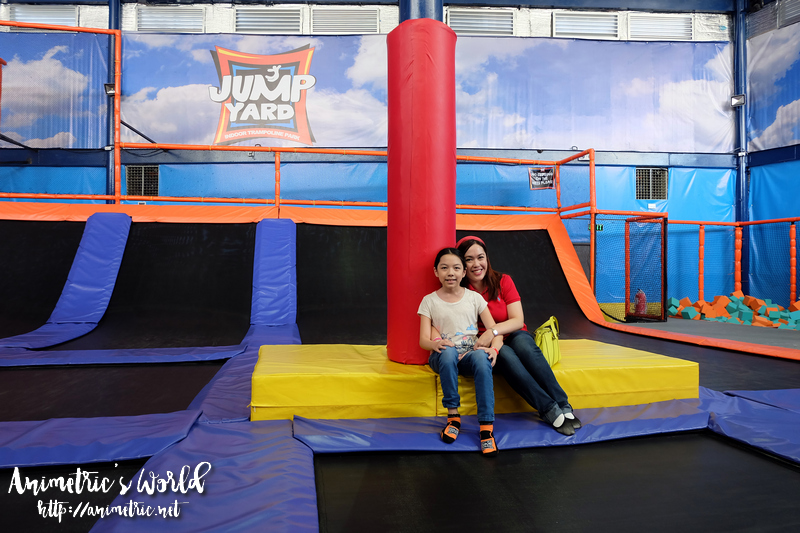 It was our first time at Jump Yard. Actually, our first time in a trampoline park!
My daughter initially said she didn't want to jump. I urged her to give it a try as she had never ever tried jumping on a trampoline before. I'm glad she did!
She saw the other kids wall climbing and tried to do the same. She told me it's harder than it looks, lol.
I think it's safe to say she had fun at Jump Yard!
After an hour of jumping, we proceeded to the upper floor for lunch. There was a pair of Converse Loopholes (P2,650) in my daughter's size on our table! They sure look cool! I think the style is perfect for tweens like my daughter.
I love the default basket weave lace style of the Converse Loopholes. Each pair comes with two additional laces for extra customization. Much like a friendship bracelet, girls will be able to lace up their sneakers to match their friends or create their own unique designs. Since it's summer vacation, my daughter keeps bugging me that she's bored when she's home so I told her to play around with her Converse Loopholes and try coming up with new lacing patterns lol.

The possibilities are endless! Kind of reminds me of the Rainbow Loom.
I had her try them on while we were at Jump Yard just to make sure they fit… and they do!
Converse Loopholes are designed for girls ages 4 to 12. Sizes range from 11 (Kids) to 3 (Juniors), my daughter got a size 3 so there's a bit of allowance. They're available in a variety of colors like white, pink, blue, and purple (we got black).
Converse Loopholes are available for P2,650 per pair at all Converse stores nationwide.
Like this post? Subscribe to this blog by clicking HERE.
Let's stay connected: