After 3 years of successfully dodging this dreaded disease, COVID  finally makes it into our home. It wasn't me or the kids, it was the sole extrovert in the house who got it first and brought it to us — my hubby.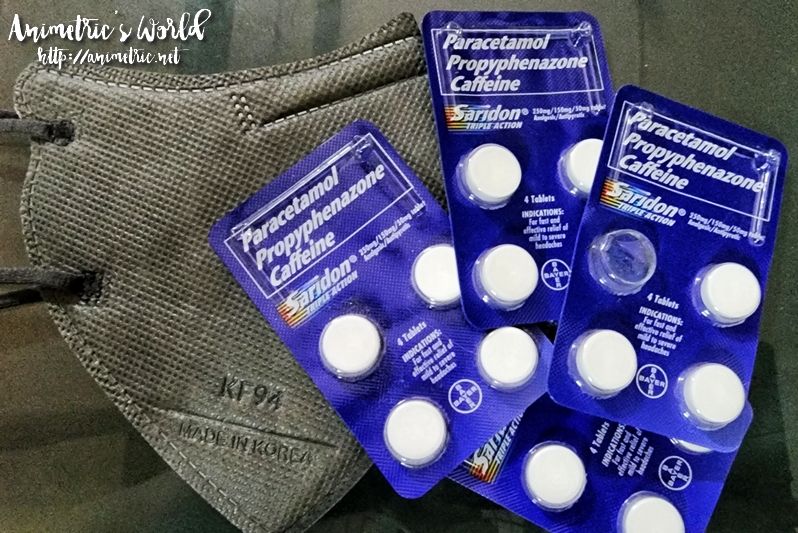 During the years 2020, 2021, and 2022 we had all been extra careful. We would always be masked and we'd take a bath as soon as we got home from the outside world. On May 1, 2023, hubby was feeling unwell. An antigen test showed he was positive for COVID while the rest of us (me and 2 kids) were negative.
At that point I wasn't surprised that he was the first to contract it, I had been telling him that he would most likely be the one to take COVID home. He was already being lax with measures — wearing ill-fitting surgical masks, not taking a bath after stepping into the house, and going out a lot (more than before). He would retort with "Alam ko.". K.
At first it was like a bad case of flu. But then as a days passed it grew worse and worse for hubby. He was coughing non-stop until his throat started to bleed. He couldn't get up, he said his whole body was painful. Even his eyes were affected, he couldn't look at the TV or his cellphone because it was painful to do so. He had trouble breathing and his blood oxygen was going down.
All throughout we were in constant touch with our doctor friend. He told me to buy a nebulizer and prescribed meds. It was the only thing that made my hubby's coughing stop.
The kids and I became sick one by one. Our son was the first to succumb with headache and body ache, he also lost his sense of smell and taste. I was next, then my daughter was the last. The three of us had similar symptoms — headache, bodyache, and loss of smell + taste. We treated ourselves with Vitamin C, paracetamol, and lots of Pocari Sweat for hydration. Meanwhile my hubby was taking 8 diff kinds of meds already. Even if the kids and I did not test positive we stayed at home and assumed we had milder cases not bad enough to register.
Okay so here are some facts:
We are all vaccinated with 2 doses + booster. Hubby had all Sinovac. Son and I had Sinovac x 2 + Pfizer booster. Daughter had all Pfizer. Make of it what you will, I don't know if it's related with the severity of what we each got.
The kids and I never compromised on the type of mask used. It's always Good Manner KF94 2D for us. Hubby was the one who was using cheap substandard masks because he wanted to save and look who ended up with lots of suffering, a doctor's bill, a nebulizer, and 8 types of meds. My daughter and I have survived 3 K-Pop concerts with no infection thanks to being fully masked with Good Manner KF94 2D.
I also believe the study on the more susceptible blood types. Blood type O (my daughter and I) is supposedly the most resistant against COVID while A, B, and AB are more susceptible. I'm O+ and hubby is A+.
I think he got the virus from somewhere and lost the battle because of a dip in immunity. He tested positive May 1 (Monday) but wow he went on out-of-town motorcycle rides Saturday and Sunday even when he wasn't feeling 100%. I think that ultimately made him lose the battle. Meanwhile the kids and I were not tired and were relatively well-rested.
All of us had no appetite the entire time we were sick. We never ate rice. It was all soups and fruits. I was able to fit easily in my pants that had become tight right after recovery. At least that's one good thing about it
The most frustrating thing for me with COVID was the loss of smell and taste. I couldn't even smell my morning coffee. I actually stopped drinking coffee for the entire duration of the disease. It took a while for me to completely regain my sense of smell and taste.
Though COVID was not life-threatening for me I don't want to go through it again. There were times I'd cough non-stop and my stuffy nose would not let me sleep. Of course it was a lot lot worse for my hubby. He doesn't want a repeat of his experience either.
My takeaway for this is even if everyone says it's okay, COVID affects people differently. You can't really know how. Still better to be careful and not catch it if you can. Best things you can do are to keep your immunity up by getting enough rest and using a good quality mask in situations where there are a lot of people around.
Like this post? Subscribe to this blog by clicking HERE.
Let's stay connected: