I swear I never get to completely rest anytime we have long holidays. It's because our helper also takes off during holidays. Huhuhu. Although cooking comes pretty easily to me these days, it's still a lot of work when I'm by myself. I have to do everything all up to washing all the dishes afterwards. Anyhow my shortcut when it comes to meals is pasta. The simpler the better. That way it's already a complete meal in one go.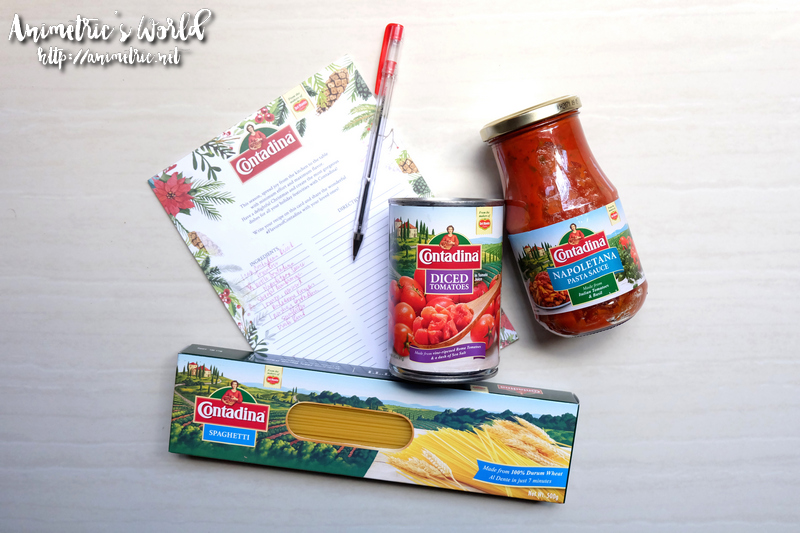 I've always favored tomato-based pasta sauces because it's not cloying. That said I googled tomato pasta recipe and came across Jamie Oliver's Classic Tomato Spaghetti. I based what I eventually made from his recipe with some tweaks to make it easier to prepare:
My Contadina Tomato Spaghetti
Ingredients:
1 500g package of Contadina Spaghetti
1 can Contadina Diced Tomatoes
1/2 bottle Contadina Napoletana Pasta Sauce
fresh chopped basil (a handful) or dried basil (2 tbsps)
1 onion, minced
3 cloves minced garlic
1/4 cup sliced shitake mushrooms
1 tbsp balsamic vinegar
2 tbsp muscovado sugar
salt and pepper to taste
olive oil
grated parmesan cheese
Procedure:
Cook spaghetti noodles as per package directions.
Saute onions in olive oil until soft. Add garlic, basil, and shitake mushrooms.
Add diced tomatoes and pasta sauce. Stir.
Add balsamic vinegar and sugar. Stir.
Sprinkle with salt and pepper to taste. Stir.
Stir in spaghetti noodles. Top with parmesan cheese.
That's it! Quick, easy, and healthy. We like having this for either lunch or dinner when we want to detoxify. I simply refer to it as My Contadina Tomato Spaghetti. If you like it on the creamy and chunky side you can add half a cup of cooking cream and some canned tuna. To make your own cooking cream, just mix together equal portions of milk and all purpose cream.
I usually prepare My Contadina Tomato Spaghetti when it's just me at home with no helper. 🙂
Like this post? Subscribe to this blog by clicking HERE.
Let's stay connected: