Wow, it has actually been over a year since I last reviewed Colour Collection Lipsticks. I'm sure by now you've heard of that new wonder beauty ingredient, Argan Oil. Products for the hair, face, body formulated with Argan Oil have practically been popping up right and left! Anyhow, Argan Oil is a plant oil produced from the kernels of the Argan Tree which can be found in Morocco. Argan Oil can nourish and moisturize both the skin and hair. It's edible too, Moroccans actually dip their bread in it or drizzle it over pasta.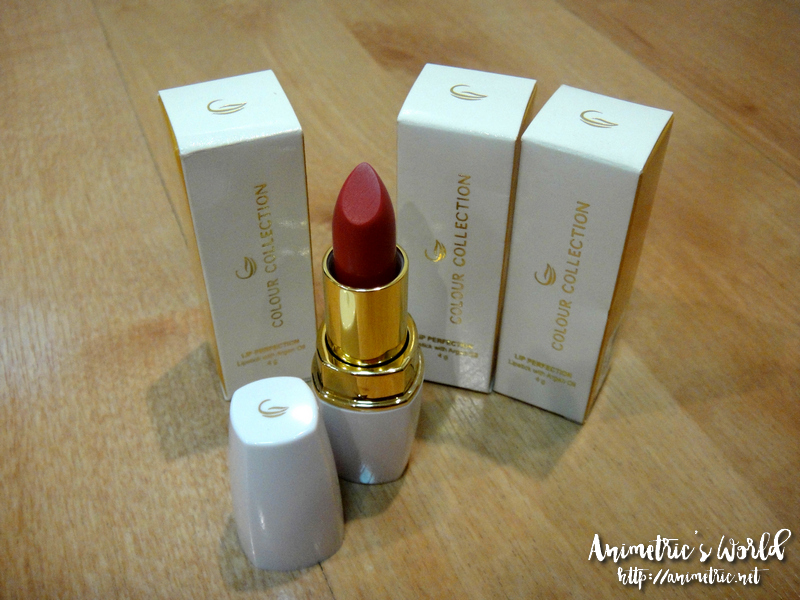 While most cosmetic products with Argan Oil are expensive, such is not the case with Colour Collection's newest lipstick — Colour Collection Lip Perfection Lipstick with Argan Oil! It's priced reasonably at P399 per tube so beautiful and healthy need not be pricey!
Anyhow, I got three shades of Colour Collection Lip Perfection Lipstick for review (from left to right): Bella, Crema, and Amore.
Here are the swatches under natural light. Bella is on the pink side, Crema is a nude shade, while Amore is more on coral. I've tried them all during different days:
Colour Collection Lip Perfection Lipstick in Bella
Colour Collection Lip Perfection Lipstick in Crema
Colour Collection Lip Perfection Lipstick in Amore
Honestly speaking, having reviewed the Colour Collection Vitamin E lipsticks, I wasn't expecting anything dramatically different from Colour Collection Lip Perfection lipsticks. But I was wrong. I was floored by how great these affordable lipsticks are.
What I liked about Colour Collection Lip Perfection Lipsticks:
They're easy to apply. My main complaint with the previous Colour Collection lippies was that they don't glide on as smoothly as say L'oreal or Maybelline lippies, but that problem has been addressed with this line. These glide on like a dream! I guess it's the Argan Oil. 🙂
The lipsticks are highly pigmented and the colors are rich. There are 6 lovely shades to choose from too!
They're totally scentless! Some lippies smell weird so this is definitely a plus.
These are easier to remove compared to Colour Collection Ultimate Wear Lipsticks.
They're very reasonably priced at P399 per tube. My favorite lipstick costs around P1+k per tube and so these are a great alternative!
Staying power is pretty good. They don't fade easily and even after eating and drinking my lips didn't look bare when I got home. Anyhow, reapplying is easy because they glide! 🙂
Downside? It's not that easy to find Colour Collection products as you need access to a Tupperware outlet or a dealer near you. You can call their customer service hotline at 859-3000 for more information.
I highly recommend Colour Collection Lip Perfection lipsticks! These are probably among the best local lipsticks I've tried.
Like this post? Subscribe to this blog by clicking HERE.
Let's stay connected: