Did you know that collagen is the most abundant protein in the human body? It's in our bones, muscles, and skin. It's practically what holds our body together. There's one small problem. Collagen production declines with age and exposure to free radicals. Free radical generating substances include tobacco, alcohol, air pollutants, UV rays, etc. Where the skin is concerned, low collagen levels may contribute to droopy or sagging skin, dark spots, uneven skin tone, etc. In order to address skin concerns due to collagen deficiency, there's Collagen by Watsons.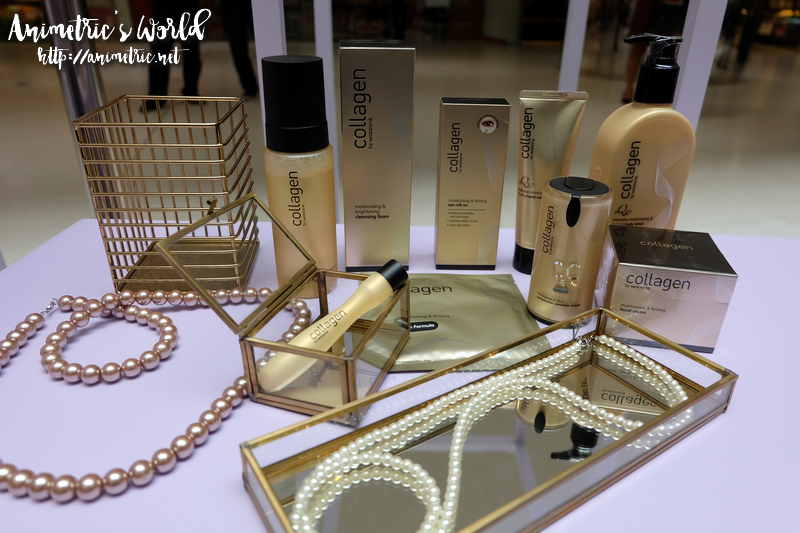 Collagen by Watsons is Watsons' new generation skincare formulated with Tri-Collagen Complex. This is a unique formulation of 3 collagen molecules working together, penetrating the deeper layers of the skin. It purifies and regenerates skin cells, improving elasticity. Collagen by Watsons believes that beauty lies in the layers. This means going back to the basic foundation of the skin –- collagen. Skin must be nourished from within to prevent and solve skin concerns.
We were asked to drop a white ball to "vote" for the skin concern which bothers us the most. For me it's dark spots. I have a few faint ones, which I suspect is from the sun and from age… huhuhu.
When they turned the ballot box around, it turned out that all our white balls went to the same place. This shows us that all our skin concerns go hand in hand. The pink balls the Watsons ladies put in represent Collagen by Watsons. Collagen fills in the gaps, nourishing the skin from within. This effectively addresses all the skin concerns we "voted" for.
There were booth games to help us better understand how Collagen by Watsons works.
There are 4 different Collagen by Watsons lines which focus on specific problems. For those bothered by dark spots and uneven skin tone, there's the White Regeneration line. This line is formulated to reduce dark spots and prevent melanin formation for fairer and more translucent skin.
Are you bothered by lines, wrinkles, and sagging skin? If the answer is yes, the Skin Renew line is for you. Products in this line are formulated to repair and restore skin cells for firmer and younger-looking skin. I don't have a photo but there is also a Hydro Balance line for dry skin. It infuses water into the skin for that fresh dewy look.
Then there's the main Collagen by Watsons line that moisturizes and firms. It comes in gold packaging and if I'm not mistaken it's the only line that includes body lotion and lip balm.
Price points for all the lines start at P200+ per product. While I was browsing, the priciest product I saw was pegged at P500+. SM Advantage Card members get 40% off selected Collagen by Watsons products until Nov. 22, 2017. You can also chat anytime with the Call on Collagen Chatbot at http://m.me/CallOnCollagen if you have questions and concerns.
Collagen by Watsons is available at all Watsons stores nationwide.
Like this post? Subscribe to this blog by clicking HERE.
Let's stay connected: