Since the pandemic started, we haven't gone to the dentist. We just take extra care of our dental hygiene — brushing and flossing regularly, even using mouthwash. Now the latest addition to our regimen is the Colgate Water Flosser. It's a nifty device which reminds me of something we used to have at home when I was a little girl — a water pik. Like the product name suggests, the Colgate Water Flosser "flosses" in between teeth and gums using water.
I was wowed by the packaging when my Colgate Water Flosser (₱2,800+ to 3,300+, depending on when you buy) arrived. It comes in 2 colors — green and pink. I got green. I imagine whoever gets this as a gift would be just as impressed as I was.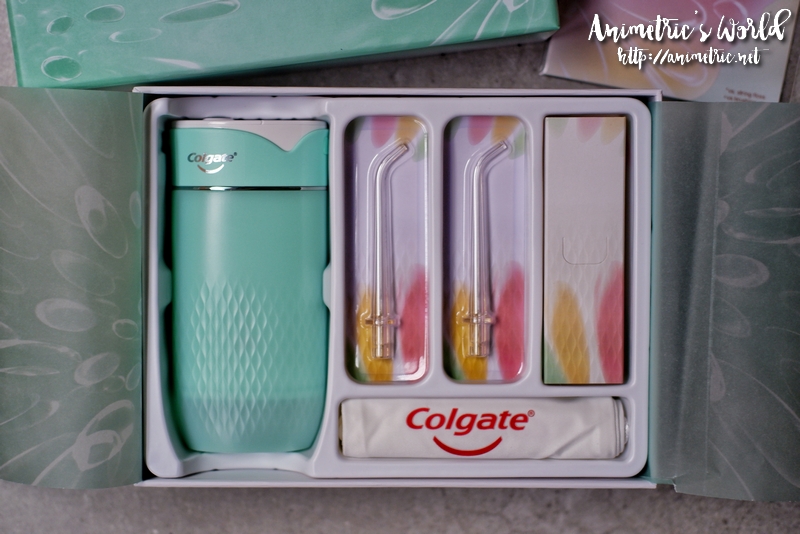 The set includes the water flosser device itself, 2 nozzles, charging cable, and travel pouch.
It's very easy to use. Just fill the compartment with water and close it when it's full.
Attach a nozzle to the unit.
Select your preferred water flossing mode — Gentle, Regular, or Pulse. After selection, place the nozzle in your mouth so it's an angle which can clean in between your teeth and gums. Press the power button. This device is designed to remove plaque in between teeth and the gum line. My teeth and gums really did feel super clean after use. I know people who find it hard to use dental floss so this is a good alternative as it's pretty easy to use.
The Colgate Water Flosser is rechargeable and comes with a micro USB cable you can plug into a USB hub or powerbank. It's easy to bring if you are traveling. I would've preferred a USB-C port but hey, this works too.
The nozzle detaches easily and can be kept in a compartment built-in the unit.
It packs away neatly and is actually pretty compact and handy.
The Colgate Water Flosser is a great addition to your dental regimen. It gets rid of stuck food particles in between teeth and gums quite easily and all you really need to use it is water and charge. It does take practice and getting used to though. You have to be careful where you point the nozzle though as the higher settings have quite a bit of pressure. I prefer using the gentle mode overall.
The Colgate Water Flosser is available at the Colgate Palmolive Official Lazada Store.
Like this post? Subscribe to this blog by clicking HERE.
Let's stay connected: