Like it or not, bad breath happens to the best of us. One of the main reasons for it is poor oral hygiene. But even if you brush and floss religiously, there are still times you experience it. This is because there are several other causes like eating pungent food, smoking, dry mouth, and other medical conditions.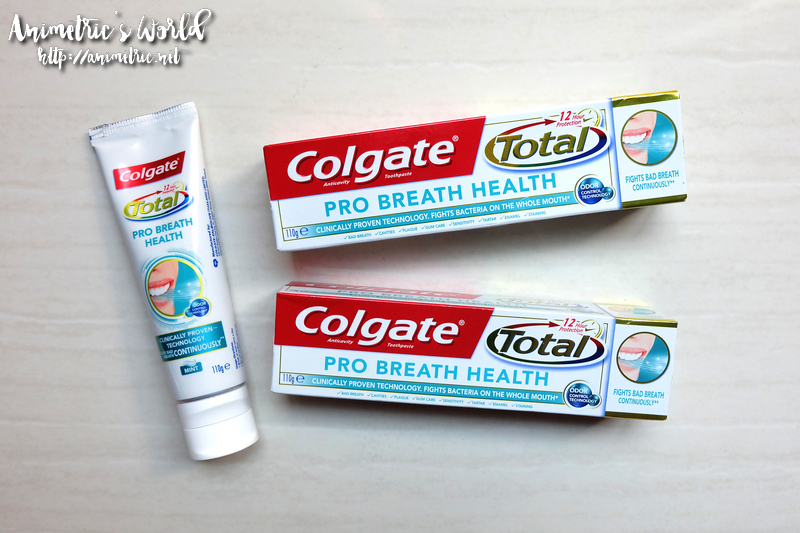 According to the American Dental Association, bad breath is primarily caused by Volatile Sulphur Compounds (VSCs). Bacteria breaks down the food we eat and releases VSCs. Regular toothpaste simply masks the odor. You need to get rid of the bacteria for lasting freshness. The new Colgate Total Pro Breath Health toothpaste features a unique antibacterial formula. It has Odor Control Technology which fights bad breath bacteria in the whole mouth for up to 12 hours.
With regular brushing 2x a day, Colgate Total Pro Breath Health neutralizes even the toughest odors and prevents bad breath continuously.
This is actually the first Colgate Total variant with speckles in Asia.
We immediately noticed the refreshingly light floral notes of this variant when we started using it. Hubby commented that his mouth feels a lot fresher when he uses this.
I know how much of a hassle it is to have bad breath. I love garlic. There are times I eat a lot of it when we eat out. I don't bring a toothbrush and toothpaste with me all the time so I'm doomed to have garlic breath for the rest of the day when that happens. I just want to avoid talking to everyone when I'm stuck with garlic breath. That's never good. What if I have a meeting or an event to attend? How can I not interact with people? I'm so happy Colgate came out with this variant.
What I like about Colgate Total Pro Breath Health:
I've tried eating food with lots of garlic and onions. Colgate Total Pro Breath Health was able to get rid of the strong pungent odors and taste in my mouth with just one brush. Normally, one brushing isn't enough to get rid of these and I have to resort to mouthwash.
I love the light and fresh minty taste. The mint doesn't sting even if you take your sweet time brushing.
It really does keep my breath fresh for a long time!
Downside? None! Our whole family loves Colgate Total Pro Breath Health.
Watch this video to know more about the importance of healthy breath… because with Colgate Total Pro Health, you're always confident and ready to take on any challenge!
https://youtu.be/0lVbTao7hW0
Colgate Total Pro Breath Health is available at all leading supermarkets, drugstores, and department stores nationwide starting at P75 for a 65g tube. Don't want to go out? You can purchase Colgate Total Pro Breath Health at Lazada.
Like this post? Subscribe to this blog by clicking HERE.
Let's stay connected: