After our kids' practice swimming session at the ULTRA one weekday afternoon, we proceeded to Robinsons Galleria to have dinner and to buy some gear (goggles and trunks for our boy).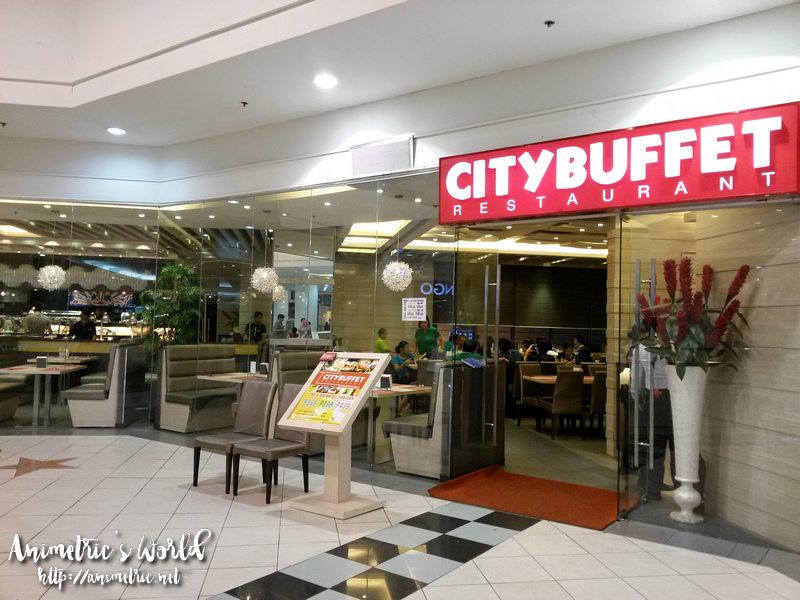 City Buffet Restaurant caught our eye. Everyone was hungry and didn't feel like waiting for food to cook and so we decided to try this eat-all-you-can buffet place.
The set-up is reminiscent of Buffet 101 in Robinsons Magnolia but there are markedly less choices when it comes to dishes. Shown here are Pancit Bihon and Philippine Spicy Pork.
Like most eat-all-you-can buffets, City Buffet Restaurant has a wide variety of sushi.
Typical, nothing special. Not good, not bad.
Seafood Fried Rice… there's also plain steamed rice and a few kinds of pasta dishes. Pizza too.
This was probably the dish I liked best. It tasted like sukiyaki but udon noodles accompanied the broth instead of the usual transparent sukiyaki noodles. Still, it was decent.
Chinese Radish Cake with XO Sauce… I didn't try it.
I liked this one, Tofu Balls with Sweet and Sour Sauce.
Crabstick Tempura and Vegetable Tempura. Yucky because they're not freshly cooked hence they were kind of tough and hard to bite/chew.
Steamed Asado Siopao and Steamed Taro Buns were cold, hard, and dry. Ugh. Terrible.
Desserts consisted of different flavored ice cream in a freezer, a chiller filled with cakes and jellies, and these pastries. We all just had ice cream since it seemed the safest choice. It's drink-all-you-can too, you can get sodas and iced teas at the self-serve dispensers.
The kids weren't happy about the food. They said it was bad. I'm inclined to agree because everything seemed cold and old. Just about the only decent dishes were the Sukiyaki Udon(?), Tofu Balls with Sweet and Sour Sauce, and some of the sushi (not all because some tasted weird). There was actually a lot more viands (there's even a salad bar!) but I did not find them appetizing enough to try.
The air-conditioning at City Buffet Restaurant is almost non-existent. We were all sweating due to the heat. It was just so hot, even if they had a few electric fans turned on. There were very few of us dining at that, I can imagine how hellish it would be if it was a full house. The kids were itching to leave. We paid P399 for 3 adults and P259 for one child. Was it worth it? Not really, because we could have had a better dining experience for the same price or less elsewhere. I don't recommend this restaurant… you're much better off at Dad's World Buffet in SM Megamall.
City Buffet Eat-And-Drink-All-You-Can Rates:
Mon-Fri Lunch / P369
Mon-Fri Dinner / P399
Sat-Sun-Holiday Lunch and Dinner / P439
Children Below 4 Ft / P259
Leftover Price / P599
City Buffet Restaurant
4th Level Robinsons Galleria
EDSA cor. Ortigas Ave., Quezon City
Like this post? Subscribe to this blog by clicking HERE.
Let's stay connected: