Last May 11, I attended a luncheon for Cif Cream Surface Cleaner. I think I've bought this product from the supermarket sometime in the past but I wasn't really sure what it was for, lol.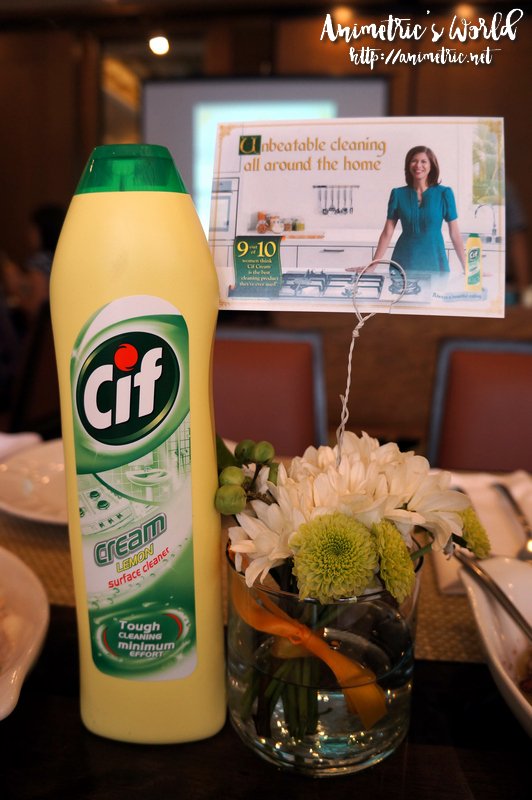 The tables were set up with bottles of Cif Cream Surface Cleaner in Lemon.
Suzi Entrata-Abrera was revealed to be the brand ambassador for Cif. She talked about the importance of having a clean house.
But it wasn't enough to just talk about the product… they also conducted a live demonstration of how it works.
We were all served an array of stained surfaces complete with pieces of cloth to wipe them with.
I picked a stainless steel surface stained with burnt soy sauce, sugar, and oil. Even if I'm not the one who cooks, I encounter this a lot in our kitchen so I could relate easily.
I took a piece of cloth.
Suzi and company began wiping off the stains with Cif.
I put a little Cif Cream Surface Cleaner on the cloth.
Then I wiped it onto the stainless steel surface.
Tadaa! The stain is gone. It really works! All I used was Cif Cream Surface Cleaner. Cif makes stain removal easy so it's a really handy product to have in the house. You can use it on metal, tiles, glass, and a variety of other surfaces. Cif Cream Surface Cleaner is available at all leading supermarkets and grocery stores nationwide. It's quite affordable at P59 for 250ml and P99 for 500ml.
Would you like to try Cif? You're in luck because I'm giving away a whole lot of Cif! Just follow the mechanics below:
Four (4) winners who will each get twelve (12) 185g bottles of Cif Cream Surface Cleaner. This is a raffle so the more entries you have, the more chances of winning! This giveaway is open to everyone who can claim the prizes in Makati City. Good luck!
Congratulations to Ana Darato, Joy Pineda, Marsha Torres, and Honey Hingco for each winning Cif Cream Surface Cleaner gift packs! I will advise you on prize claim via e-mail next week. Thanks to everyone who joined!
Like this post? Subscribe to this blog by clicking HERE.
Let's stay connected: