I did some last minute Christmas shopping at Metro Department Store earlier today. I was there at 10am, opening time. Whenever I shop, I make it a point to be early so it won't be too crowded. That way I can browse in peace and the queues won't be so long. I was so happy with my finds during the Metro Crazy Sale I just had to go back, lol.
Aside from really great value-for-money deals, Metro Department Store actually has a selection of luxury items too. Now my mom loves perfumes. She's the type who buys a bottle almost monthly.
Just my luck that fragrances are currently 10% to 25% off at Metro Department Store! They have perfume bundles that give you more bang for your buck too. Brands include Calvin Klein, Davidoff, Bvlgari, and lots more.
Metro Department Store has a sizable jewelry section too. Royal Gem has an excellent selection of rings, earrings, necklaces, and bracelets that are greatly marked down this season.
Not only are most of the pieces discounted, you can pay for them via installment basis as well. You can avail of an installment plan with 0% interest for up to 6 months.
These 18k gold earrings are all 40% off!
These dangling teardrop earrings normally cost P9,600. If you take 40% off, they're only P5,760. If you choose to pay via installment, you only need to shell out P1,920 a month for 3 months. You can avail of 0% interest for 6 months if your purchases reach P10,000.
Need nice gifts below P200? Metro Department Store's beauty section has a lot of toiletry sets that are just a little over P100!
These Spa Garden Bath Gift Sets cost only P129.
There are P119 bundles too! They even come with gift tags.
What do you know, the Korean brand Esfolio is being sold in Metro Department Store! Normally you can only buy Esfolio online. But if you need to get your items before Christmas, it might be a good idea to just buy them here.
The Esfolio Gold Essence Mask (P89) will make a nice gift for say, an office full of female staff members… like a bank perhaps? I actually gave out random makeup products to the staff members of our bank. Next time I should get everyone masks!
My Christmas list is always full of kids and so I went up to the 3rd floor to where the children's section was. I swear if I was a kid, this City Cafe Play Kitchen (P3,999.75) would totally be my dream toy. It comes with plates, utensils, and pans. The cabinet doors open so you can store all your stuff inside after play.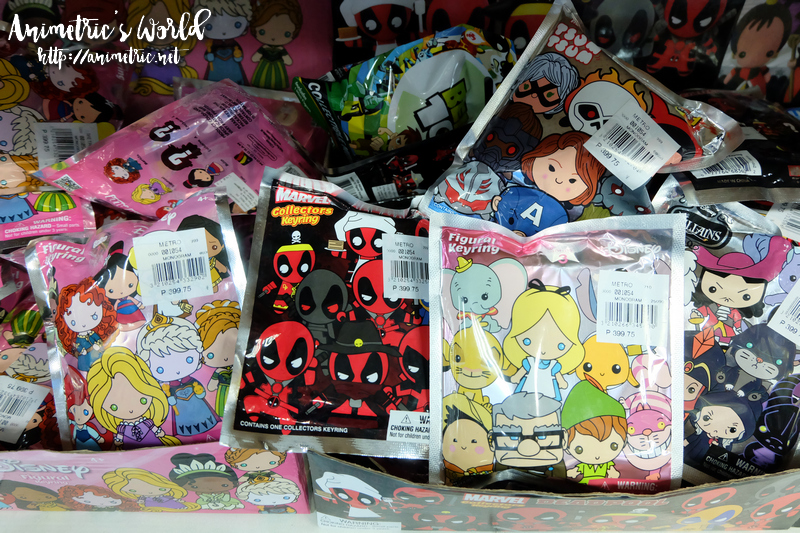 I think I went a little crazy with these Tsum Tsum Figural Keyrings (P399.75 each). I actually got some for myself. I'll open the packs in a bit and post them on my IG stories lol.
So… today I found out that Metro Department Store is actually HELLO KITTY LAND. There are actually shelves and shelves (stress on the s) of Hello Kitty toys!!! Those with orange tags are discounted too. Playsets in this photo start at P350.
My goodness… there's a Hello Kitty Airline Playset (P2,799.75), Rescue Playset, Food Truck Playset… if I were a kid I would've gone bonkers.
Here's something interesting — Hello Kitty Donuts Modeling Set (P499.75)!
There are gift wrapping counters for your convenience.
As I was hurriedly rushing from floor to floor earlier today, I noticed that Metro Department Store and Metro Supermarket staffers are really super nice and helpful. I went to the stationery section and was trying to purchase a pen behind the glass counter. I asked a random guy in a Metro uniform from another area if there was anyone there. He said yes with a smile and immediately went behind the counter to assist me. When I was walking around looking forlorn someone approached me to ask if I needed help and pointed me to the right direction. Customer service people also go the extra mile to help. It's no wonder people keep coming back.
Most Metro Department Store and Supermarket branches will be open until midnight until Dec. 23 so you can still do some last minute shopping. For complete store schedules, check out The Metro Stores on Facebook.
Metro Department Store and Supermarket
26th St. cor. C5, Market! Market, Taguig City
886-7519
Like this post? Subscribe to this blog by clicking HERE.
Let's stay connected: