Have you ever had days where you couldn't make up your mind what to wear? You feel like donning something in pink, but at the same time you want to wear something purple? Decisions, decisions. That goes for your kids too. With the myriad of fashion choices available these days, sometimes you just want to grab every cute thing that comes your way. Ah but with Chooze Shoes, you can have a lot of things going all at the same time.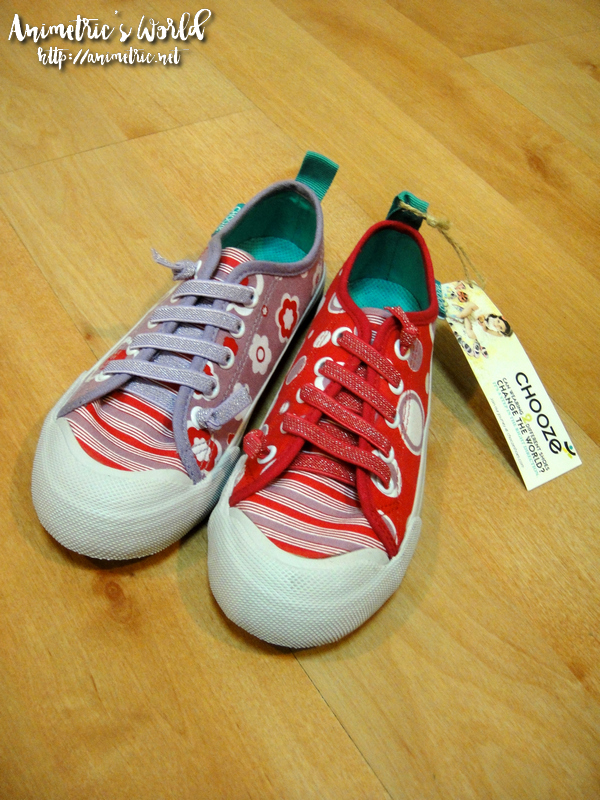 Lucky for us, Chooze Shoes is now in the Philippines. Chooze Shoes lets you wear a pair of shoes that complement each other even as each individually sport a unique design. One shoe pink and one shoe purple, one with polka dots and one with flowers… Chooze celebrates creativity, confidence, self-expression, and the power of choice. You can choose to stand out and choose to be different.
Chooze Shoes are vegan too, meaning they're made without leather or any other materials derived from animals. Check out the cool-looking soles! They're non-slip to boot, so kids can run around, frolic, and play freely.
I actually asked my daughter to pick her very own pair of Chooze Shoes and she chose a pair of sneakers touted as the Favorite in Purple Passion. One pair costs P1,995. It's actually reasonable considering the very same pair costs anywhere from US$45 – US$50 in the US.
I swear these shoes are so photogenic.
My daughter is a size 1, but smaller toddler sizes cost a bit less at P1,895.
Chooze Shoes Favorite Sneakers are no-frills too. Kids don't even have to tie up the laces because they are stretchable (garterized) and fixed, so all you have to do is slip your feet in. If for some reason you prefer regular laces, just untie the knots at the ends and remove so you can replace them.
Anyhow I had my daughter test drive the shoes over the weekend.
They look so bright and snazzy! Now I want a pair for myself! XD
They're lightweight, flexible, and comfy too, perfect for walking around or just chilling.
Chooze Shoes are actually worn by Hollywood celebrities' kids like Shiloh Jolie Pitt. They comes in styles for both boys and girls. Chooze Shoes are available at all Kidsports branches (Shangrila Plaza Mall, Festival Mall, Trinoma, Robinsons Magnolia, and Robinsons Galleria). Chooze Shoes also has styles for women.
Like this post? Subscribe to this blog by clicking HERE.
Let's stay connected: