I was invited to have lunch at Chelsea Kitchen in SM Megamall last 11/11. It's actually a more casual and relaxed incarnation of Chelsea Market Cafe in Serendra.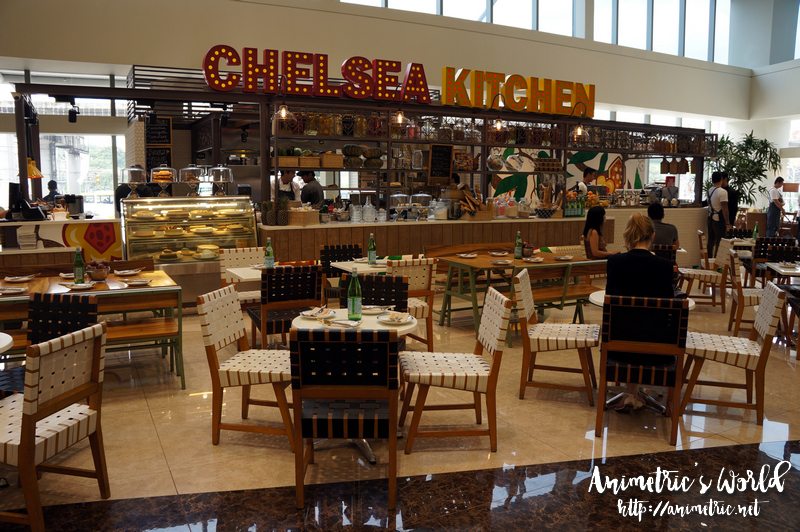 Chelsea Kitchen has a totally different menu from Chelsea Market Cafe. It's located near H&M on the ground floor of the SM Mega Fashion Hall.
I like how nice and bright it is at Chelsea Kitchen.
We made it a point to order different drinks for picture-taking purposes lol!
I opted for Watermelon, Pineapple, and Mint Refresher (P150). It's made of fresh fruits and lime soda plus of course mint. I love how its light, fruity, and refreshing!
Our first appetizer was this Chili Lime Chicken and Chorizo Nachos (P295). Oh my… these are nachos with everything on them! I love how they used chorizo instead of the usual ground beef — it's tastier and it's got an interesting kick! Sour cream, tomato salsa, jalapeños, and guacamole all piled on top of crunchy nachos make this a fully loaded starter that's great for sharing! It's served with jalapeño Tabasco sauce on the side too.
Then we had the CK Chicken Salad (P250). Char-grilled pesto chicken is tossed with fresh basil, cilantro, mint, cashew nuts, and Asian slaw. It's served with 2 small containers of dressing: Peanut Plum and Citrus and Lemon Vinaigrette. You get to mix it your way. Delicious! Love how crisp the veggies are. I chose to mix the two types of dressing together and it was gooood. 😀
One of the most interesting dishes of the day was this Mushroom Chicharon (P195). Mushroom is fried to a crisp so it's super crunchy like pork chicharon. It's served with Basil Pesto Aioli and Spiced Vinegar Dip on the side. We finished this in a flash because it's hard to stop munching!
Next up was a 12″ Stone-fired Pizza. We were served the Tinapa Cream, Cherry Tomatoes, and Arugula Pizza (P295). Creamy without being cloying, I liked the combination of smoked fish with veggies. The crust is soft and chewy too.
Our pasta dish for the afternoon was Truffled Mushroom Cream and Bacon Spaghetti (P320). Mmmm… I could smell the truffle oil as soon as the server set the plate down on our table. Light yet creamy at the same time, this is a good alternative to the more common carbonara.
Meat lovers will be happy with US Roast Beef and Gravy (P495). Incredibly tender beef belly is smothered in mushroom gravy on top of toasted bread. Yum!
At Chelsea Kitchen, there's a wide variety of sides for sharing, like this Creamed Bacon, Spinach, and Corn (P175). You can spread it onto bread, eat it as is, or have it with meat. It's really delicious!
The biggest dish served was definitely the Fried Chicken Parmigiana (P320). Chicken breast fillet is breaded with herb crumbs then topped with creamy white sauce and melted mozzarella cheese. It's served with brown rice on the side. OMG. I was so stuffed at this point.
But we weren't done! At Chelsea Kitchen, you must save room for dessert. We had Donut Holes (P195). These round donuts are stuffed with dulce de leche and served with a warm thick chocolate dip.
I loved the Burnt Chocolate and Honeycomb Cake (P195). Crazy moist and rich, this cake is frosted with marshmallow creme and accented with crunchy honeycomb.
Chelsea Kitchen's milkshakes are to die for too! They're sooo decadent you can actually have them for dessert. We tried Strawberry and Mango Cream Pie (P295 each). Strawberry is ordinary and tasted like melted strawberry ice cream but wow, Mango Cream Pie totally blew me away. It really was like drinking Mango Cream Pie in a glass. So incredible, you've got to try to believe!
Thank you Chelsea Kitchen for having us over!
Chef Kalel Chan developed the entire menu and I would describe the food as kinda reminiscent of my old favorite Mr. Jones in Greenbelt 5 (they actually have Mr. Jones Tapa and Truffled Mac and Cheese here!) which unfortunately closed down some time ago. It's kinda like a cross between a cafe and a diner, serving a wide variety of comfort food — soups, salads, pizzas, burgers, pastas, sandwiches, as well as meats like roast beef, chicken, ribs, and fish. Servings are good for sharing and prices are reasonable at P200+ to P300+ per dish. I love how the place makes use of natural light. It's the perfect place to chill after shopping your the day away at the Mega Fashion Hall, haha!
Chelsea Kitchen
G/F Mega Fashion Hall
SM Megamall, EDSA, Mandaluyong City
Like this post? Subscribe to this blog by clicking HERE.
Let's stay connected: