One of the best meals I had in 2016 was the lunch Chef Raymond Yeung prepared at Lung Hin in Marco Polo Ortigas Manila. Chef Raymond Yeung is Marco Polo Ortigas Manila's new Chinese Executive Chef. With over 26 years of culinary experience and the Hong Kong International Culinary Classic Gold Award under his belt, it's no wonder we had our minds (and tastebuds) blown. My goodness, what we had was a different level of Chinese food.
We started our meal with the Drunken Chicken…
…and Crystal Duck Terrine. The chicken had a clean subtle taste that's surely not easy to achieve. The Crystal Duck Terrine was like gelatin on duck liver pate. Certainly one of the most unique food items I've ever tried.
Next up was Chicken Consomme with Chrysanthemum Tofu and Matsutake Mushroom. I was so impressed by the way the square piece of tofu was cut. Chef Raymond Yeung said it takes him about 1 minute to cut tofu like this. He virtually turned it into a chrysanthemum. I don't think I've ever had broth so clear and so pure in terms of flavor. Definitely a must-try.
Steamed King Prawn with Steamed Egg even came with an edible fleck of gold. The steamed egg is incredibly smooth and savory. The prawn had the sweetness of a fresh and perfectly cooked prawn.
I skipped Deep Fried Lapu-Lapu with Sliced Mango and Sweet Chili Sauce. I don't like creepy-looking fish.
The Fried Rice with Asparagus and Five Spice Pork was yummy! The rice had a slightly glutinous quality and was quite chewy. The pork bits were deliciously flavorful.
Although dimsum wasn't in the menu, they let us try a couple. I didn't get the names but whoa… they were awesome.
These were made to look like pumpkins! Taste-wise they were more like Ham Suy Kok.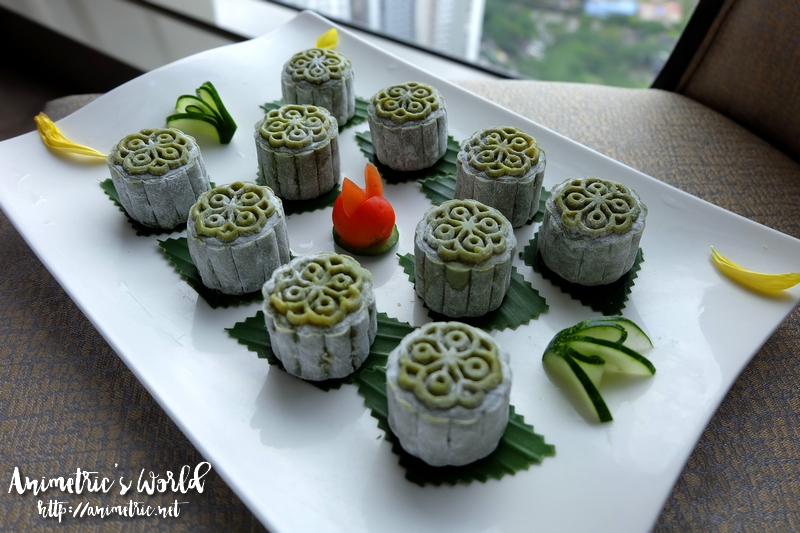 For dessert, we were served Homemade Snow Skin Mooncake. OMG. The delicate yet glutinous snow skin is like a thinner version of mochi. It was filled with the smoothest bean paste I've ever tasted. What an extraordinary lunch!
This is Chef Raymond Yeung. He said cooking is like kung-fu. It's done with a certain focus and energy or chi. For truly stellar Cantonese cuisine, visit Lung Hin at Marco Polo Ortigas Manila. The food is better than ever thanks to him!
Lung Hin Restaurant
44/F Marco Polo Ortigas
Sapphire Road, Pasig City
720-7777
Like this post? Subscribe to this blog by clicking HERE.
Let's stay connected: