Coffee Bean & Tea Leaf (CBTL for short) is kicking off the summer season with cool CBTL Sweet Tea drinks!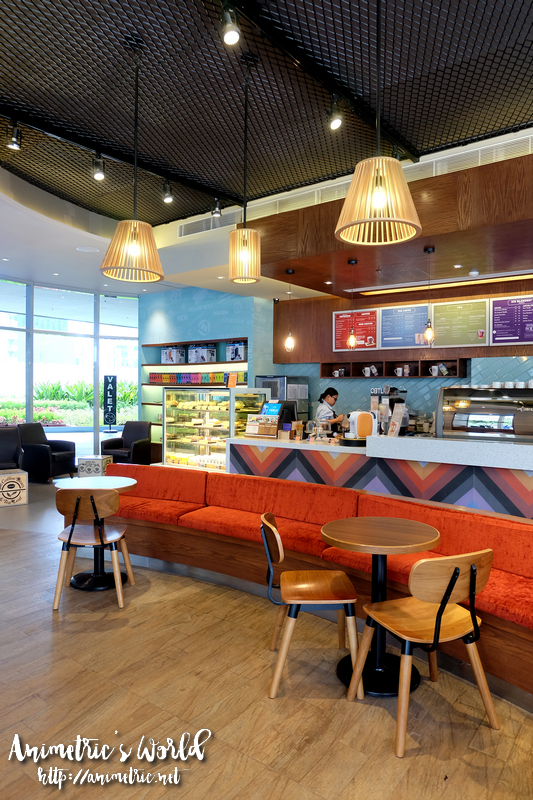 We had a preview of the CBTL Sweet Tea Ice Blended drinks and the Iced Sweet Teas at the CBTL Kidzania store in BGC.
What a challenge to be sampling five (5) different tea drinks in one afternoon. I tried all the CBTL Iced Sweet Teas first — from left to right we have Red Orange, Passion Fruit, and Swedish Berries. I think you can tell from the photo that I liked CBTL Iced Sweet Tea in Passion Fruit best lol! I love how it's light, refreshing, and just a tad sweet and fruity. I can drink a gallon of this icy cold I think, haha!
Of course we had food to go with our drinks! I quite enjoyed CBTL's Chilled Spicy Chicken Pasta Salad. You know the usual mayo-loaded chicken macaroni salad they serve in parties? I hate that hahaha, but this… this one is delicious. This is how pasta salad should be done… not smothered in mayo but showcasing a combination of different flavors and textures.
I also loved CBTL's Caesar Salad! Very flavorful without being cloying and who wouldn't want those big pieces of shaved parmesan cheese? Yum!
We also had sandwiches — I'm not sure if this is the Tuna or the Chicken Sandwich because they look and even taste alike haha!
Since all the above food are quite rich (they all have creamy dressing). They were all perfectly complemented by the light and refreshing CBTL Iced Sweet Teas.
Surprise! There is a leveled up version of my Passion Fruit Iced Sweet Tea… the Passion Fruit Sweet Tea Ice Blended drink. What's the difference? The Ice Blended version is slushy, stronger in flavor, and a bit more sweet. If you find the Passion Fruit Iced Sweet Tea a bit bland (I'm pretty sure a lot of sweettooths will), this is the drink for you. Personally I still prefer the Iced Sweet Tea version.
Red Orange is the other CBTL Sweet Tea variant with an Ice Blended version. There is a third Ice Blended Sweet Tea, Pear Berry, but it was unavailable that day so we were not able to try it.
I think CBTL's Greek Salad would go very well with the Ice Blended drinks. The Greek Salad has a cleaner flavor because of its more subtle dressing so you can go a bit more over the top with your drink if you're pairing it.
Same thing can be said for CBTL's Roast Beef Sandwich. It's got pesto instead of the usual creamy dressing so it also goes well with the Ice Blended drinks.
Thank you CBTL Philippines for my marvelous afternoon tea!
The CBTL Iced Sweet Teas in Passion Fruit and Red Orange are available at P135 for the regular size and P155 for the large size while Swedish Berry is available in one size only for P135. For the CBTL Sweet Tea Ice Blended drinks, all flavors are P155 for the regular size and P175 for the large size.
Good news! Swirl Rewards card holders get an exclusive preview and first taste of the new CBTL Sweet Tea drinks at the Coffee Bean & Tea Leaf Open House TODAY. Visit the CBTL store nearest you to find out more about the Swirl Rewards or to get first dibs on these drinks!
Like this post? Subscribe to this blog by clicking HERE.
Let's stay connected: